While millions of Steve Irwin fans celebrated the life of the late star of "The Crocodile Hunter" this weekend, perhaps the most touching tribute came from his 17-year-daughter, Bindi, whose Sunday post on Instagram declared him the "greatest Dad on Earth."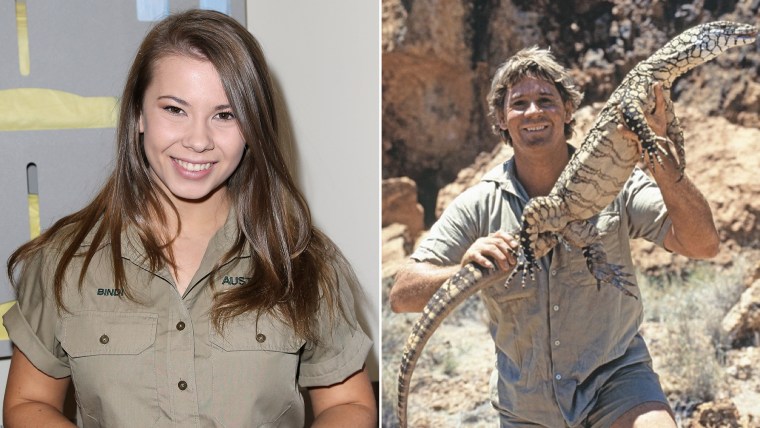 Bindi joined her native Australians in celebrating Steve Irwin Day, a remembrance of the wildlife expert who died while filming a nature documentary in 2006, when Bindi was just 7 years old.
RELATED: Bindi Irwin delivers emotional tribute to dad on 'DWTS': 'His spirit lives on'
Bindi, who's competing on ABC's Los Angeles-based "Dancing with the Stars," encouraged her father's fans "on the other side of the world" to celebrate the occasion Sunday.
"We miss you so much and are extremely proud to be carrying on in your footsteps," reads part of the caption that accompanies her Instagram photo of her smiling dad. "Thank you for joining us in making a difference. Wearing our khakis and remember everything Dad did to change the world."
Some supporters of Steve Irwin Day sported khaki in honor of Steve's go-to wardrobe for most of his public appearances, and to show support for conservation efforts. "[Khaki] is a sign that somebody is there to get in and get their hands dirty and save an animal or campaign for wildlife conservation," reads a page on the Steve Irwin Day website, which also raises funds for the Australia Zoo Wildlife Warriors charity.
One of four remaining celebrity contestants on this season of "Dancing with the Stars," Bindi is perhaps the favorite to win it all, as she's posted the top score in most of the first nine rounds. Earlier this month, her dance to The Police's "Every Breath You Take" served as another memorable tribute to her father.
"I wish he could fully understand how much he's done for me," Bindi said of her dad at the time. "And that I miss him."
Follow TODAY.com writer Chris Serico on Twitter.