Is this a daycare? Are they all yours? Are they really brothers? Are they really sisters?
These are just some of the questions Angela and CR Braniff hear when they're out with their seven children, all under the age of 11. They never planned on needing an industrial-sized van to transport their family — three, maybe four children, they thought. But, life has ways of surprising you.
The North Carolina couple are now parents to Kennedy, Shelby, Noah, Rosie, Jonah, Ivy and Amelia.
After having their first two biological children, the Braniffs decided to adopt.
"It was just something that had kind of always been on my heart," Angela told TODAY. They adopted Noah in the Democratic Republic of the Congo in 2012, when he was nine months old. They said they knew he needed a brother, so they adopted Jonah at seven weeks old through a domestic adoption one year later.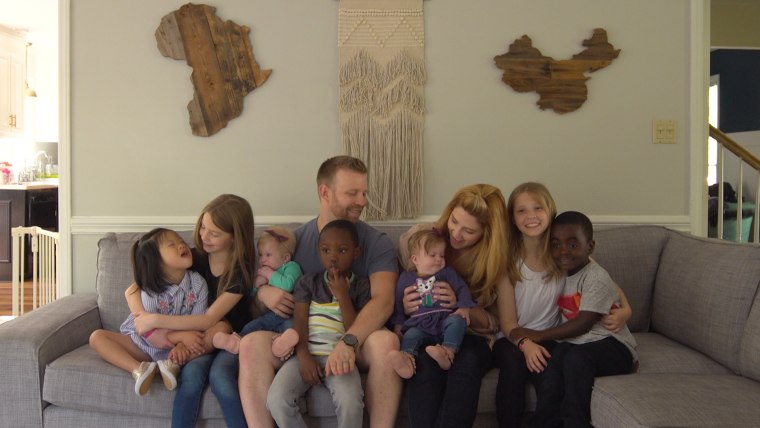 In 2016, Angela was scrolling through social media when she saw that a friend who advocates for children who need homes had posted about a child who was up for adoption — "just the cutest little thing," Angela recalls thinking. At first, they hesitated to pursue another international adoption. "Mentally (and) financially, there's a lot of ups and downs," CR told TODAY.
But, something pulled at their hearts and the couple requested the little girl's file. After seeing that Angela and the little girl had the same birthday, they decided it was meant to be and adopted Rosie in China.
Later that year, the Braniffs were hoping to have one more biological child, but learned they couldn't conceive. Instead, they pursued embryo adoption. The couple adopted two embryos, and were surprised when they both stuck. The twins, Ivy and Amelia, were born in the summer of 2017.
Now they're all one big family.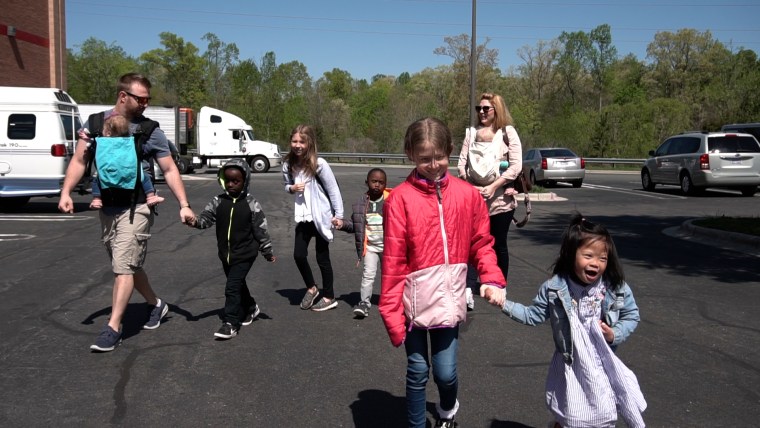 Seven kids can be chaotic, and also expensive. Angela contributes to the family income through her work as a vlogger, sharing what life is like for the large family with hundreds of thousands of subscribers on her YouTube channel, "This Gathered Nest," and CR works in corporate communications.
The couple said they moved into their house as newlyweds thinking, "We're going to fill it with babies." They didn't realize just how full it would get. Shared bedrooms became the norm, and they converted their garage into a playroom.
"We both work really hard to give our children a comfortable life," Angela told TODAY. "But ultimately, if we can provide a family and love, that's what our kids need most. We can't always say yes to everything they want or want to do, but we make every effort to support them in their individual passions and goals."
When asked if they could see themselves expanding their family, Angela responded, "We're at capacity at this point." Her husband echoed, "I won't say never. But I will say not now, maybe."
Even though raising seven kids can be hectic, the Braniffs try to keep it all in perspective.
"We're on YouTube, and so people often say, 'Oh, you're Supermom and he's Superdad,'" CR said. "Listen, we're human. We have flaws. We make mistakes."
"They don't remember that mom didn't get a load of laundry done that day, or that the dishes sat in the sink," Angela said. "They just remember how they felt. Did they feel loved today? That's all the kids care about."