When Nia Vardalos, writer and star of "My Big Fat Greek Wedding," reluctantly left her family on Sunday morning to fly to New York to promote her new book, "Instant Mom," she told her 7-year-old daughter she'd left an Easter basket.
Her daughter Ilaria hugged her and said, "Go get some kids adopted."
It was a Hollywood happy ending that Vardalos sometimes thought she'd never get. The Oscar-nominated actress and screenwriter, who spoke to TODAY.com in a green room interview, underwent 13 in vitro fertilization treatments and numerous failed adoption attempts before she was finally matched, through the California foster care system, with a 3-year-old girl. Vardalos and her husband were given 14 hours notice before first meeting their soon-to-be daughter.
Vardalos told TODAY's Savannah Guthrie the decade of heartbreak was worth it, because at the end she got the daughter she was meant to have.
"She turned and looked at me, and my first thought was, 'Oh, I found you.' That's it," she said.
Vardalos, whose daughter is now 8, kept her adoption journey private for a long time and fiercely guards her daughter's privacy. But she's speaking out now, and has written a book to help other parents.
"I always think, and a lot of reviewers and studio heads think, why did the success of 'My Big Fat Greek Wedding' happen to me? Why? So now I think know. I think I'm supposed to be using my big mouth to talk about adoption," she told Guthrie.

That's not to say adoption was easy. Vardalos and her husband, actor Ian Gomez, fell in love at first sight with their new daughter. But the little girl was scared, angry and withdrawn at first. Vardalos, who writes about the challenges candidly in her book, said their daughter was very tentative during their first meeting.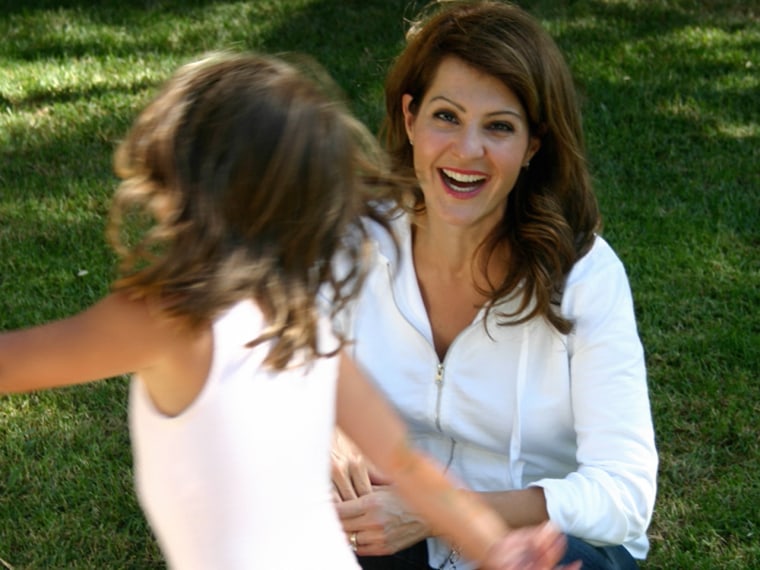 "It was eyes downcast, she was withdrawn. She got very angry the next day. She bit my finger to the point I was like, 'Medic!' It was really, really hard. She wouldn't let us hold her or kiss her," she said. But things got better. "I'm here today because within six months, by the time we finalized her adoption, she was completely transitioned and loving and attentive and attached."
Nia and Ian learned as they went along, just as all parents do.
"We were so unprepared that when my husband took off to get groceries, and we'd adopted a 3-year-old, he came back with baby formula, a steak and a teething ring. We had no idea what we were doing. But you learn," she told TODAY.com. "There's no way to fully prepare. Just eyes wide open – jump."
She said she realized that all new moms feel the same cluelessness, regardless of whether you birth an infant or adopt an older child. "These moms at the park that had children the same age as my daughter saw the look in my eyes -- dazed, confused, daunted, impotent -- that they themselves felt with an infant. They basically said to me, 'It gets better.' And I entered this world, a club, that I never thought I could get into," Vardalos said. "There's a feeling sometimes in motherhood that you're alone in what you're going through, and none of us are alone. We're all going through the same thing."
Vardalos hopes her book and the publicity surrounding it will encourage others considering adoption to possibly open their hearts to an older child. Although Vardalos and her husband adopted domestically, her book offers 25 pages of information on how to adopt internationally."If you're thinking to go abroad, please do," she said on TODAY. "Go wherever you think your child is."

Click here to read an excerpt from "Instant Mom."
TODAY.com's Matt Murray contributed to this story.