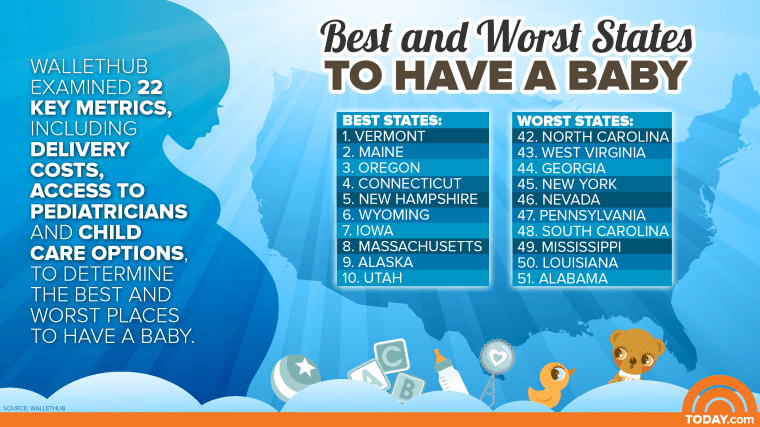 Everyone knows having a baby is a huge expense; where you live also matters. While families in the United States pay the highest birthing cost in the world, the state of Vermont wins the top spot for best state to have a baby in a new study by WalletHub. The personal finance social network analyzed the best and worst states to have a baby, looking at 22 key metrics including health care conditions, budget considerations and the baby-friendliness in the state. The worst? Alabama.
The actual cost of childbirth varies widely by state. If you are lucky enough to live in North Dakota, you will pay the least in hospital fees for the birth of your baby, and Maryland rates the cheapest for Cesarean delivery charges. Most expensive? Florida and Nevada for a conventional birth and Rhode Island for a Cesarean.
If finding a good pediatrician is important to you, the District of Columbia has the highest number of doctors, but be aware the costs to take care of a baby there are four times higher than in Mississippi. It costs, on average, $245,340 to raise a child from birth to adulthood, according to the latest government statistics. Wherever you live, raising kids isn't cheap — but we think all parents would agree that it's worth it.
WalletHub's full rankings of best and worst states to have a baby:
1. Vermont
2. Maine
3. Oregon
4. Connecticut
5. New Hampshire
6. Wyoming
7. Iowa
8. Massachusetts
9. Alaska
10. Utah
11. Hawaii
12. Idaho
13. Minnesota
14. Kentucky
15. North Dakota
16. Nebraska
17. Virginia
18. Colorado
19. Ohio
20. South Dakota
21. Washington
22. Montana
23. Indiana
24. Texas
25. Missouri
26. Maryland
27. Kansas
28. Wisconsin
29. Michigan
30. Arizona
31. District of Columbia
32. New Jersey
33. California
34. Arkansas
35. Delaware
36. Tennessee
37. Florida
38. New Mexico
39. Oklahoma
40. Illinois
41. Rhode Island
42. North Carolina
43. West Virginia
44. Georgia
45. New York
46. Nevada
47. Pennsylvania
48. South Carolina
49. Mississippi
50. Louisiana
51. Alabama