Celebrities have a long tradition of bestowing untraditional names on their offspring, from Moon Unit to Moxie Crimefighter, and 2013 was no exception — just ask little North West.

But some stars make stellar name choices, as a BabyCenter.com survey of more than 5,000 moms found.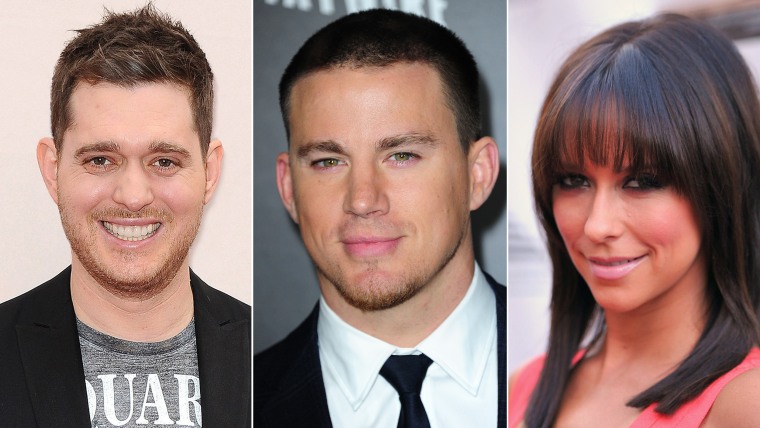 Topping the list of treasured names was Everly, the name of Channing Tatum and Jenna Dewan's daughter. Autumn James, daughter of Jennifer Love Hewitt and Brian Hallisay, as well as Noah, son of Michael Bublé and Luisana Lopilato, came in second and third place, respectively. It's no surprise that Noah tops the list of favorites; it was also among the top 10 boy baby names of 2013.
"Tracking celebrity baby names is a sport for American moms. They love analyzing the baby name choices of famous parents and sharing their opinions," says Linda Murray, BabyCenter global editor-in-chief. "This year's survey results show moms favor slightly quirky names and tried-and-true classics. But when celebs choose truly unusual names, they lose public support."
Next on the list of top 5 most popular names is Luna Encinas (daughter of Penélope Cruz and Javier Bardem). And filling out the favorites is a tie: Elijah Joseph Daniel (son of Elton John and David Furnish) and Winnie (daughter of Jimmy Fallon and Nancy Juvonen).
So what about the much ballyhooed North West, daughter of Kim Kardashian and Kanye West? The BabyCenter moms surveyed disliked it the most, followed by Ace Knute, the name of Jessica Simpson and Eric Johnson's son. (Moms also disliked their choice of Maxwell for their daughter last year.) 
Moms who were surveyed also weren't fans of the name Bear, son of Kate Winslet and Ned Rocknroll. Also in the least favorite list: Cricket Pearl (daughter of Busy Phillips and Marc Silverstein) and Axl Jack (son of Fergie and Josh Duhamel).