Sunscreen is an everyday essential for both adults and children all year long, and especially in the summer. Not only does sunscreen keep you from getting uncomfortable sunburns, but it also lowers the risk of skin cancer. With so many options on the market, a health watchdog group is shining a light on sunscreens marketed to babies and children.
The Environmental Working Group, a consumer watchdog group, has released its annual sunscreen guide, testing 201 beach and sport sunscreens specifically marketed to kids and babies.
Some of the findings were sobering: The researchers stress that there is no sunscreen that provides foolproof protection from skin cancer and sun damage.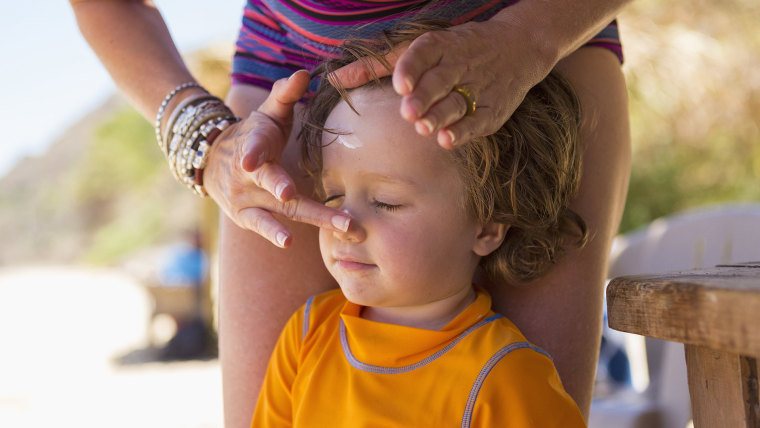 "Sunscreen shouldn't be your first line of defense from the sun," EWG senior analyst Sonya Lunder told TODAY. "Any layer of clothing you're going to wear is going to provide much better protection."
Part of the problem, said Lunder, is that sunbathers tend to misuse and over-rely on the sunscreen. "One of the major things that we've concluded as more than a decade of research is that people apply about one quarter of the amount needed to get the SPF on the bottle. Basically, a user would need to put two coats of the sunscreen and replenish it every two hours or after each time in the water to maintain the advertised level of protection."
Nneka Leiba, the director of EWG's healthy living science program, shared a few key things to look for when picking a sunscreen.
1. Use a physical sunscreen.
All of the sunscreens recommended by EWG are physical sunscreens, meaning that they use zinc oxide or titanium dioxide as the active ingredient.
Leiba shared that zinc oxide and titanium dioxide are the only two ingredients deemed both safe and effective by the FDA.
While EWG argues against sunscreens containing vitamin A additives such as retinyl palminate — it says they speed the development of skin tumors and lesions, the Food and Drug Administration and the American Academy of Dermatology note that no studies link the ingredient to skin cancer in humans.
2. Go for lotions and sticks over sprays.
Leiba recommends using lotion or stick sunscreens instead of sprays, citing that sprays have small particles that can get into the lungs.
3. Make sure it has an SPF between 15 and 50+.
A minimum SPF of 15, while following all of the other guidelines provided by the EWG, will provide adequate sun protection for most people.
European products also tend to have better UVA protection than ones sold on this side of the Atlantic because of stricter government standards regarding the ingredients, the group reported.
Lunder noted that children can use adult sunscreens. There is little difference in the ingredients between the adult and kid versions of most brands, although some in the latter category are less irritating on the skin or better smelling to kids' noses. Sunscreen is not recommended for babies under 6 months of age: Parents should keep babies under 6 months covered up and out of the sun.
The best sunscreens for kids and babies
Further filtering the sunscreens that passed the group's stringent standards, the EWG provided a list of its top 63 products for kids. Some of those top picks are:
Kids can splash around in the water for up to 80 minutes with this water-resistant sunscreen. This reef-safe product is made without oxybenzone or octinoxate.
This hydrating sunscreen is made with hyaluronic acid to help retain the skin's natural moisture and niacinamide to help calm the skin. It is hypoallergenic and suitable for eczema-prone skin.
This sunscreen stick is easy to apply and under $4!
The stick format makes this sunblock particularly easy to apply, and the shea butter, coconut oil, and castor oil hydrate skin while preventing sun damage.
It's never too early to teach them the importance of wearing sunscreen everyday, all year-round.
This mild sunblock is designed for sensitive skin, with a skin-soothing, naturally sourced formula.
Reef-safe and made in the U.S., this sunscreen combines organic oils and zinc oxide for safe, gentle protection.
Natural ingredients like aloe vera, jojoba oil and sunflower seed oil combine to provide up to 80 minutes of sun protection after each application.
This sheer and gentle sunscreen is cruelty-free and made without dyes or synthetic fragrances.
Made with just seven ingredients, this sunscreen is naturally water- and sweat-resistant for 40 minutes after application.
Sunnyscreen is made with natural ingredients like sunflower seed oil and shea butter to keep skin nourished while protecting it from the sun. It's even travel-ready in TSA-approved three-ounce packaging.
This sunblock contains natural moisturizing ingredients like coconut oil and shea and cocoa butters, and doesn't leave an oily sheen on skin.
This naturally-sourced sunblock includes a blend of natural botanicals, including tea leaf, sea kelp and lotus extracts.
In addition to protecting skin, this lightweight lotion also uses organic green tea, rose hips, and buriti oil to repair already-damaged skin.
With just six ingredients, this biodegradable sunblock provides full protection and won't damage the oceans you're swimming in.
For more stories like this, check out:
Subscribe to our Stuff We Love and One Great Find newsletters, and download our TODAY app to discover deals, shopping tips, budget-friendly product recommendations and more!
This article was originally published on May 23, 2018.