When Anry Fuentes slipped on the cheerleader's uniform at her California high school, becoming the first transgender member of the squad was the last thing on her mind.
"It was the best moment of my life,'' Fuentes told TODAY.com. "I've been wanting to be a cheerleader forever. It made me sad when I didn't make the team last year, so I just thought in my senior year it has to happen.
"When I found out after the tryouts in April that I made it, I cried a little bit. I was just happy and excited."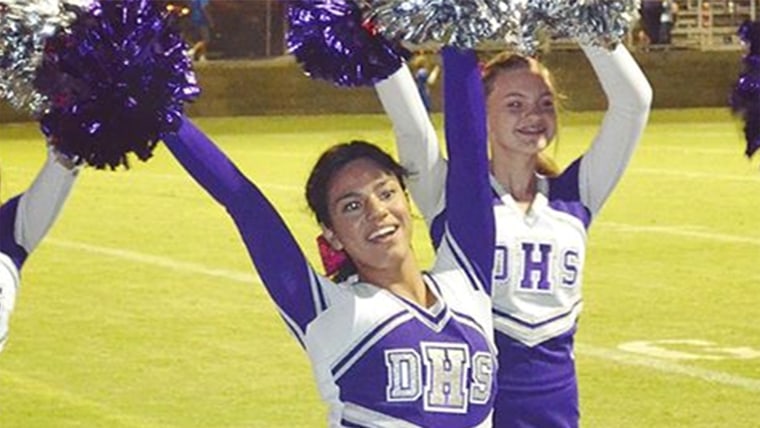 Fuentes, 18, grew up as a boy named Henry before making the decision to dress and identify as a female earlier this year.
RELATED: 97-year-old woman sheds tears of joy upon receiving high school diploma
She is the first transgender member of the team at Denair High School, located some two hours east of San Francisco.
And while she initially wanted to make the team as a goal for herself, she hopes her journey might inspire others in similar situations.
"(The initial attention) did make it kind of difficult because I have all eyes on me, and it's not something I was looking for,'' she said.
"At first it was to help myself because I wanted it to be done with. Now I feel like I want to help."
Denair cheerleading coach Robin Hilton told TODAY.com she was nervous when Fuentes first came out to her because she wanted the teen to "feel safe."
RELATED: Parents: The sex talk works, even if it makes you cringe
"Our community has always accepted her from the very beginning," Hilton said.
"The squad has embraced her and they have been friends forever,'' she added. "Now that she finally feels happy and confident, she wants others to feel that way, too."
When Fuentes first made the team in April, she was still identifying as a boy and was issued a male cheerleading uniform. She later decided to tell the team about her transition during a group meeting.
"I did have to tell the squad and let them know what was going on,'' Fuentes said. "Some were still calling me Henry and using male pronouns. It was a little scary because I didn't how they would react.
"I was really nervous about what words to use, but the cheerleaders were super sweet, saying, 'We're proud of you, and we love you for who you are.'''
Many of them have known Fuentes for a long time after growing up together in a small town where the high school has less than 300 students.
"The school is a reflection of the community, and it's a very accepting place,'' Denair Unified School District superintendent Aaron Rosander told TODAY.com.
"My own daughter is on the cheer squad and I can tell you that Anry is one of a group of remarkable kids. She's been part of the Denair family for a long time. I don't think we've learned anything we didn't already know."
While the Denair community has embraced her, Fuentes had some concern about how crowds would react during away games for the football team.
"Being at home is easy because you know the faces in the crowd, but at an away game, you don't know who's on the other side or if someone is going to say something,'' she said. "I get a little scared, but actually our away games have been really good. No one has said anything bad."
Fuentes' father died when she was young, and she said her mother has struggled with her transition.
"I don't think she fully understands what it is, and I feel that maybe she is overwhelmed," she said. "She's not very accepting at the moment."
Fuentes has not had any type of surgery or hormone treatments yet in her transition.
She wants to try out for the cheerleading team at a junior college on her way to her ultimate goal of becoming a dental hygienist.
As for her time at Denair, the hope is that when the next transgender student comes along looking to be part of the cheerleading team, it won't be a story any more.
"It should be something normal, something no one really worries about,'' Fuentes said. "It should be all about just being another member of the team."
Follow TODAY.com writer Scott Stump on Twitter.