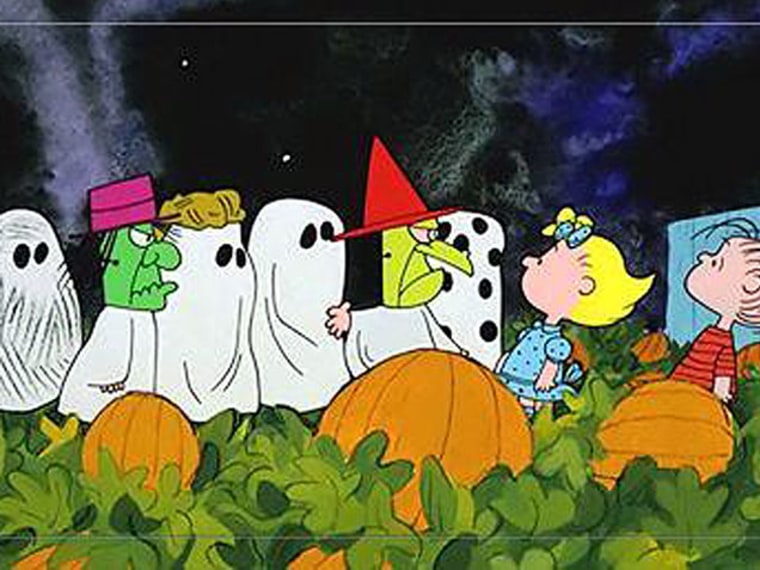 If your kids like a little spookiness to gear up for the season, check out this list of scary (but not too scary!) Halloween movies for kids, from Common Sense Media.
Pooh's Heffalump Halloween Movie (Ages 3+) incorporates a previously aired TV cartoon, Winnie the Pooh: Boo to You Too (1996), into its story. Although the DVD has a Halloween theme, the scares are relatively mild—a few of the worst frights include bats, crows, and a wheelbarrow full of jack-o'-lanterns that seem to come alive.
It's the Great Pumpkin, Charlie Brown (Ages 4+) promotes many favorite American Halloween traditions like trick-or-treating and apple bobbing, not to mention the infamous Great Pumpkin (who must have missed Linus' pumpkin patch somehow). When Snoopy dresses up as a WWI flying ace, he hams it up during a pretend battle atop his dog house—complete with flying bullets. Some of the Halloween imagery (ghosts, skeletons) may alarm the very youngest viewers.
A Very Brave Witch and More Great Halloween Stories for Kids (Ages 4+) Spooky music and exaggerated voices are the only potentially frightening elements of this Halloween-themed collection of short films. Witches, ghosts, and robbers all make appearances, and while their presence might raise tensions for the youngest children, nothing truly scary happens, making this one of the best Halloween movies for kids.
Bugs Bunny's Halloween Hijinx (Ages 6+) Very young or sensitive viewers may be unnerved by scenes in which both Bugs and Tweety are turned into hulking monsters. In another segment, Sylvester and Porky spend a night in a haunted house, with Sylvester in a continual state of extreme terror. A cat is carried to his execution by a group of villainous mice. Grade-school kids will enjoy the visual gags, but there are some elements here that parents may find questionable, such as the gender stereotyping and extreme violence. Preteens appreciate the antics of the beloved characters, but observant viewers may notice the jarring mix of animation styles in "Bugs Bunny's Howl-oween." Teen Looney Tunes fans enjoy seeing the more contemporary shorts, but may balk at the re-editing done with the vintage Warner Brothers classics.
Scooby-Doo and the Goblin King (Ages 6+) This Halloween movie for kids is slightly scarier than the typical Scooby-Doo cartoon. Several spooky characters include a fire-shrouded headless horseman and a devil-esqe goblin, both of whom chase characters. Cartoon violence, while mild, is fairly frequent, but courage is emphasized as characters work together to meet the challenges as they come.
Abbott and Costello Meet Frankenstein (Ages 7+) combines black and white 40s comedy with classic screen monsters, may not translate well for children used to eye-dazzling special effects, or for younger children, who may become frightened of these classic screen monsters menacing lovable Costello. Older kids will identify with frightened Costello and enjoy the monster hijinx. Teens may laugh with (or at) the comedians and the monsters.
Halloweentown (Ages 7+) contains some mildly scary scenes involving a nasty warlock who's just as scary to look at as he is to listen to; his reptilian-like face and bellowing, angry voice are a frightful combination. In the most intense scene, the evil warlock zaps Mom and Grandma in front of the kids, who are forced to leave their loved ones behind in order to save themselves. The quaint village of Halloweentown is populated with mildly scary-looking creatures of all sorts. On more than one occasion, the main character (who's 13 years old) breaks her mother's rules, and there are a few brief scenes in which family members argue (one mother-daughter squabble is quite realistic and may distress younger kids).
The Nightmare Before Christmas (Ages 7+) is one of the great family Halloween movies for all ages. That said, it does have scary Halloween creatures in it—characters take off their own heads and limbs, and there are skeletons, nasty toys, and a creepy villain named Oogie Boogie. A Christmas tree even burns up. Some little kids who aren't old enough to distinguish this fantasy from the goings on at Halloween (or those prone to nightmares) might steer clear, although you can always pause the TV and talk about what's scaring them. The special 3D version is identical in content and storyline to the original, but the enhanced visuals may add marginal spookiness and could further blur the line between fantasy and reality for some younger kids.
Halloweentown II: Kalabar's Revenge (Ages 8+) contains some mildly scary scenes in which a young warlock surprises the main characters by popping up in unexpected places and talking in a threatening, taunting tone. In another scene, the very nice mom turns into an angry, scary-looking witch. The main character faces a time crunch as she scrambles to save friends and family from falling under the villain's spell, so this may cause a bit of edge-of-your-seat tension for some young viewers. Overall, this sequel isn't as scary as the first, mildly scary, Halloweentown film, and a bit of humor is added to the parts that are slightly scary or sad. For example, a curse causes the eccentric citizens of Halloweentown to turn into mundane mortals who enjoy sorting socks and wearing drab clothing.
Return to Halloweentown (Ages 8+) contains a few mildly scary scenes including some spooky red fog; a deep, bellowing warlock voice; and a growling creature-monster with glowing eyes. Some strange-looking characters appear throughout the movie, including a friendly skeleton taxi driver, a drooling troll, and some hooded demon-like creatures. On several occasions the main teen character breaks or bends rules, though she's generally well behaved. The primary bad characters are three young women who wear tight clothing and heavy makeup and treat others very badly, including teasing and tricking them.
A version of this story originally appeared on iVillage.