For Father's Day, Behati Prinsloo devoted more than one post on social media to husband Adam Levine — and that's not all.
As a bonus treat for fans, the mom of two even included the first-ever glimpse of new daughter Gio Grace's face.
"My first baby holding OUR second baby," Prinsloo captioned a black-and-while shot of the "Voice" coach and Maroon 5 frontman with their 4-month-old cradled in his arms.
Father and daughter trade off big smiles in the sweet photo.
Prinsloo and Levine also have another daughter together, 21-month-old Dusty Rose.
"Our girls are so lucky to call you dad and I'm so lucky to have you as a husband a lover and a friend," she continued. "We love you. Life is better with you."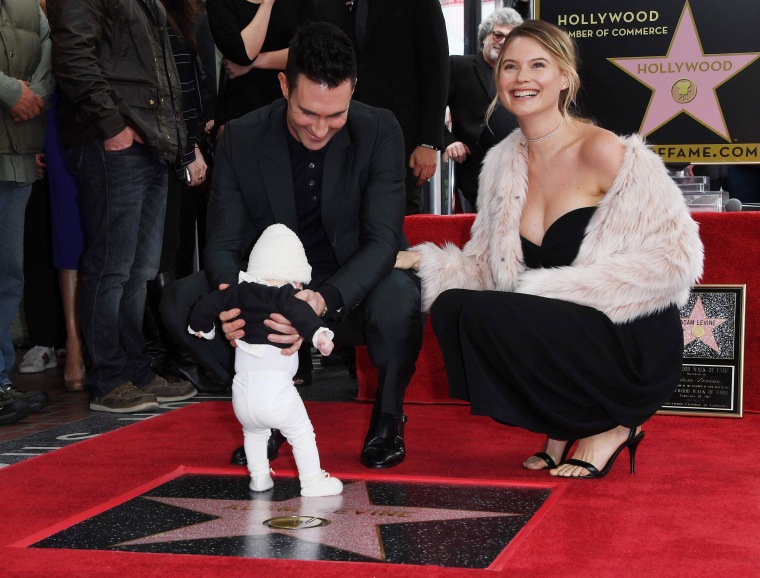 And even when the model went on to celebrate her own father for the holiday, her thoughts returned to her partner.
"To my dad, thank you for being the best example to show me what I would want in a husband and father one day, the way you look at mom is the way Adam looks at me, thank you for being the best dad EVER," she wrote.
In yet another post featuring a black-and-white photo of Levine, the 29-year-old added, "There isn't enough words to express what you mean to us! Crushing life. We love you dada. Happy Father's Day."
Before those Sunday tributes, the only look the parents have shared of little Gio was a pic of her feet, uploaded just days after her February birth.
It's the hope of both Prinsloo and Levine that future Father's Days include even more little ones.
During a visit to "The Ellen DeGeneres Show" last November, the rocker admitted that he wants "a lot" of kids. "I thrive in chaos," he said. "I really genuinely enjoy it."
Then he revealed Prinsloo wants even more than "a lot."
"She wants like 100 babies, but I don't know if I can do that," he laughed.