/ Source: TODAY Contributor
Kevin and Jessica Mahoney had no trouble at all when they conceived and had their first child, son Corbin, now 4. But when they tried to give Corbin a sibling, they suffered loss after unexplained loss, leaving the Mahoneys and their doctors in Hartford, Connecticut, frustrated and baffled. "We went to a fertility specialist, and they did all the genetic testing, but they couldn't explain it. They couldn't find anything wrong with either of us," Kevin Mahoney told TODAY Parents.
Just as the Mahoneys started to look into adoption, they found themselves pregnant again — and this time, the pregnancy progressed; Jessica is due on November 11. One day in August, Kevin Mahoney asked his neighbor, professional photographer JoAnn Marrero, if she might consider taking his wife's maternity photographs, and Marrero said yes. She immediately began planning, and the result of the shoot was breathtaking.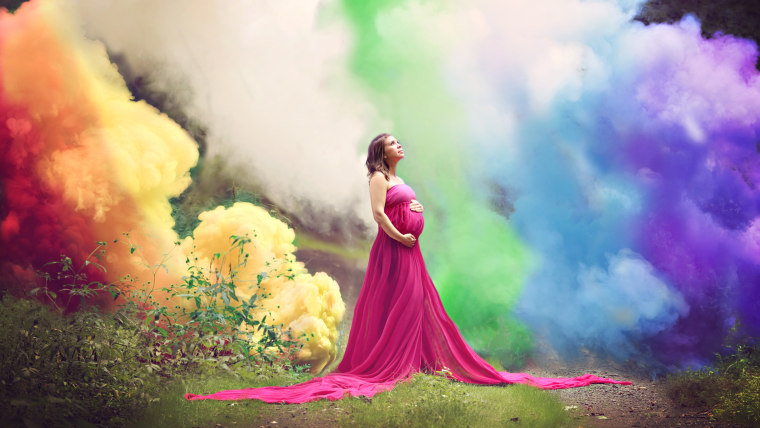 "Jess wanted something rainbow-inspired because of the many fertility struggles she and Kevin had encountered, and so I knew I had to do something extra special for her family," Marrero told TODAY Parents. "My vision for part of their session was to create our own rainbow with colorful smoke bombs." Couples who suffer from miscarriages and infant loss often call the babies that come after such losses "rainbow babies," because rainbows come after rain.
Never miss an inspiring parenting story with TODAY's newsletters! Sign up here
Marrero asked her mentor, Mary Maloney, to work with her on the shoot. "Bringing this photo to life was definitely a concerted team effort. It was crazy fun!" said Marrero. "One by one, each smoke bomb was set — not without some duds, too — and with each burst of color, we watched this portrait coming to life behind my lens."
Though the result was beautiful, the process was not all butterflies and (literal) rainbows, as Maloney showed in an Instagram post. "Picture lots of coughing, color-stained clothing, and a rainbow wash in our hair," said Marrero. "It was as if we were shooting a Skittles commercial, but sweeter — and so very worth every single moment."
For Marrero, a mother of two grown sons, the shoot was uplifting. "As a birth and NICU photographer, I see a lot of sadness, so this was really inspiring," she said. Marrero's mentor, Maloney, said that as someone who suffered a miscarriage herself before she had three children, she was determined to make this image memorable for the Mahoneys. "I was very inspired by Jess's fellow loss and wanted nothing more than to rock this image out for her," said Maloney. "I can understand how much hurt comes along with such a loss."
Kevin Mahoney said his wife, a pediatric nurse, is a strong woman who is used to caring for other families facing illness and loss, but that her many miscarriages took "a toll" on her. "She still thinks anything could happen," he said, "After you go through so many losses, you feel that way. You never know. But we are starting to feel safe."