A year ago, a sky lantern crashed in my front yard. Scrawled across it were the words, "Love you, Dad. Miss you so much. Steph." I wrote an open letter to Steph, which TODAY.com picked up, and eventually that letter made its way to the woman who sent the lantern. She and I became friends, and she encouraged me to write letters to my own three daughters.
The difficulty of writing a meaningful letter to my kids shocked me. The complexity and breadth of my deep emotional attachment to my girls proved difficult to get onto paper. It took time and focused attention to write letters that had a chance of catching a tenth of what I feel, but I am so glad that I did.
RELATED: The funny, blunt and inspiring letter left behind by a mom who died from cancer
I want to share some of the lessons I learned along the way. If there is a child you love — son, daughter, grandchild, niece, nephew or simply someone who is like family to you — you might like to write a letter, too.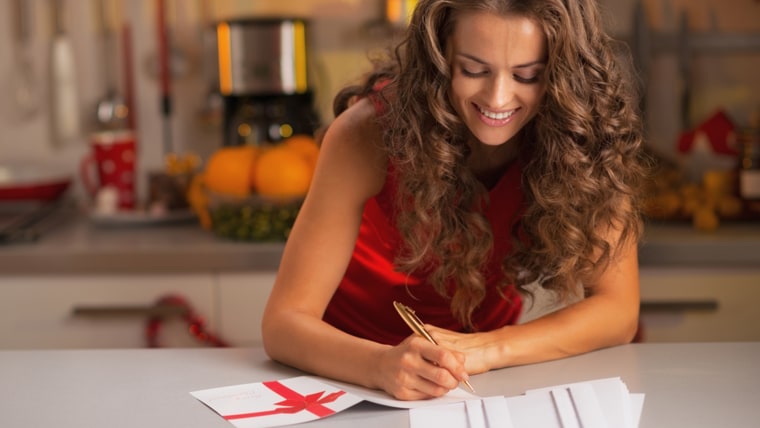 Here are some tips and exercises to get you started:
Short is good. You could write a 30-page letter, but you don't have to. A great letter might be just a few paragraphs or even a few sentences. It's the quality of the words that matters, not the number. Don't get intimidated by length!
Accentuate the positive. "I love you even though you don't excel at football" is not a particularly happy sentence. This letter is not the place to share how you wish your child was different. Resist the temptation to say something like "I love you, but…." Drop that last word. This is not the time. This should be a letter a child can go to when they have doubts you love them and need the reminder. When you've finished your letter, go back through and remove any negative comments that may have creeped in without you realizing it. No criticism, no complaints, no negative comparisons, no back-handed compliments. This letter should celebrate the positive and lift the child up.
Be honest. Be vulnerable. There are times when we're uncertain how our kids feel about us. It's hard not to withdraw or protect ourselves when that happens. Don't worry about whether your teen, for instance, will roll their eyes or say how cheesy it is. In this letter, just be honest. Don't shy away from being strong in expressing your deep love for them. Don't worry about how they will react. And know that even if they don't respond how you would hope, your words are powerful, necessary and transformative. Every kid wants to hear that they are loved, even if they tell you the opposite,.
Use the words "I love you" and "I am proud of you." These are two phrases children want to hear. Plus, that's two sentences written already! Make sure they know you love them because of who they are and not because of anything they've accomplished. This way they know that no matter what happens, you'll always love them.
RELATED: Dad writes touching letter to daughter with Down syndrome on her wedding day
Exercises that may help:
Look at old photographs of your child. What are some of your favorite times together? Why? What was it like in the hard times? How did your child change your life?
When I wrote to my daughters, I chose a central metaphor for each letter using things they loved. So for one daughter I talked about "love is a story" because she loves reading. For another I chose "love is a dance" because she is a ballerina. For my third I chose "love is a hummingbird" because she loves birds (she later told me that was terrible and I should have chosen "love is soccer"). I came to these central metaphors by asking some of these questions: What are my child's favorite things? Toys? Activities? Colors? People? What does this say about them? What does this say about their passions and interests? What things about those interests reveal something beautiful about my child? Finding a central theme helps in crafting the letter and making it unique to how you feel about your child.
What do you wish you had heard from your parents? If they wrote you a letter, what did they say that was particularly meaningful to you, that you treasure? Is there something they said or you wish they had said that you would want to pass on to your own child?
RELATED: Facebook's Mark Zuckerberg, Priscilla Chan post letter to newborn daughter, Max
I hope your child treasures your letter. Set aside some time right now and go write it!
—This article (as well as Matt's letters to his daughters) appears in a slightly modified form in the book, Sky Lantern, available now from Howard Books.
Matt is the author of several books including his most recent, Sky Lantern. To learn more, please visit Mikalatos.com.