He's the hero dad we deserve — and need — right now.
A Georgia father of four dons the Dark Knight's disguise and mimics the superhero's husky voice to become BatDad, protecting his family and the suburbs from bad table manners, unbuckled seat belts and more in 6-second Vine clips.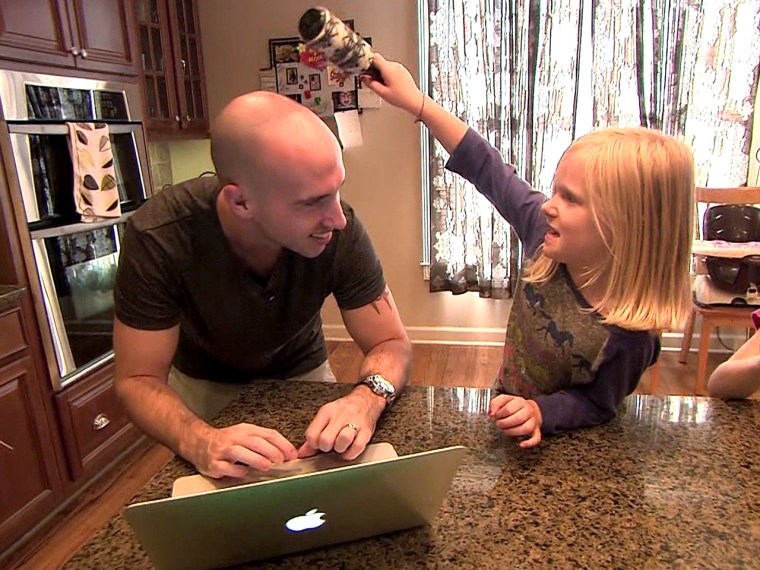 The superhero removed his mask for Carson Daly in the Orange Room, revealing his true identity as Blake Wilson.
"I'm just a normal dad with four kids and a wife having fun with them," he told TODAY. "We live a very normal life."
The videos have become a huge hit online, racking up millions of views. Wilson thinks he knows why they're so popular: "It makes people smile because it's so stupid," Wilson said in his BatDad voice.
His wife Jen has become a central character, often getting startled while performing every day activities. "I feel bad for her," Wilson said. "I know that I can be annoying."
So how does BatWife feel about Wilson's alter-ego? Watch the TODAY video to find out.
Earlier, the TODAY's Take hosts applauded Wilson's creativity . "You are a genius," Al Roker said on Tuesday. "I wish I had thought of that." Willie Geist agreed. "Well done, sir."
BatDad even recorded a special Vine for TODAY as NBC News photojournalist Dwaine Scott taped the interview.
Check out some highlights from Wilson's Vine account: 
This updated post was originally published Sept. 24 at 11:20 a.m. ET.