Classes don't start for a few weeks, but math is already in session in the back-to-school aisles across the country.
Parents are spending more money on back-to-school this year. According to the National Retail Federation's annual back-to-school survey, the average family with kids in elementary or high school can expect to spend a whopping $669.28 on supplies, clothes, electronics and other essentials. That's up 5 percent from last year from $634.78.
So, experts say, why not use this annual shopping spree as an opportunity to give kids a crash course in cash?

When Jen Mann's daughter, who is entering 2nd grade, wanted to buy a pencil box shaped like a plush dog for about $5 instead of a basic pencil box that cost around 99 cents, Mann and her daughter agreed that the difference would come out of her allowance. She also contributed about $50 of her own savings to her back-to-school clothing.
"I use everything as a teaching opportunity," said Mann, a 42-year-old author and parent from Overland Park, Kansas.
Parents can start these conversations as early as kindergarten by asking their children why they think a backpack is more expensive than a pack of pencils, said Matt Ong, a retail analyst for Nerdwallet.com. "Get them comparing certain backpacks to each other, or comparing backpacks to notebooks."
As children get older, parents' financial lessons should involve more responsibility. Ong said children can start buying their own school supplies in late middle school. "I'd advise a parent to go over clear expectations with her or his middle-schooler at home, get the child excited about buying independence, and support the child throughout the process of creating a budget, scanning coupons and ads, and creating a defined shopping list," said Ong.
But while in the store, it's hands off. Let your kid lead the trip and only offer guidance and support.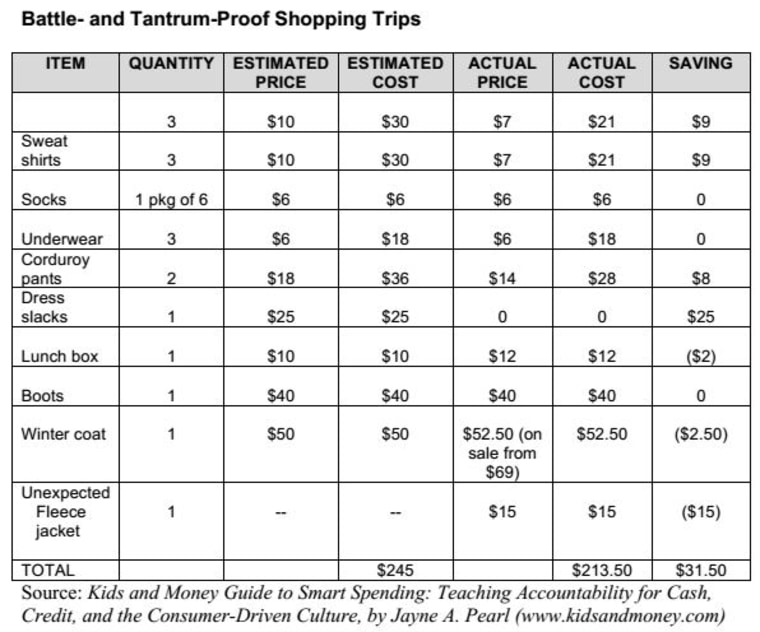 Then there's the "cost of cool," putting aside cash for those special items that kids want but often cost extra, said Jayne Pearl, author of the "Kids and Money" series.
Pearl first started a back-to-school budget with her son when he turned 9. She developed a "Battle and Tantrum-Proof Shopping Trips" chart that parents can use to help kids learn to mind their money.

The chart includes the required school supplies, their cost, and the available budget. If kids want to buy one item that costs more than the expected amount, help them figure out where to cut back on other supplies.

"Instead of becoming their enemy, become their coach," said Pearl. "Your goal is to be on your kids' side, instead of just being the person who says "yes" or "no."
Putting children in charge of their own spending is a great way to teach them about budgeting and money, said Joshua Gans, author of "Parentonomics: An Economist Dad Looks at Parenting," but that also means letting go some.
Although it might be hard to watch children spend money on low-quality items or things that don't have a lot of financial value, "you've got to let them do it," he said.
"The problem is that it's really hard as a parent to let kids make their own decisions," said Gans.