"Bachelor" Nation, brace yourselves — the next generation is growing!
Sean Lowe and Catherine Giudici Lowe, whose love story played out on "The Bachelor" season 17, welcomed their first child on Saturday: a son, Samuel Thomas Lowe.
Both took to Twitter within minutes of each other to announce the good news, with Catherine teasing that she was in love with another boy ...
And Sean keeping it earnest and #blessed, like any good Texan gentleman.
The couple announced the pregnancy in December with a sweet Instagram that reignited our faith in reality TV as matchmaking tool.
RELATED: Sean Lowe and Catherine Giudici from 'The Bachelor' announce pregnancy
More recently, Sean and Catherine opened up to TODAY about their impending parenthood. "I'm nervous about everything," said Catherine at the "Loads of Love" Dreft baby shower in New York City in April. "There's not one thing I'm not nervous about."
Sean, on the other hand, was cool as a cucumber. "I'm not nervous at all," he said. "I know between the two of us we'll be great parents. There's nothing the baby can throw our way that we won't be able to handle. I'm not nervous. I'm excited."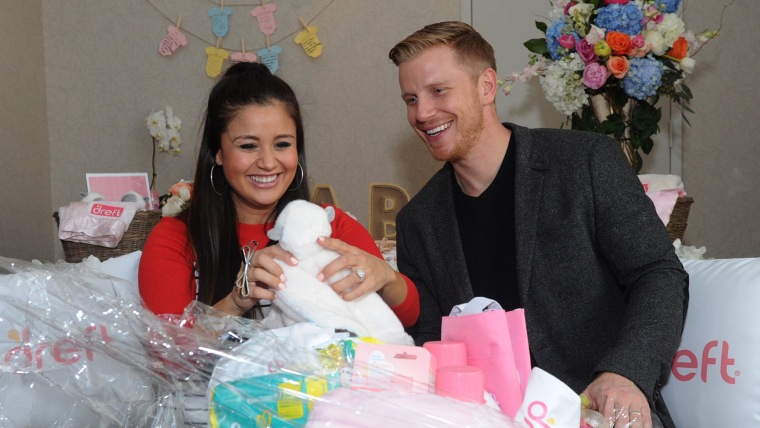 Well then! Sounds like they'll be a great team. They've even got the good-cop, bad-cop thing down, revealing that Catherine will be the disciplinarian while Sean is set on being the "fun dad."
RELATED: 'Bachelor' couple Catherine and Sean Lowe open up about becoming parents
Now it's only, what, 20 years until Samuel himself can compete for the heart of a highly eligible mate? Ah, the circle of life.