Carly Waddell is getting a tiny female ally in her house of boys!
The former "Bachelor in Paradise" cast member, who married her Season 3 co-star Evan Bass in June, just announced that she is expecting a baby girl. The pregnant reality star looked thrilled in a photo posted to her Instagram account on Saturday announcing the gender of the couple's unborn baby.
"This is our professional Gender Reveal photo! IT'S A GIRL!!!! I'm not the only girl anymore! Woo Hoo!!!!" she wrote in the caption of the photo, which also shows Bass and his three sons from a previous relationship.
Bass posted a video to his own Instagram showing the happy moment he and his family all found out — via a gender-reveal piñata — that the baby is a girl. The video shows his son hitting the piñata to reveal pink confetti. Bass and his sons can be seen celebrating and screaming, "It's a girl!"
Bass joked about raising a daughter in the caption of the Instagram video.
"We are pleased to announce the release of our baby girl Bass in February 2018," he wrote. "My book, 'Raising Girls and Where to Buy a Shotgun for her Prom' will be released shortly thereafter followed up by my fashion blog YouTube interactive. ALSO, WE ARE SO EXCITED."
Bass told E! News that his sons, as well as Carly, were hoping to add a little girl to their family.
"We are absolutely out of our minds with happiness," he said. "Our whole family was hoping for a girl and it's a dream come true. When we found out we both started crying our eyes out with tears of happiness."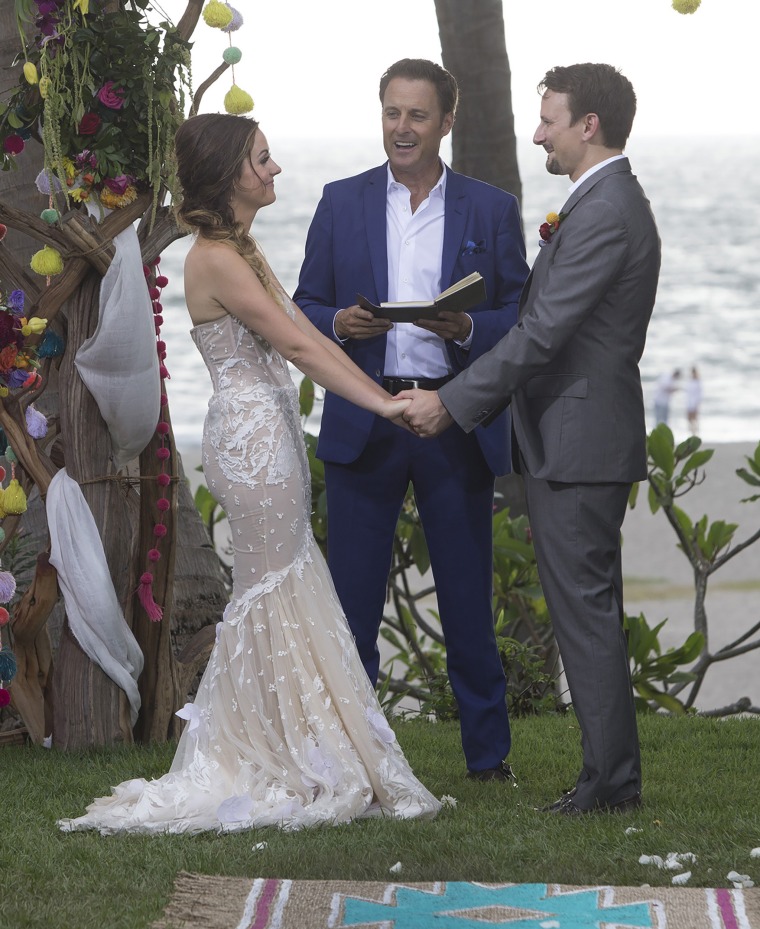 Bass and Waddell, whose wedding in Mexico was shown during last Tuesday's episode of "Bachelor in Paradise," announced the pregnancy via their Instagram accounts on August 6.
This will be the second baby born to a couple who met on "Bachelor in Paradise." Just days ago, Jade (Roper) Tolbert and Tanner Tolbert, who met and became engaged on the second season of the ABC summer reality show, welcomed their first child.