Sean and Catherine Lowe may have met under rather unique circumstances on "The Bachelor," but they are typical expectant parents. With just about two months left to go in her pregnancy, the mom-to-be revealed she's worried about what's to come with the birth of the couple's first child.
"I'm nervous about everything," she told TODAY at the "Loads of Love" Dreft baby shower in New York City on Wednesday. "There's not one thing I'm not nervous about."
Sean, on the other hand, is a bit cooler when it comes to his impending fatherhood. "I'm not nervous at all," he revealed. "I know between the two of us we'll be great parents. There's nothing the baby can throw our way that we won't be able to handle. I'm not nervous. I'm excited."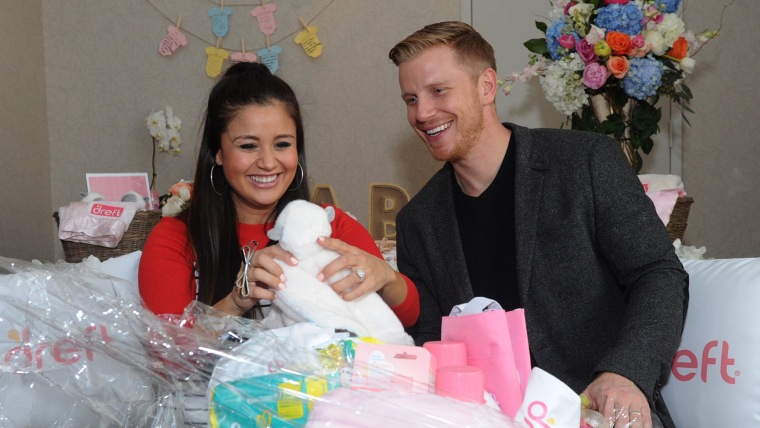 While their stress levels may differ, one thing they can agree on is their parenting style. "We're going to be on the chill, fun side," noted Catherine. Sean added, "Definitely on the chill side. You know those friends you grew up with who had super-strict parents and they turn out to be a little bit more wild, or off? My parents were pretty relaxed and Catherine's mom was as well. Hopefully we can be chill, but still instill the right morals so they'll be more kids."
The Season 14 couple even decided who is going to be the stickler. "I will be the disciplinarian," said Catherine. "I'm set on being the fun dad," noted Sean.
RELATED: Sean Lowe and Catherine Giudici from 'The Bachelor' announce pregnancy
But, when it comes to whether or not they'd let their child participate in reality TV, it was Sean who expressed more concern. "I would advise our kid about doing reality TV. I'd tell them the pros and the cons and to make the best decision for you," he said. "But, I don't know if I'd want to see my daughter on a reality TV show."
Catherine disagreed, explaining, "There's reality TV and there's reality TV. We did a respectful one. My mom is proud of me and what I did. So, as long as you instill good morals and good judgment I think it's totally fine. I don't want to see her on 'Bad Girls Club,' but 'The Bachelor' is fine for me."
"Hopefully she's not the drunk chick swinging from the chandelier," Sean joked.
Just as they'll have to wait and see if their child wants to do reality TV, they've held off on learning the baby's gender. "We don't know the sex," said Catherine. "We want it to be a surprise; I'm just happy to be having an easy pregnancy."
In fact, her only complaint was a lack of energy. "I feel good, but a little bit tired now that I'm in the third trimester," she said. "We have a big baby and I'm a small person, so it's only going to get more uncomfortable. But, pregnancy has been so easy for me. There's nothing to complain about. I haven't had any cravings or morning sickness, just a little heartburn. If pregnancy is this easy for me, I'll pop more out."
Yes, Sean and Catherine already have plans to expand their brood. "I want a big family," revealed Catherine. "I'm looking for three biological and two adopted. That's what we're thinking about."
Sean was a bit more hesitant about the overall number, but agreed adoption was certainly in their future. "I've always had the mindset that you're blessed to be a blessing and I know that we're very blessed people, so why not bless a life that really needs it."