Nearly a year ago, when Johanna Morton was 12 weeks pregnant, doctors told her something was wrong with her baby's heart and that she would almost certainly have a miscarriage.
Six weeks later, they said her baby would almost certainly be stillborn.
But last week, Johanna and Craig Morton's 5-month-old "miracle," Clara Ray, looked out the window and watched her first snowfall. And the photos of her adorable reaction are guaranteed to make your day.
Clara Ray has various birth defects, including congenital heart disease (CHD) and Heterotaxy syndrome, her 22-year-old mom told TODAY.
"(We have) endless doctors' appointments and cardiologist appointments," Morton said. "She has surgeries, procedures. We're taking it day by day. With her, anything can change."
In between hospital visits, Clara Ray got to spend Thanksgiving with her family in Cornwallville, New York, where she witnessed her first snowfall. Now photos of that priceless moment have gone viral after the story was shared on the Love What Matters Facebook page.
RELATED: 1-year-old snowboarder, Sloan Henderson, 'cruises' slopes in adorable videos
"The first snowfall (of the season), we were in Boston for her surgery," Morton said. "We were a little sad we missed it, but then it snowed again when we were home. We got out of bed and took her to the window. She stared at the snow in wonder. Her face — obviously, the photo says it all. She was so excited."
It was a moment they had dreamed about, she added.
RELATED: Watch blissful newborn have her hair washed for the first time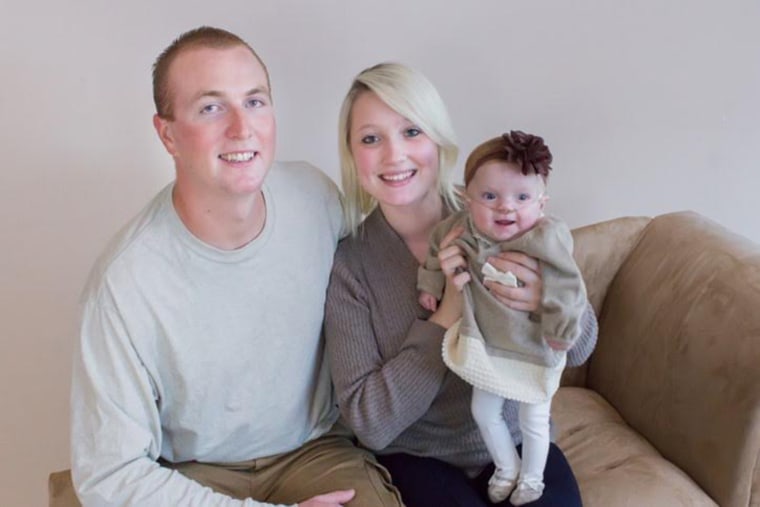 "It was amazing," Morton said. "There were so many moments they told us she wouldn't survive. We always talked about how we couldn't wait for her to see her first snowfall and what it would be like. We knew, right there, that would forever be a memory, no matter what happens."
Thousands of people shared Morton's post on the Love What Matters page, and many may already be familiar with the family's story. They keep fans updated on the Prayers for Clara Ray Facebook page, and also have a GoFundMe page set up to raise funds for her medical expenses.
RELATED: Mom sews tiny outfits for NICU preemies too small for standard onesies
"It's crazy to see how many people have shared and commented," Morton said. "I think it's great because with CHD, there is no cure. So we're always trying to spread awareness and hope for these kids who fight every day."
"It is a miracle every second we get to spend with her," she added. "We were told to cherish every moment, because her heart might not grow with her ... she literally fights with every heartbeat."