Julia Heckathorn knew she was going to continue plans to adopt a baby sloth when she realized she was pregnant with her daughter, but the author of the "Search for the Hidden Clover" children's book series didn't realize just how well they'd get along.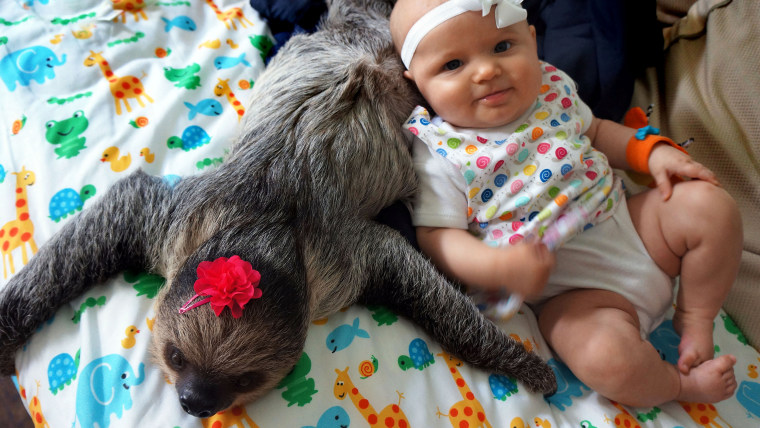 "They're both, very much, babies," Heckathorn, 29, told TODAY.com. "So, they react to noises and movement and stuff like that [similarly]. They're still learning about each other."
This week, the Internet has taken notice of baby BFFs Alia, a 5-month-old girl, and Daisy, a 9-month-old sloth, which the couple adopted six months ago. In the months that followed, the young buddies have enjoyed lounging around, bonding over story time and exploring their home in Viriginia.
"They enjoy just being around each other, and watching each other, and trying to touch each other, and snuggling up together," Heckathorn said.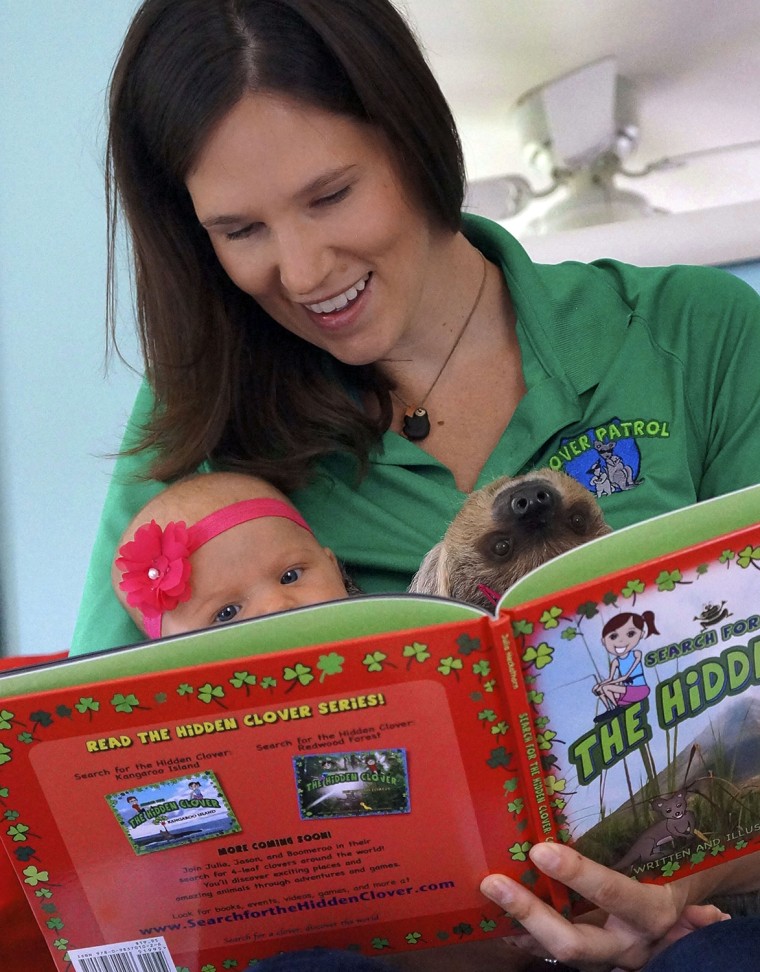 Heckathorn and her husband, Jason, had spent four years searching for a sloth to adopt, and wanted to do it on specific terms.
"We don't believe in importing [exotic animals] from other countries," she said. "We wanted to get a sloth that was U.S.-born, that was treated well as a baby, and would be really good around children. It's really hard to find one like that."
The babies, who wear matching headbands, ended up in coordinating attire thanks to the Costa Rica edition of "Search for the Hidden Clover." In that book, the third in the series, the sloth characters wears a headband, which later inspired Heckathorn to outfit Daisy with one of her own.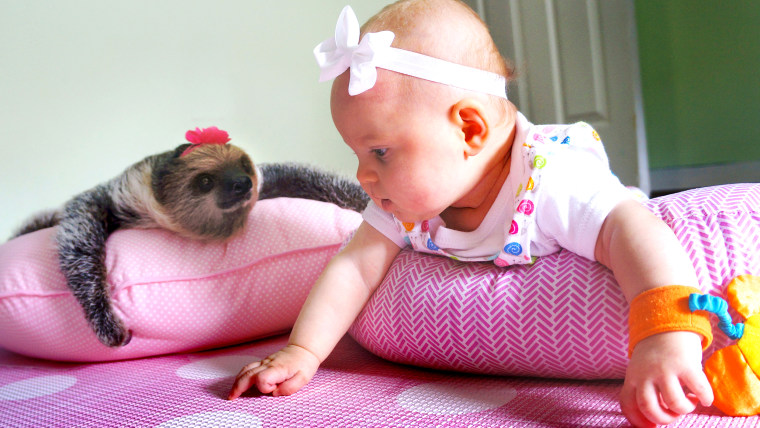 Contrary to what might some people might expect, Daisy is anything but apathetic, according to her owner.
"People say that sloths are lazy, or don't really have an expression, but I feel like Daisy never sleeps, because every time I walk into the room, she looks up, and she kind of reaches out to me," Heckathorn said. "Every time the baby's around her, she'll reach out to the baby. She's really inquisitive, just as the baby is."
As someone who also owns a kangaroo, an anteater and four sugar glider possums, Heckathorn emphasized that she and her husband are licensed to take care of exotic animals, and stresses it's not for everyone. "I don't want people to go out and try to buy a sloth or a kangaroo or anything like that. It's a lot of work," she said. "We're licensed to do it, and it's all for a cause."
That cause is a conservation effort in Panama, where she teams up with locals to save the endangered pygmy sloths on Escudo Island. She says proceeds from her books and related appearances help fund that initiative.
"We teach [locals] to not only love and care for the sloths on that island," she said, "but also the other animals who live there as well."

Heckathorn hopes the press Alia and Daisy get for their interspecies friendship will lead to bigger and better things.
"My whole goal, in everything that I do," she said, "is teach people the love and the joy that nature can bring."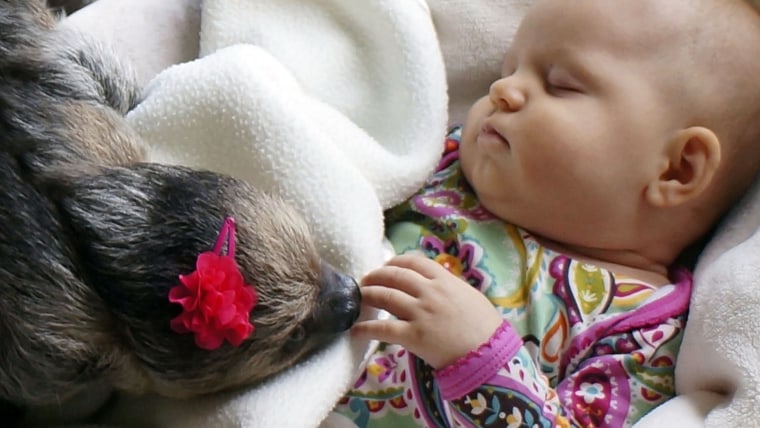 Follow TODAY.com writer Chris Serico on Twitter.