An unexpected lesson recently took place at Kleberg Elementary School in Dallas after a teacher stepped in to help a woman deliver a baby.
The scene unfolded when school nurse Tylar Krause called Loren Carcamo to pick up one of her two daughters at the school because she was sick — only for Carcamo to go into labor.
"I've never delivered a baby. I watched one birth during nursing school," Krause exclusively told TODAY in a story that aired Feb. 14. "So I was like, 'OK, let me just try to remember what they did.' I was panicking."
That's when Krause's office summoned teacher Maria Perez, who had delivered hundreds of babies as an OB-GYN resident in her native Venezuela, and she quickly realized Carcamo would not make it to a hospital in time.
"I said 'Don't worry, I was a medical doctor in my country and I delivered a lot of babies,'" Perez told TODAY.
Carcamo says Perez knew exactly what she was doing.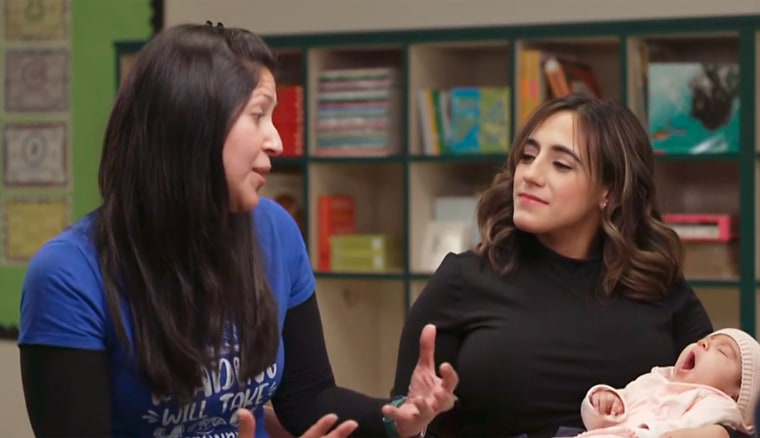 "I feel like I was with a real friend, with my doctor. So, when she started talking to me, the scary part just went away," Carcamo said.
"She let us guide her through the delivery process," Perez said.
About 10 minutes later, Carcamo welcomed her baby, a girl named Leire Madeleine.
"I was smiling. I was happy. I couldn't believe it. I just couldn't believe it," Carcamo said.
"Everybody should experience that. It's beautiful," Perez said of the birth. "When the baby comes and starts crying, you just feel that amazing energy."
Krause said it's unbelievable how the events unfolded the way they did.
"What are the odds of having a baby at a school in the first place? But having a doctor there that's done it? We're lucky. Blessed, I would say," she said.