How far would you go to retrieve your child's beloved pacifier?
A 2023 Super Bowl ad demonstrates the distance some parents would travel to comfort their baby — or protect their own sanity. In the Kia car commercial, a fictitious family arrives at a hotel for the start of their vacation when the wife realizes they didn't pack a crucial item.
"You remembered her favorite Binky, right?" she asks her husband as they check into a mountain lodge.
As their baby starts fussing, the husband's face reveals horror, then determination. He races out the front door of the lodge, grabs his car keys from the valet and jumps into the vehicle. Before he drives away, a hotel guest snaps his photo and posts it on social media.
"Tragic," says the woman. "Hashtag Binky Dad."
Dad drives away in hot pursuit of the pacifier as social media dubs his journey "Binky Gate," writing, "Go Binky Dad, go!" "Who forgets the Binky?" and "I'm Team Binky Dad."
When the father's route is blocked by a construction site, he's immediately recognized by a worker who shouts, "Hey! It's Binky Dad!" and directs him to an alternative route. The dad then careens down snowbanks, gets stuck in a traffic jam and gains a helicopter and police squad escort. Meanwhile, his plight makes television news.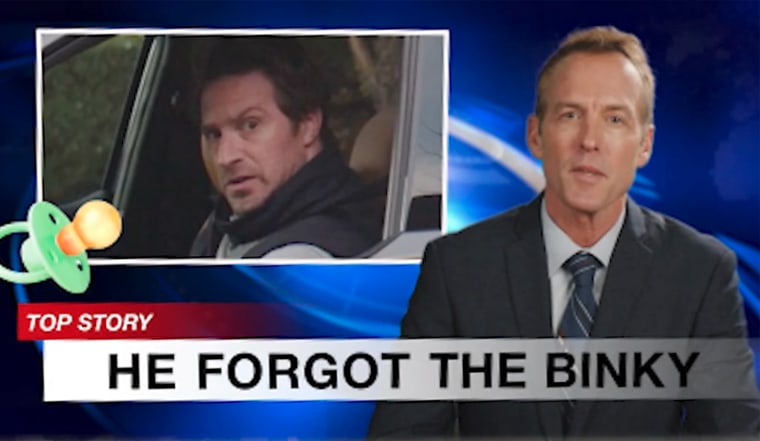 Dad then drives straight through a football game. "Time out for Binky Dad!" yells a referee, while he is captured on the jumbotron.
When the frazzled father finally makes it to his house, he's met by reporters and exuberant fans. He locates the pacifier, presents it to the crowd in a victory stance, then hops back in his car.
He races back to the hotel and places the green pacifier in his daughter's mouth, but she spits it on the floor.
"She only likes the blue one," explains the wife.
Conquered, the dad restarts his journey home.
Related video: