Rumer Willis is sharing her journey to becoming a mom — and she's not holding back.
In a new interview with "People," Willis, 34, opened up about expecting her first baby with her partner, musician Derek Richard Thomas, calling the experience "wild."
"I have so much reverence and respect for women now," the actor told the outlet. "I feel I've had an easier time physically than most of my friends. Also, because I'm so excited, even those moments that are challenging, or feel frustrating, I'm just so excited, that always kind of trumps (everything) ... But, it's wild. It's the wildest experience, even more so than I ever thought of."
As she nears closer to her due date, Willis said that she hopes her child will inherit the "goofiness" of her blended family, which includes parents Bruce Willis, 68, and Demi Moore, 60, as well as sisters Tallulah Willis, 29, and Scout Willis, 31, step-mom Emma Heming Willis, 44, and half-sisters Evelyn, 8, and Mabel, 11.
"We're a family of weirdos, and I love that so much. I really hope that that is engendered in this child, just the silliness and goofiness," Willis said. "It's so fun to be bringing in the first grandkid in our family, especially because we're such a huge group at this point."
Willis said she plans to do an unmedicated birth like her mom, but is open to changing plans at the last minute.
"I think it was always my plan to do it unmedicated. That's how my mom did it, and I grew up knowing that," Willis said. "But I think it's so individual. The biggest lesson I've learned so far, during this transition to motherhood, is about surrender. So ideally, I'm planning for a home birth, but if at any point someone was like, 'It's a little risky, or maybe not,' then I'd be like, cool, let's adapt and change."
Willis marvels at her ability to "create a life from scratch," and says there have been cravings along the way.
"Sauerkraut, strawberry ice cream and lemonade," she told "People" about her pregnancy cravings. "Super cheap lemonade. I'm obsessed."
The first time mom said the baby's sex is "a surprise," but she and Thomas have discussed names.
"I come from a family where I'm named Rumer, and my sisters are Scout and Tallulah, so I knew that I wanted something interesting, unique and different. Thankfully, my partner was super down," the mom-to-be said, adding that there is a part of her who needs to meet the baby first. "It's such a weird sensation where you're like, 'I love this kid, this little person so much, but I don't necessarily know them,' so I have to see who they are and see if that fits."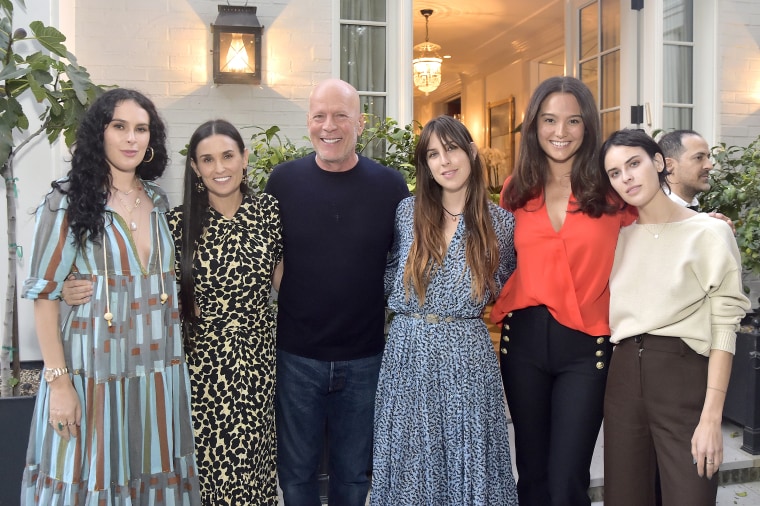 Willis said the best parenting advice has come from her own parents, who told her, "You have no control over anything, and just have a lot of grace with yourself."
Willis has had firsthand experience in navigating the unknown.
In March 2022, the family announced that Bruce Willis was diagnosed with aphasia and that he'd be stepping away from acting. Less than a year later, his family shared that he was diagnosed with frontotemporal dementia, known as FTD.
Despite navigating her dad's diagnosis, Willis said her pregnancy has been "exciting."
"Whenever you're going through stuff, I feel like when you have this new life and this new tiny person coming into the family, it just brings this energy of excitement and joy that's been so lovely to share with my whole family," she said. "I just can't wait to meet them. I'm just so delighted."
Related video: