High-fives are in order for a Mississippi couple who welcomed rare quintuplets earlier this month.
Haylee and Shawn Ladner's babies — daughters, Adalyn, Everleigh, Malley, Magnolia, and son Jake — were delivered at the University of Mississippi Medical Center on Feb. 16. The four girls are identical quadruplets, which means one fertilized egg divided four ways.
The smallest baby was Malley, who weighed in at 1 pound, 11 ounces, while Jake, the largest, was born at 2 pounds, 5 ounces.
After experiencing two miscarriages, Haylee and Shawn underwent intrauterine insemination (IUI) in 2022. An IUI is when healthy sperm is placed in the uterus as close to the time of ovulation as possible.
A few weeks later, five heartbeats appeared on an ultrasound screen.
Quintuplets occur in roughly one in 60 million births, according to Dr. Rachael Morris, an associate professor of maternal fetal medicine at the University of Mississippi Medical Center. 
The odds of having identical quadruplets are about one in 15 million.
"Haylee's pregnancy was quite rare," Morris said in a news release. "There is only one other report of this combination in the literature from 2018."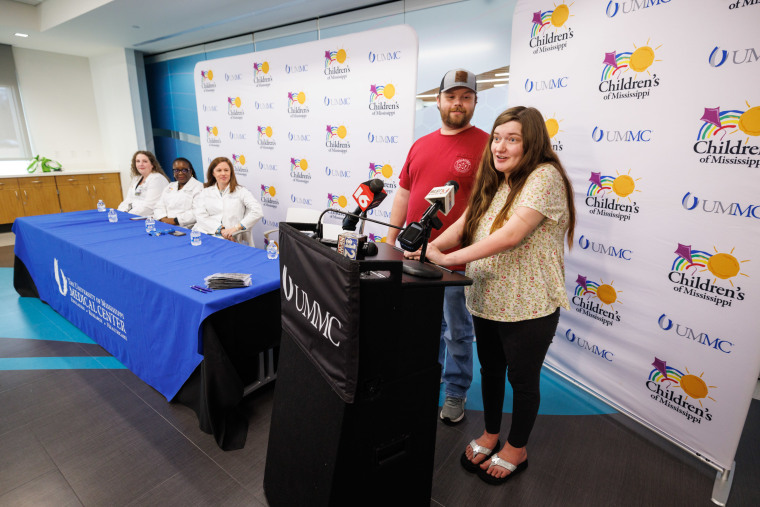 Haylee Ladner, a middle school teacher, calls the quints her "miracle babies." 
"I didn't think I would ever get the chance to be a mother of even one baby, so now that I am going to be a mother to five, it is the greatest blessing of my entire life," Ladner shared at the news conference. 
Last year, Ladner appeared on the "Good Things with Rebecca Turner" podcast, where she opened up about her growing family — and her faith. 
"We wanted to share this story for two reasons: one, because we believe they are miracles given to us by God, and two, we wanted to do it to hopefully help other couples who have gone through infertility, too, know that they have some hope out there in the world as well," she said.
Ladner carried her babies until 28 weeks gestation, which is common for higher-order multiples. She said the infants are "thriving" in the neonatal intensive care unit.
"We're looking forward to the day when they can come home," Ladner said in the news release. "They are the greatest blessing of my entire life."
Related video: