A newborn was rescued in Syria after her mother reportedly gave birth and became trapped in rubble following a devastating 7.8-magnitude earthquake.
Monday's quake flattened the family's home in Aleppo, according to a cousin who spoke to the Agence France-Presse.
"We heard a voice while we were digging," the cousin, Khalil al-Suwadi, told the news agency. "We cleared the dust and found the baby with the umbilical cord, so we cut it and my cousin took her to hospital."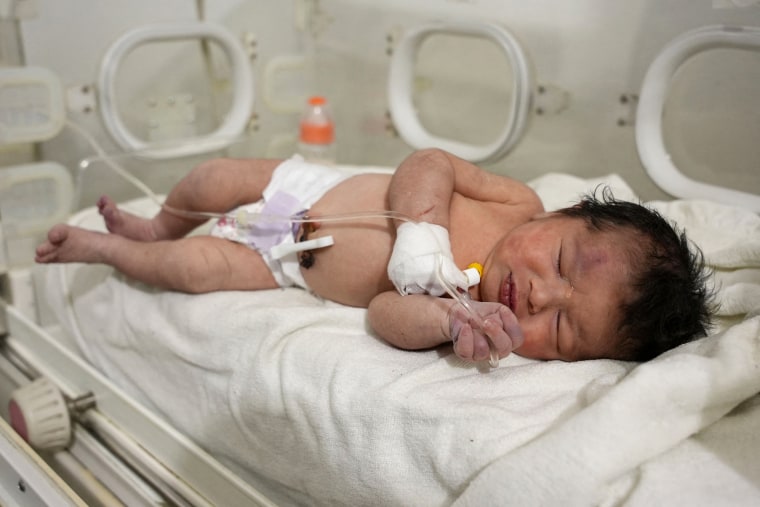 NBC News has not been able to independently verify the information.
The baby's mother, father, four siblings and an aunt were all killed, the cousin said, according to AFP.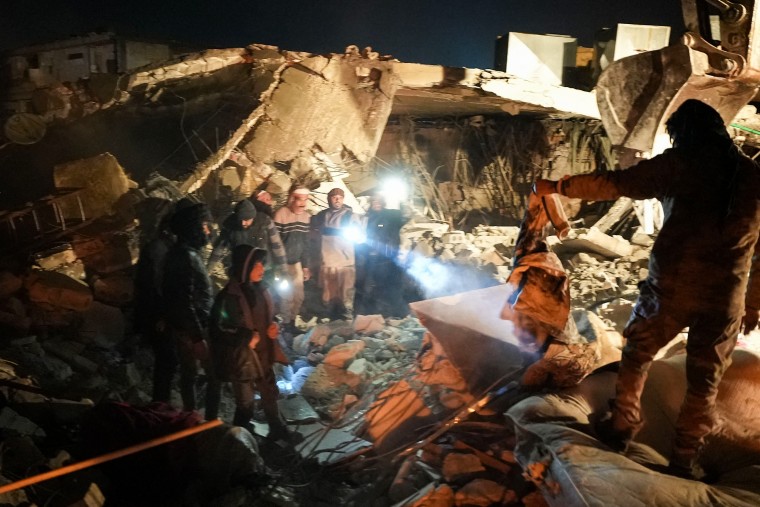 Two massive earthquakes hit Turkey on Monday, killing more than 7,200 people and injuring 24,000 in the country and neighboring Syria, according to updated information provided by Turkish and Syrian authorities. The death toll is expected to climb as rescue efforts, hampered by aftershocks and frigid weather conditions, stretch into the coming days.
Many residents have helped rescuers search for trapped survivors. In Turkey's Diyarbakir, hundreds of workers and civilians formed lines across a mound of wreckage to pass down broken pieces of concrete and other items as they looked for victims, The Associated Press reported.
Countries around the world, including the United States, have offered assistance. President Joe Biden said he was "saddened by the news of the devastating earthquakes.
"Our teams are deploying quickly to begin to support Turkish search and rescue efforts and address the needs of those injured and displaced by the earthquake," he said in a statement.
"Today, our hearts and our deepest condolences are with all those who have lost precious loved ones, those who are injured, and those who saw their homes and businesses destroyed."
On Tuesday, Turkish President Recep Tayyip Erdogan declared a state of emergency to help make it easier for rescues to be conducted. In a Facebook post, he said flags will be flown at half-staff.
This article was originally published on NBCNews.com.
Related video: