/ Source: TODAY Contributor
Along with buying new backpacks and approximately 5,678 glue sticks, the back-to-school process for many parents now routinely includes logging into online grade portals.
Schools use the portals to record and disseminate information, including school calendars, student health and home address information, standardized test scores, and, of course, schedules and grades. Many even have apps so that students and their parents can check grades around the clock.
But veteran educator Jessica Lahey told TODAY Parents she encourages parents to think before they check their children's grades online.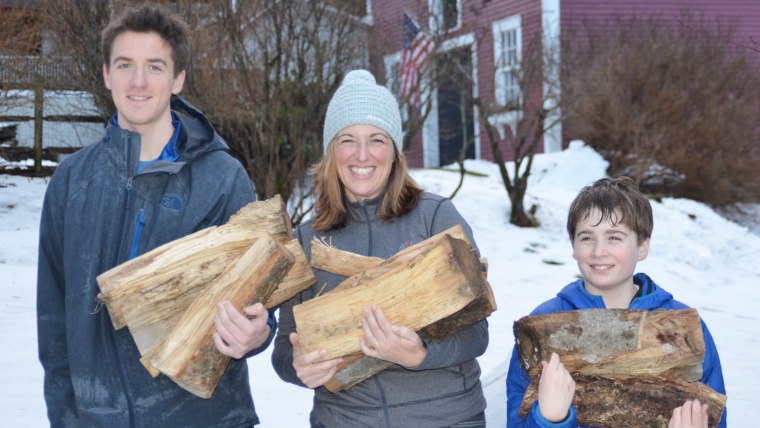 "I've been teaching for a long, long time, and I noticed that kids who are not allowed to deal with the consequences of their failures — and when I say failures, I mean small mistakes to huge blunders and willful mismanagement of time and resources — not only don't learn how to do better next time, they simply don't learn as well," said Lahey, a contributing writer for The Atlantic and the author of the New York Times bestseller "The Gift of Failure: How the Best Parents Learn to Let Go So Their Children Can Succeed."
Never miss a parenting story from TODAY.com! Sign up for our newsletter here.
Kids might need to get a few bad grades before they can course-correct, or they might need to forget to turn in an assignment or two to figure out their own time management, without having a parent watching them. That's why Lahey suggests parents let children monitor their own grades and rely on teachers to alert them if they need to get involved.
Lahey, a parent of two boys, said that instead of logging into her children's online grade portals, she sends a letter to their teachers at the beginning of each year that says, "One of my big goals this year is to help my kid build up his executive function skills, such as organization and planning while teaching him to become more responsible for his own life, so consequently, I will not be using the portal this year at all to check up on my child's grades." She asks the teachers to let her know if her child gets off-track in a significant way.
This way, Lahey said, parents clearly state to teachers right off the bat that they trust them, and that they are both on the same team — "the team that's about growth, learning, and competence over points and grades," she said. "This approach can be subject to change, of course, if a kid is getting into trouble, or if you and the teacher are working together to help a kid catch up, but the default setting — with kids and teachers — should be trust."
What should parents do instead of monitoring grades online? Lahey has a few low-tech suggestions included in "The Gift of Failure:"
1. Talk to your kid. Really.
"I'm not being facetious here; I really mean it," said Lahey. "Talk to your kid about lots of stuff other than school and grades, because the foundation of your relationship with your kid is about all that other stuff, but talk about school, too." Ask if your kids have learned anything interesting, read the books your kids read for English class and talk about it with them, and also ask about how their grades are going.
"If it gives you hives to not look at grades regularly, take the opportunity to email teachers just before the mid-term to say, 'Hi, just a reminder that our family does not use the portal, so could you let me know if there's anything I need to know before reports come out? Thanks!'"
2. Check the portal occasionally, but do it WITH your child.
A good compromise is to check the portal just once a week, on a designated day, and to do it with the student. "On a Monday, say, 'Hi, kiddo — on Friday, I'd like to sit down with you and look at the portal, so if you could take a look and talk to your teachers about anything you need to talk to them about so there are no surprises, I'd go ahead and do that,'" said Lahey. "Then sit down together on Friday, log on to the portal, and talk about what's there."
Elizabeth Landingham, a teacher and mother of two in Columbus, Ohio, told TODAY Parents that she uses a similar approach both in her classroom and at home.
"My classroom parents check their students' grades, but tend to stay mum to me unless the grade is really alarming," she said. She checks her own high school sophomore's grades once a week "to see if trends are occurring, like a lack of homework or a subject slipping. We never check our fourth grader's grades online, and we email the teacher when we notice work that needs help," she said.
Emily Jarrett, who has a fifth grader and a seventh grader in Mississippi public schools, said she also checks the online portals just once a week, but she can find it stressful.
"I use it to monitor to see if how they are studying is working or if I am noticing a weakness in an area, she told TODAY Parents. "I am pretty hands-off with studying unless I see a trend in grades that indicates something isn't working.
"I do get anxious when teachers fall behind entering grades because I feel like I am in the complete dark as to the progress my child is making."
3. Don't let kids obsess.
The way children use the portals is important, too. Lahey warns that while she encourages students to be responsible for their school lives, some kids fall into an unhealthy habit of checking their grades online several times a day.
"It's contributing to their stress in a big way," said Lahey. "Encourage your kid to check once a day, or simply talk more about why you don't use it as a parent; that you really do value learning over scores, and that the best way to use the portal is as another source of information. That's all it is. It's not a value judgement on them; it's a way to know what needs work and what's going well," she said.
Lahey added that if you want to raise kids with emotional and intellectual resources, let them first take risks, figure things out on their own, and... fail sometimes. "Let them get frustrated, support their efforts to push through the challenge, but don't rescue," she said.
"Your kids' teachers will thank you, and someday, so will your kids."