"Atticus" tops Nameberry's count of Most Popular Baby Names for the first half of 2015, on the publication day of the new Harper Lee novel casting the inspirational namesake Atticus Finch as a racist.
Atticus is an ancient Roman boys' name, and it traditionally indicated that the person was from the region around Athens. It first came to notice in the U.S. via Harper Lee's 1960 novel To Kill A Mockingbird, in which hero attorney, Atticus Finch, was played the following year in the movie by Gregory Peck.
But it wasn't until 25 years later that the name Atticus even registered on the Social Security roster of U.S. baby names, given to a mere nine boys in 1986. And Atticus did not appear on the U.S. Top 1000 until 2004, skyrocketing in the decade since then to an official Number 370.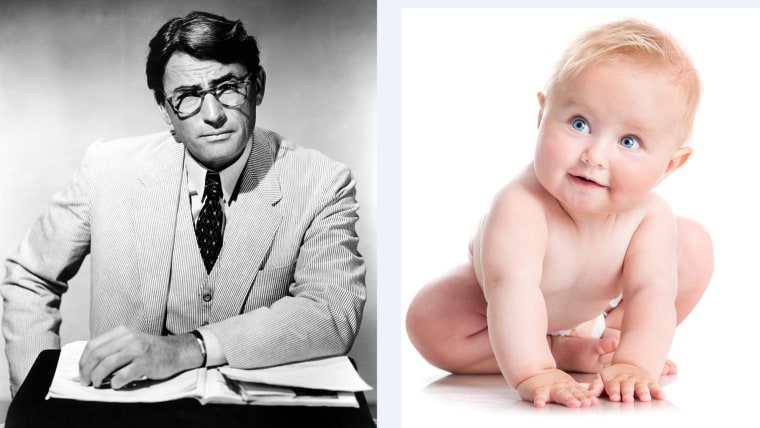 Now, Atticus is the Number 1 boys' name on Nameberry, attracting the most views by our visitors in the first half of 2015. It trumps Asher, the longtime Number 1, as well as Ezra, another Biblical favorite.
Meanwhile, Charlotte is the Number 1 girls' name on the 2015 half-year count, catapulted to the top by the newborn British princess. In second place for girls is Amelia (which is Number 1 in England), with U.S. favorite Olivia in third place.
The big question, though, is whether Atticus can retain his popularity as a baby name in the light of the racist, ranting Atticus Finch portrayed in Go Set A Watchman, published today as the long-awaited followup to Mockingbird. In the original book, Atticus Finch is a sensitive single father who defends a black man against a trumped-up charge in a bigoted world, but this heroic image is shattered in the current work.
How many baby-namers enchanted with the name Atticus will choose the name anyway?
How many will even be aware of the new, negative portrayal of the once-saintly Atticus Finch?
"To Kill A Mockingbird" is an unlikely influencer of baby names. It's been half a century since its publication, for starters. And not only Atticus, but also Harper have risen up the popularity list. (Harper stands at Number 56 on the 2015 Nameberry list, but it's all the way up at Number 11 on the official U.S. popularity list for girls.)
The Top 5 baby names of 2015 on Nameberry are:
Boys
Atticus
Asher
Ezra
Silas
Declan
Girls
Charlotte
Amelia
Olivia
Isla
Ava