Ashton Kutcher had a name picked out for his son but, unfortunately for him, the name "didn't fly" with his pregnant wife, Mila Kunis.
"There was a rallying cry from a collective that believed in the name Hawkeye," 38-year-old Kutcher revealed to late-night host Conan O'Brien on Wednesday.
"I'm an Iowan, so to have a kid named Hawkeye?" the "Ranch" star said, referring to the mascot of the University of Iowa football team.
"And it's like 'M.A.S.H'-y. He could be a doctor," he joked, referring to Alan Alda's famous television character, U.S. Army physician Benjamin "Hawkeye" Pierce, on the 1970s Korean War drama "M.A.S.H."
Kunis, 33, nixed the name immediately.
"It didn't fly, it didn't get across the Mila threshold. It came to the threshold but then it got knocked out," said Kutcher.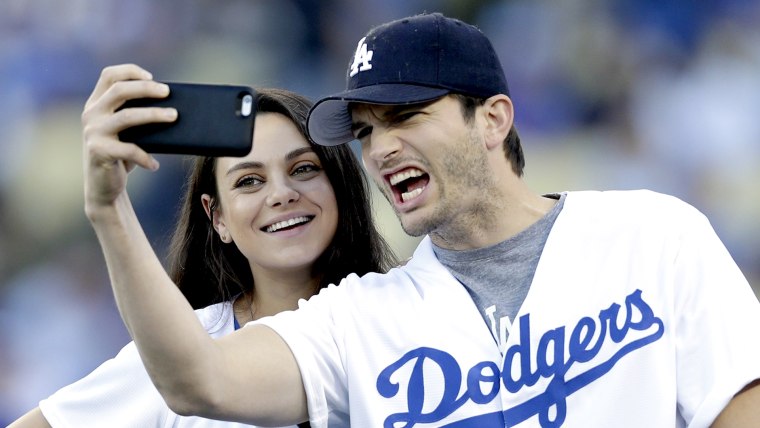 The couple, who have a 2-year-old daughter named Wyatt, finally agreed on a name for their baby boy, who's due any day now, but Kutcher declined to reveal it.
RELATED: A boy for Ashton Kutcher and Mila Kunis? Kutcher talks baby No. 2
Last month, the proud pop confirmed the baby's sex during an appearance on TODAY. The actor also confessed that even after already having one baby with Kunis, he still finds the whole process "intensely scary."
"The first one, I basically became a doula for the pregnancy," he said. "I read everything you could possibly read, and this one, I'm like, 'Yeah, it's coming.' And you have a recognition that they're pretty durable."
"You're not going to break them," the actor continued. "(Still), I'm a little terrified, to be honest."