/ Source: TODAY Contributor
When Landee Tim's infant son, Henry, was diagnosed with cranial plagiocephaly — the term given to the development of a flat spot on the back or side of a baby's head — the California mom was devastated. When she learned that Henry would need to wear a corrective helmet to help his skull develop properly, Tim couldn't help but feel guilty.
"I felt so much guilt thinking that I had done something wrong, and because of it my son would have to wear a medical device on his head for months," Tim told TODAY Parents.
Tim says after Henry was fitted with his helmet, she frequently heard cruel remarks when out in public with her son, leaving her embarrassed and frustrated.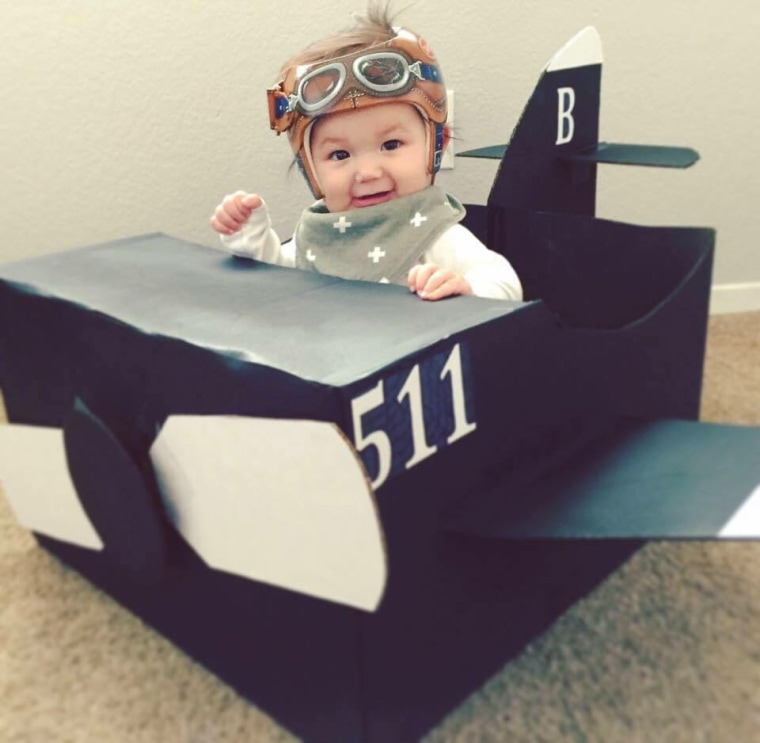 "Once, while shopping, a woman walked by me and made a snarky remark, saying, 'If she'd stop dropping him all the time, he wouldn't need a helmet,'" said Tim. "Another stranger commented, 'Oh, he must be a seizure kid.' With a medical device on my son's head, people made so many assumptions of what could possibly be wrong with him that my husband and I figured we might as well have fun with the experience and get it painted."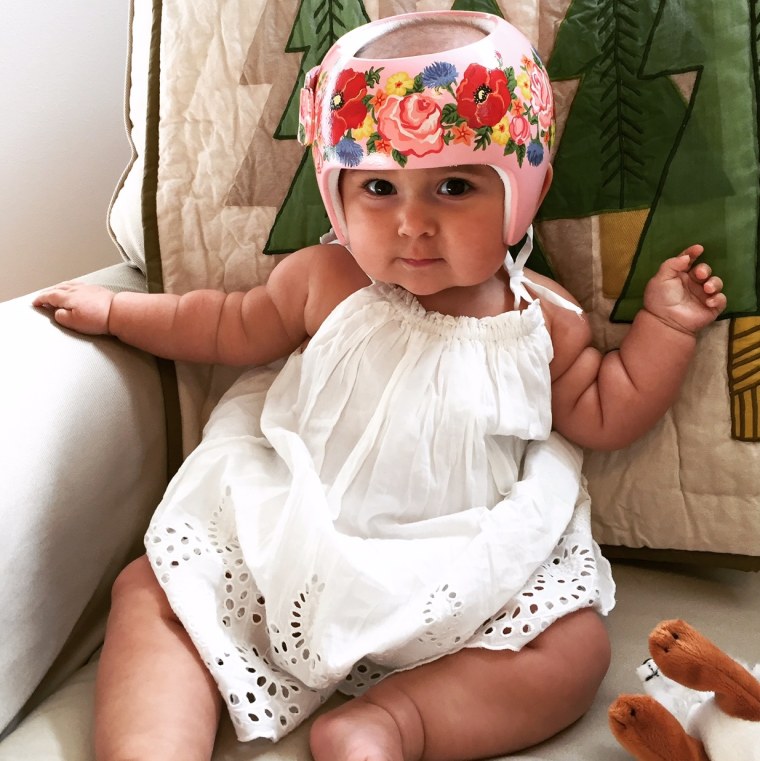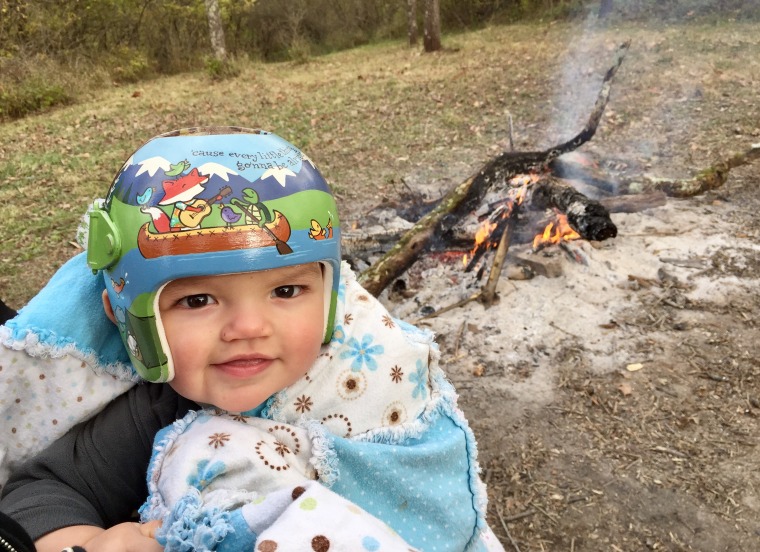 An internet search led Tim to the website of Paula Strawn, a Washington-based artist who specializes in painting infant corrective helmets. Tim overnight-shipped Henry's helmet to Strawn's home, where it was painted to look like a pilot's helmet and returned to them one day later.
"The feedback from others immediately changed," said Tim. "Most of the time, Henry received playful smiles, waves and comments on how adorable his helmet was. Some even asked where they could pick one up for their children — not realizing it was a medical device."
RELATED: From 'Star Wars' to 'Superman,' baby medical helmets get creative
It's helping moms like Tim that inspired Strawn to paint helmets in the first place. The 60-year-old mom and grandmother was approached thirteen years ago — in 2003 — by a friend whose granddaughter had recently been fitted with a helmet.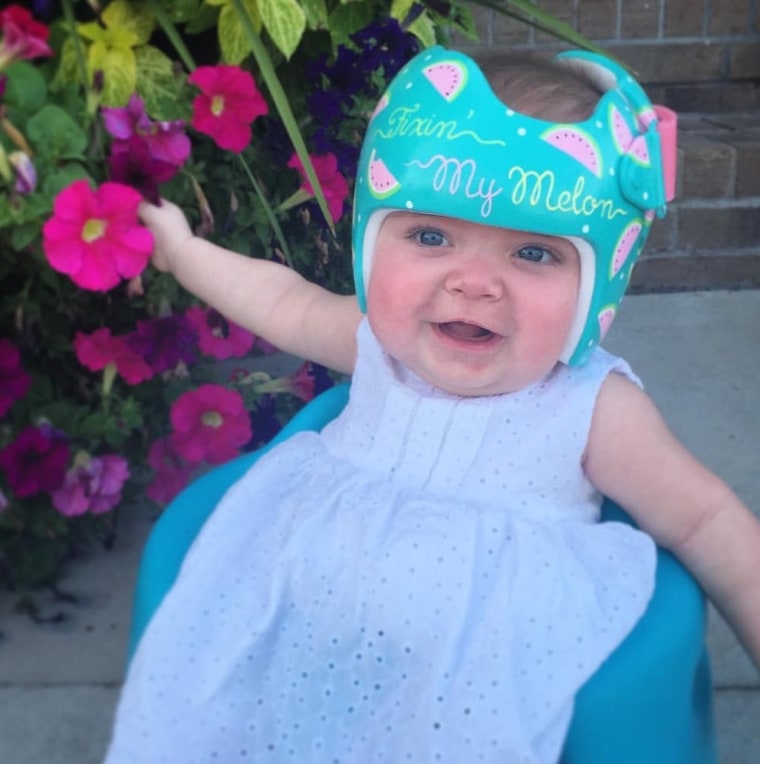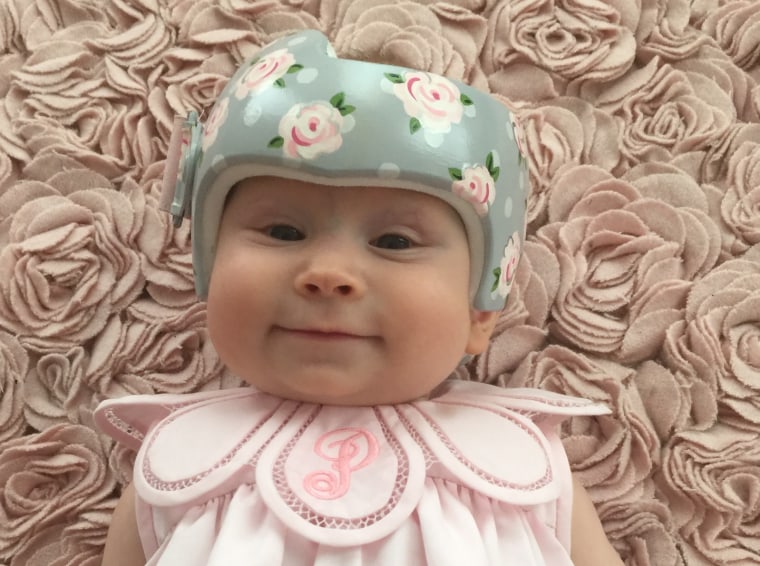 "She showed up at my door and said, 'Paint this ugly thing.' Which I did," said Strawn.
From there, Strawn's business has grown. The artist works between 60 and 80 hours a week, painting helmets in her living room. Since that first helmet in 2003, she has completed nearly 3,000 helmets and helped families across the country feel more comfortable with their child's medical condition.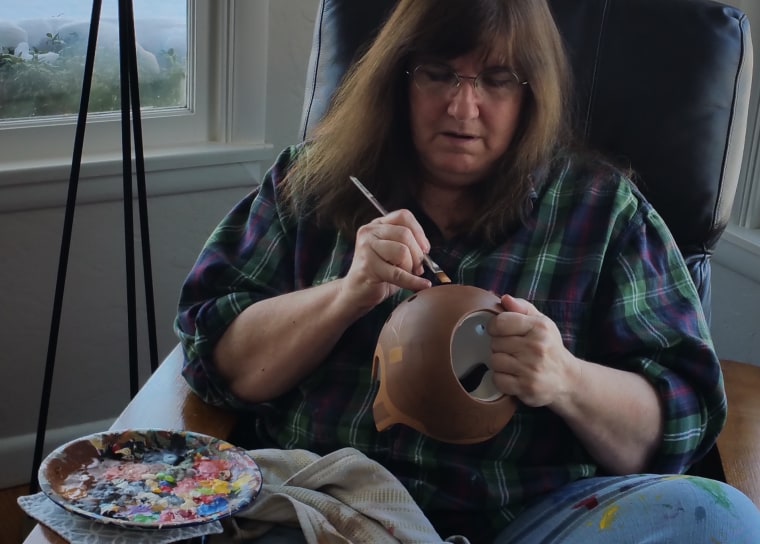 "I feel blessed beyond belief that I am able to do what I do," said Strawn. "I have had parents in my living room in tears because their beautiful baby has to wear this ugly-but-needed thing. They don't want others to look at their adored and cherished wonder of the world with pity, and that is heartbreaking."
Strawn says she considers her work a therapeutic way for parents to process what is happening to their child.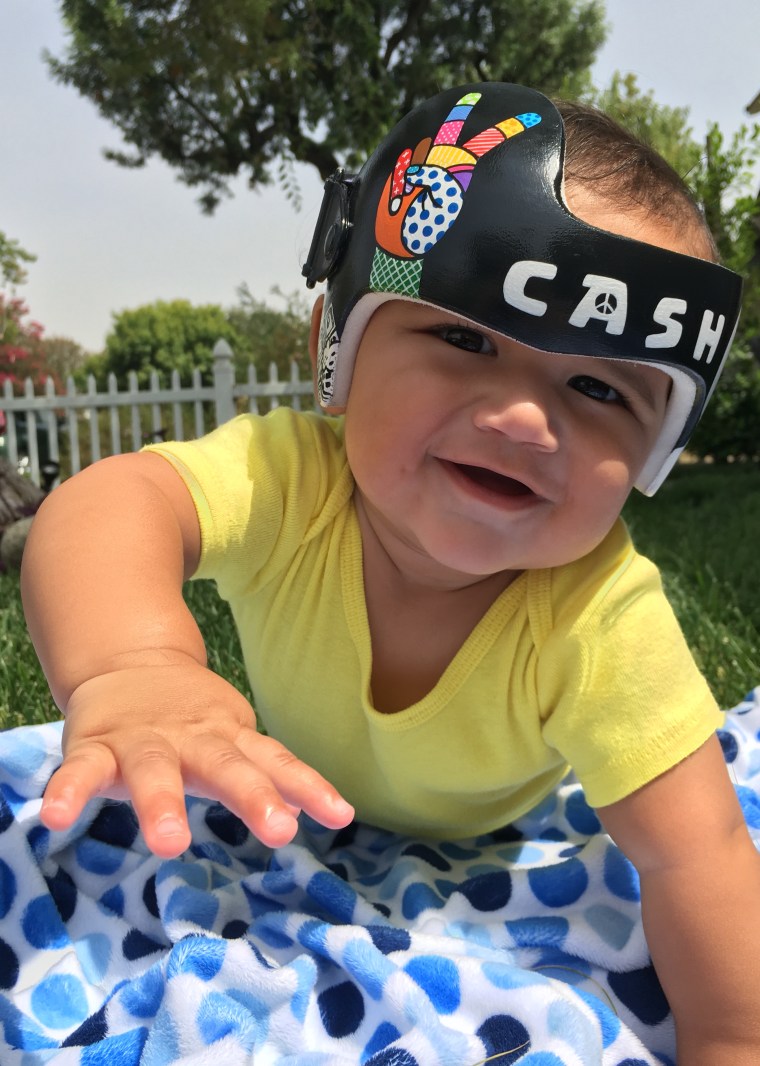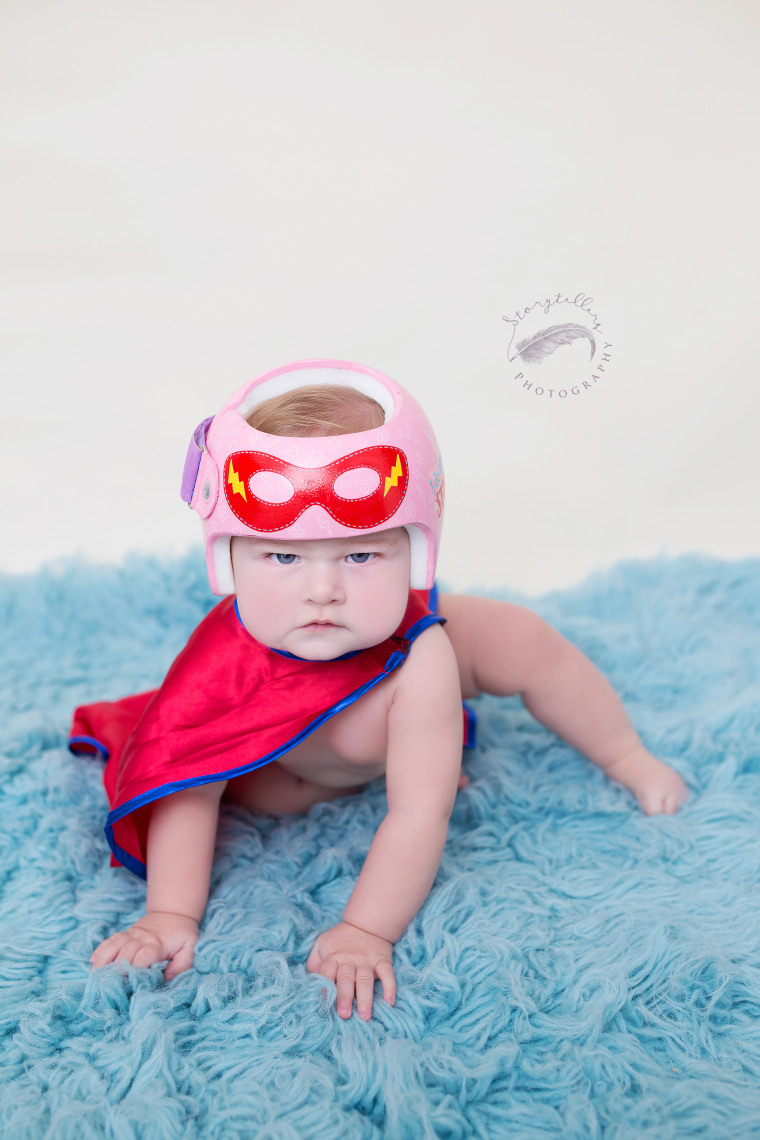 "They get excited about what design and details are going into all of it," said Strawn. "Then they see the helmet and baby wears it and gets smiles and, as parents, they are delighted."
Chicago dad Sean Bogolin and his wife, Tami, hired Strawn to paint their son, Jace's, helmet.
RELATED: Dad creates awesome Star Wars helmets for son with skull condition
Bogolin says Strawn's artwork helped turn Jace's helmet from "plain, blue, and sad-looking," to a "beautiful piece of functional art."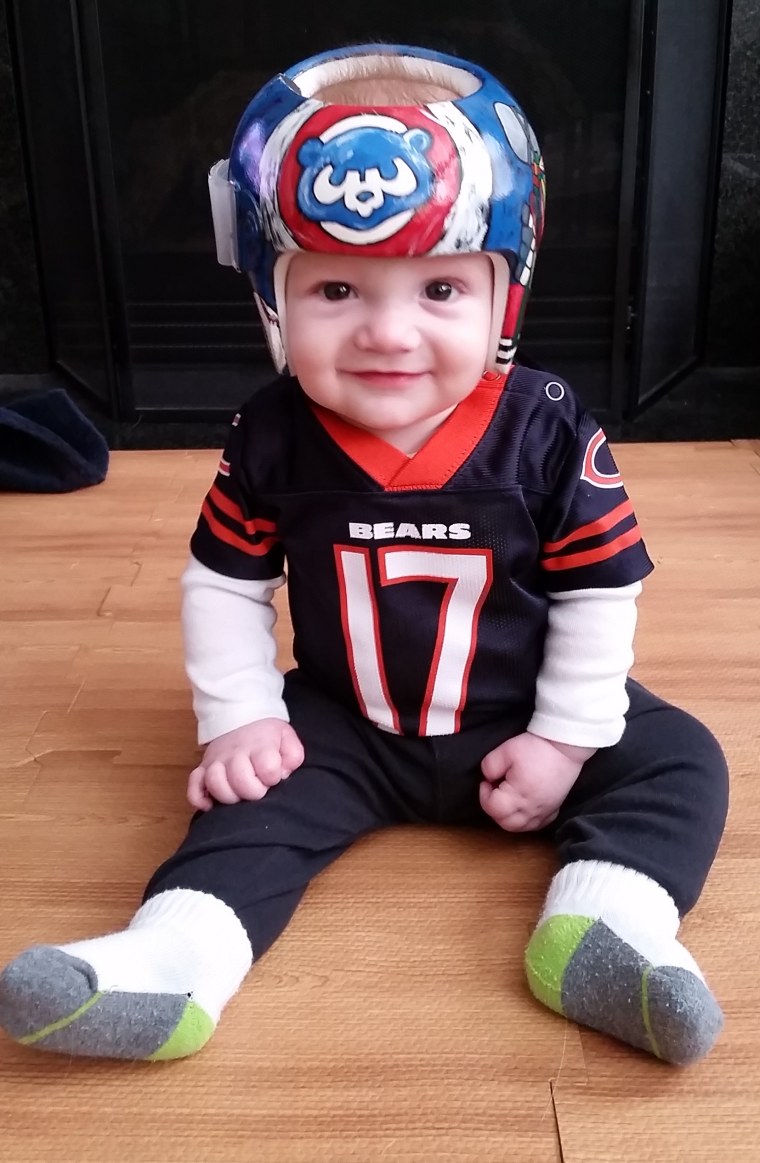 "The best part of this whole thing is that Jace doesn't have to watch face after face looking sorry for him," said Bogolin. "Instead, now he gets huge smiles and positive vibes in his direction constantly — and he is all smiles right back."
Lindsey Menard, a mom from Florida, agrees. Menard chose a camouflaged helmet design from Strawn for her son, Levi, because it reminded her of her husband's helmet worn while serving in the army.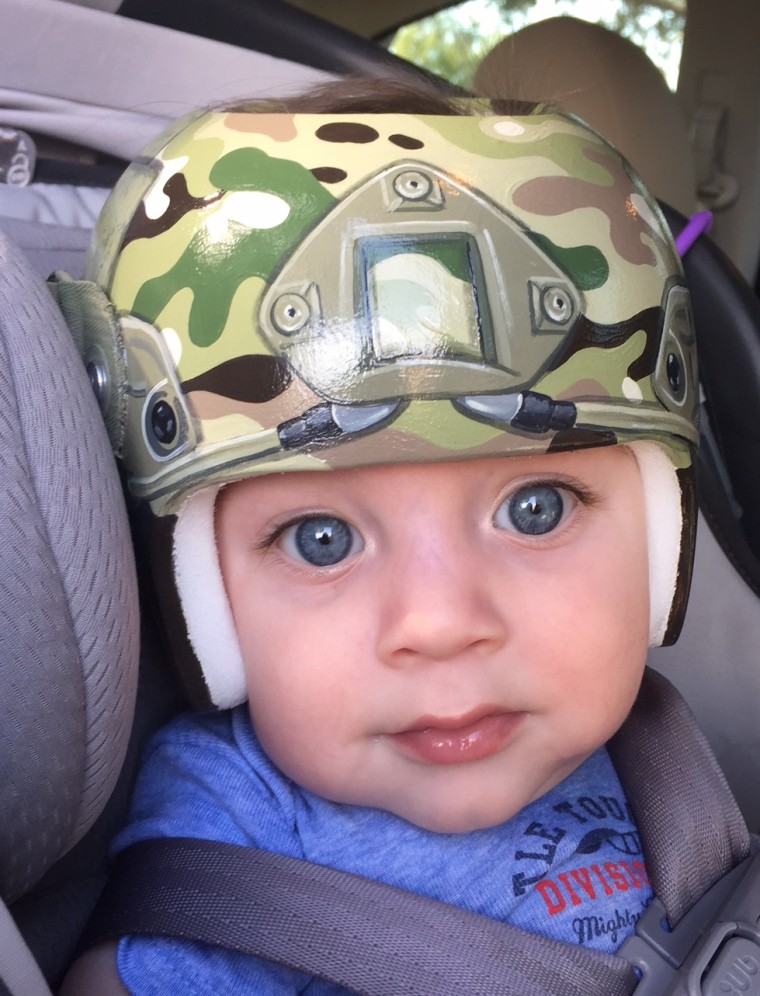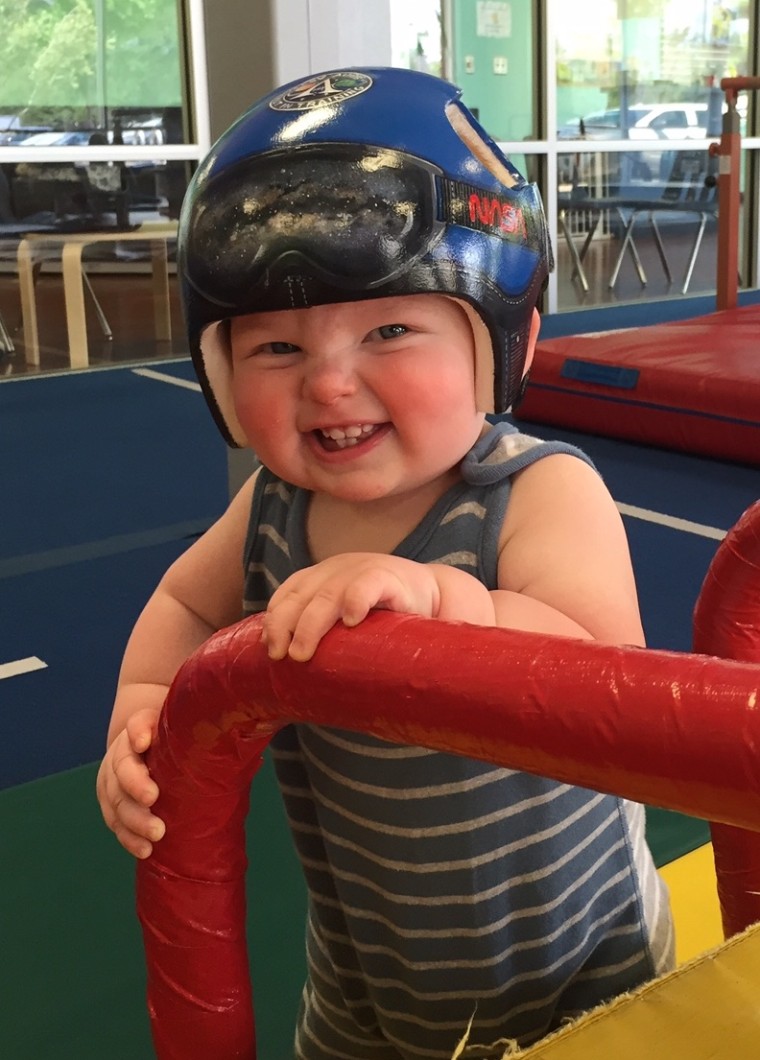 "Instead of curious stares, we now get so many smiles and so many comments," said Menard. "They use the helmet painting as an ice breaker of sorts, to find out why he's wearing it. We get so many comments and questions when we are out — it's really given us an opportunity to educate others on plagiocephaly."
Strawn's personalized designs cost between $200-$350, and are painted within a matter of days, so that the device can be shipped back to the family quickly: Babies who wear corrective helmets must keep the devices on for 23 hours per day, every day to achieve the intended result, so it's important that Strawn offer a quick turnaround time.
Never miss a parenting story with TODAY's newsletters! Sign up here
And, it's not just babies with cranial plagiocephaly who Strawn is helping — the painter has designed helmets for infants with other skull conditions like craniosynostosis, which affects the skull's growth patterns and has painted other medical equipment like leg braces.
Strawn has painted everything from Van Gogh's "Starry Night" to Pokemon on children's' medical equipment, and says it's a rare day when she does not get to paint something she loves.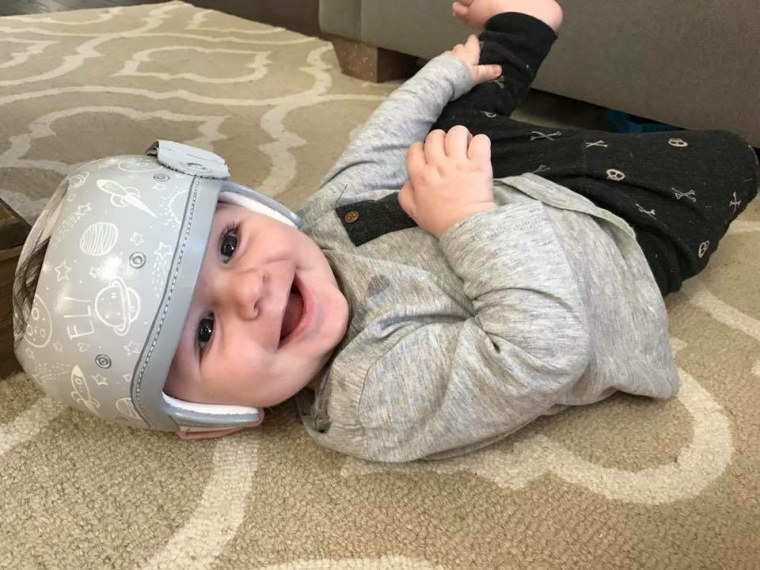 "I love kids and I love art. All I wanted was to find a fun way to make extra money doing art, and it all came together with painting these baby helmets," said Strawn. "I'm not curing cancer or feeding the poor or making breakthroughs in quantum mechanics, but I have the privilege of helping parents come to terms with their adorable baby having to wear this thing — and to me, that means I have the best job ever."