/ Source: TODAY Contributor
The little girl who wished for cards this Christmas is seeing her wish come true, and then some. Safyre Terry's Christmas wish went viral this week after a family friend posted to Facebook, asking people to mail her cards to fill a metal Christmas tree designed to hold Christmas cards.
Safyre, who is now 8, was badly burned in an arson house fire three years ago that killed her father and three younger siblings. Her father died cradling Safyre in his arms, which protected her from breathing in hot air and allowed her to survive. Her mother signed over custodial rights to the state, so her father's sister, Liz Dolder, stepped forward to be her guardian.
Safyre's tree is now full, as she explained in a video posted to her Facebook community this week.
"I've got all of these cards on the Christmas tree — I don't think we can put some more on there…thank you," Safyre says in the video, suggesting the rest of the cards be displayed elsewhere in her home.
The girl's Facebook community, started by Dolder, has been filled with photos this week — all showing Safyre picking up mounds of cards from the post office, or opening Christmas gifts mailed to her from around the world.
"I really think I am dehydrated from crying so much," Dolder wrote in another post. "This is absolutely amazing, it takes my breath away. We — my family and I have been through so much darkness of this world — then to see the most powerful beauty of the world. The world coming together to make Safyre's wish come true is unfathomable."
In addition to cards, stuffed animals, dolls and other gifts sent to Safyre, her family has received financial support from more than seven thousand supporters on their YouCaring site. When TODAY.com reported on Safyre's Christmas wish earlier this week, the site had raised a little more than $10,000 toward the $15,000 goal. Today, nearly $300,000 has been raised for Safyre and the Dolder family.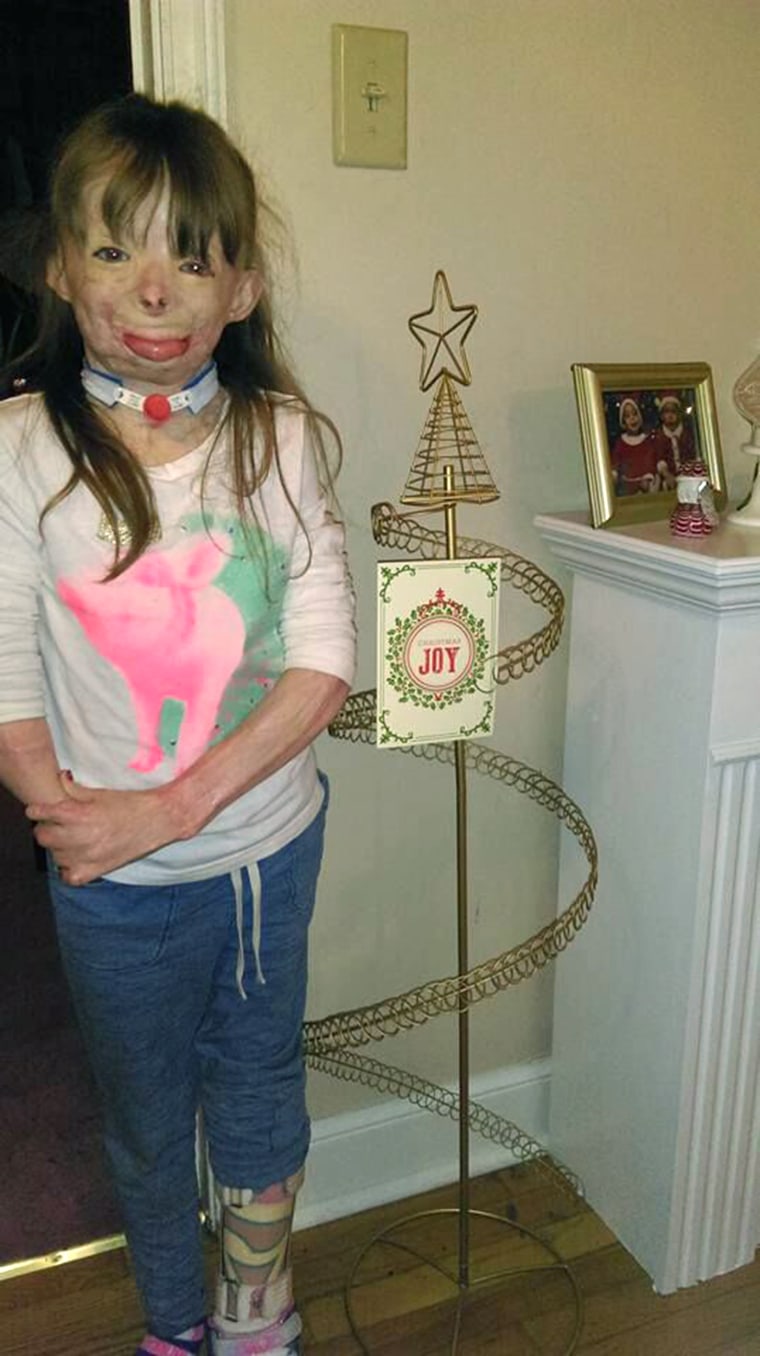 "Safyre lost everything — her father, her mother, her sister, her brothers, her home, her favorite toy, her favorite outfit — everything that was familiar to her," Dolder told TODAY Parents in an interview earlier this week. "She even lost the one thing we all take for granted — her reflection. But she wakes every morning with a smile on her face. She is the true definition of hope, faith and love."
TODAY anchors Tamron Hall, Willie Geist and Al Roker discussed Safyre's brush with Christmas magic this morning, with Tamron saying that an act of kindness of this magnitude puts things in perspective for her.
"It's a reminder that it's not just about accumulating (gifts)," she said.
Cards for Safyre can still be mailed to: P.O. Box 6126, Schenectady, NY, 12306.