/ Source: TODAY Contributor
In our constant quest for work-life balance, we're encouraged to lean in while at the same time being careful not to max out. It's a tricky gig, this working and living. And the lack of a working definition of work-life balance contributes to the work-life stress.
No one has it all together all the time, but the pressure to appear that way — at work, at home, with our friends and communities — is strong. And sometimes, pretending we're OK makes everything OK. When it comes to work-life balance, we're all faking it at least some of the time.
Could you be faking balance? If you've ever grabbed the wrong bag and showed up at a business meeting with a breast pump instead of a laptop, you might be.
Here are 10 more signs you might be faking balance:
1. Prayed for a storm on game day, because kids can't play in lightning.
2. Worn two different black shoes to work. And someone had to point it out to you.
3. Referred to your evening commute as Me Time.
4. Asked a colleague to clean up his mess in the company kitchen, and then threatened to take away his phone.
5. Served your family rotisserie chicken, frozen lasagna, or nuggets of any variety more than three consecutive days. Make that weeks.
6. Painted only the toes that show in a peep toe shoe.
7. Worn flip-flops to work so you could sneak away at lunch for a pedicure, and not because you wanted a pedicure, but because you had an important meeting the next day and the only thing you had to wear went with those peep toe shoes and your feet looked like you'd been gardening with your toes.
8. Taken a job for no other reason than adult conversation.
9. Requested objectives, strategies and a budget from your spouse before you'd approve his or her landscaping plans.
10. Accidentally posted your child's first day of school picture to your corporate social media account.
Despite the daily noise, if we're free enough to fret over work-life balance, our lives are probably going fairly well on most fronts, even if they are not fully calibrated in a given day, week or year.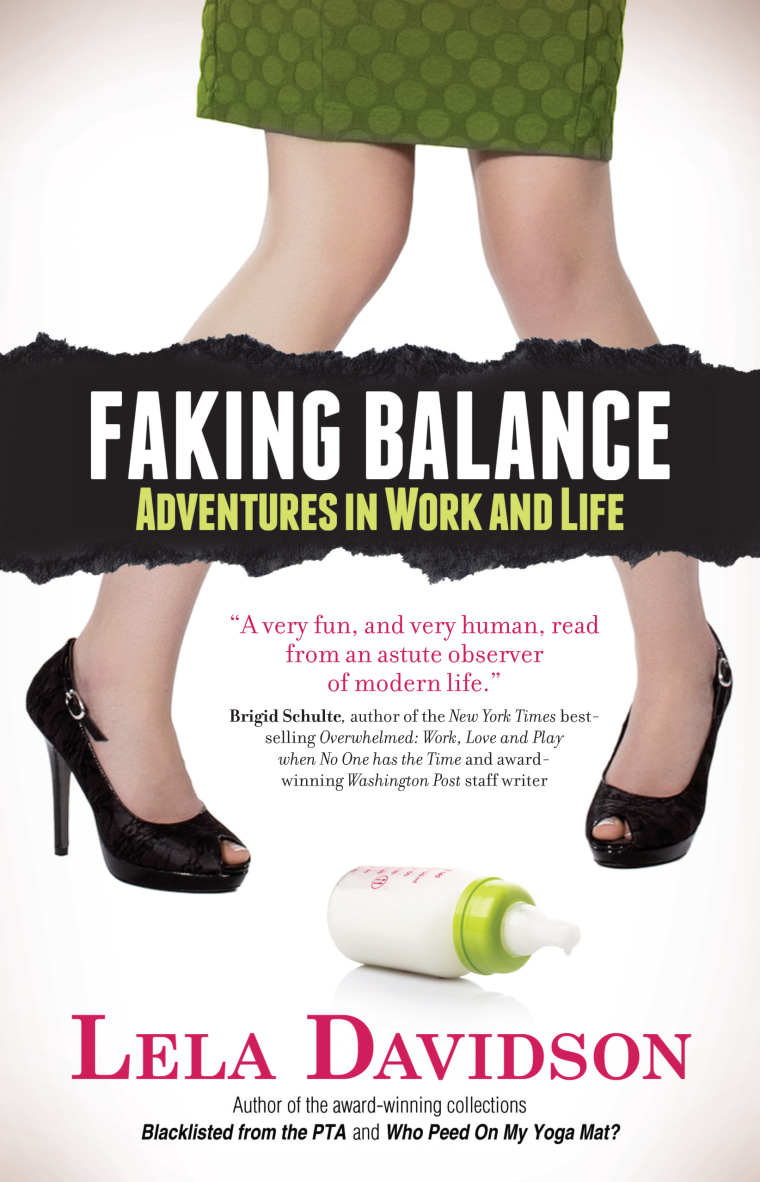 So if you've ever thought your life was unsustainably busy, while also being unbelievably good, and you have no idea what work-life balance really means, but you keep striving for it anyway, congratulations — you're faking balance! And that's a wonderful thing.
(Note: Many thanks to our Twitter friends @It'sLIkeTheyKnowUs for illustrating so many other ways we are all "faking balance.")
Lela Davidson is the author of "Faking Balance: Adventures in Work and Life," a collection of tender, touching and funny essays about the choices working parents make. She is described as an astute observer of modern life, and she once used a spreadsheet to conceive a child.