A new survey reveals that more often than not, families are forgoing the kid's table during their Thanksgiving meals and seating their little ones right next to grown-up dinner guests.
The poll, conducted by Juicy Juice, says more than half of parents — 61 percent of those surveyed — do not create a separate kids' table for their holiday gatherings.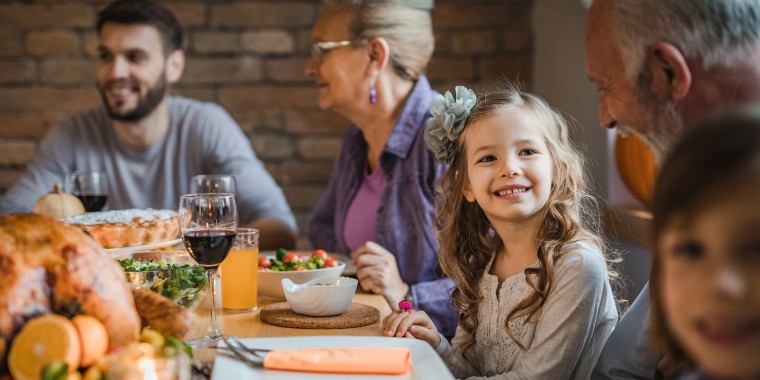 TODAY Parenting Team contributor Meredith Sinclair blogs about the importance of play at Meredith Plays, and says when she and her husband host Thanksgiving, all ages sit together.
"We've tried kids' tables a couple of times, but for the most part, our kids have been a part of the main event," Sinclair told TODAY Parents. "In truth, it's way easier to park the kiddos right there next to you rather than one of you — me — leaping up 400 times during the meal to monitor the shenanigans happening over at the animal house — I mean the children's table."
Audrey McClelland, a TODAY Parenting Team contributor who blogs at Mom Generations and mom of five, agrees.
Never miss a parenting story — sign up for the TODAY Parents newsletter today!
"We have always had our entire family together at the same table," said McClellan. "We all cram in, but it does make the holiday extra fun for all of us to be together because we only get this opportunity once a year."
Jeff Mauro, a Food Network Chef and Juicy Juice spokesperson says Thanksgiving is a time to celebrate what you're thankful for — so it's a good idea to have kids seated with their adult family members to enjoy each other's company. And, for parents who feel nervous about the potential chaos caused by the presence of kids at the table, Mauro suggests making the meal fun with a few games or activities.
"One of my family's favorites is to go around and share festive and age-appropriate jokes," Mauro told TODAY Parents. "Pick someone to print off a few Thanksgiving related knock-knock jokes or riddles and take turns going around the table to tell them. Trust me; the silliness and excitement will rub off on everyone — what's better than a table full of good food and laughter?"
Sinclair says she creates activity kits with items like crayons, stickers and markers to place at each child's place setting and purchases a few craft kits in advance to keep kids busy. The California mom also suggests conversation starter cards for the table to get all generations talking.
"I love to sit kids between a parent and grandparent," said Sinclair. "Grandparents want to feel helpful and look for ways to connect with their grand babies."
McClelland says she's created Thanksgiving Mad Libs, or had candy scavenger hunts to entertain her guests, but it's a simple tradition with a silly twist that has brought the most memorable moments to her table.
"We start off by one person saying what they're most thankful for and then the next person goes," said McClelland. "The point is that everyone has to repeat what the person before them said before they go. It's a silly and fun game as more and more people take a turn."
So once the fun and games are over and it's time to eat, what dishes will make kids and grownups alike thankful?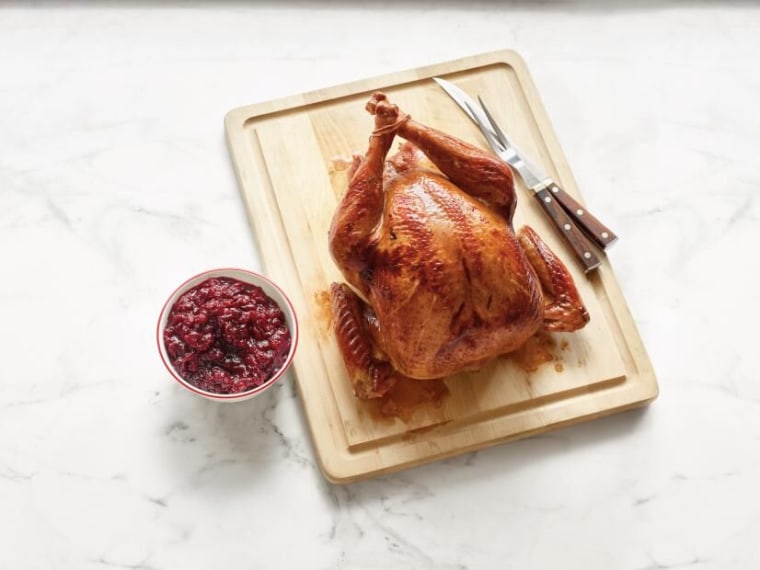 Mauro suggests comfort foods like creamy mashed potatoes, homemade cranberry applesauce and buttermilk biscuits to accompany your family's Thanksgiving turkey.
"While it's important to appeal to both the kids and adults at your table, that doesn't necessarily mean separate menus," said Mauro. "The classics don't fail, and I've found you can typically make a crowd-pleaser our of any starchy, crunchy or slightly sweet entree or side dish."
The Thanksgiving printable games mentioned by Meredith Sinclair can be printed here.