/ Source: TODAY Contributor
After Savannah shared the news with co-anchors that she is expecting her second child, her TODAY family erupted in words of congratulations and well wishes...and then called the mom-to-be out for her sneaky pregnancy-hiding tactics.
Hoda was quick to share a story about having dinner out with her boyfriend Joel, Savannah, and husband Mike a few weeks ago.
"We all had wine, and I noticed that your glass wasn't going down," she said. "I thought maybe you weren't in the mood."
Savannah's response summed up how the majority of pregnant women feel: "I'm always in the mood, Hoda. I've been 'fake drinking' for some time now."
In March, during a segment about St. Patrick's Day recipes, newly-pregnant Savannah can be seen taking a small sip of her Guinness, then awkwardly passing over the beer completely the next time her co-anchors have a drink.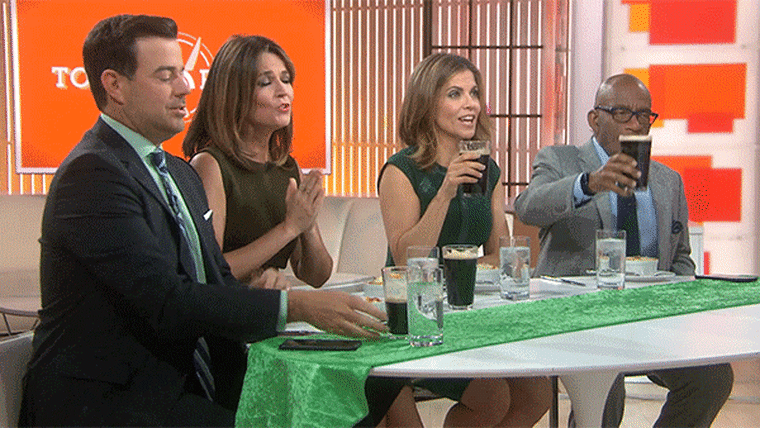 Whether you're keeping the early days of your pregnancy under wraps on national television or at happy hour with your co-workers, it can be a challenge to explain away abstaining from alcohol, gaining weight, making frequent trips to the bathroom, and the host of other tell-tale signs that you're expecting.
So how do you play off your pregnancy in those first few weeks, before you're ready to let the cat — or baby bump — out of the bag?
According to What to Expect When You're Expecting, it's best to wait until you've reached the 12-week mark and have gotten the go-ahead from your doctor before sharing the news. During that hush-hush first trimester, experts suggest blaming exhaustion on work deadlines, nausea on allergies, and caffeine-avoidance on acne.
The site also suggests bringing lunch from home, claiming to be on a budget to avoid having to turn down 'no-no' foods like sushi and soft cheeses. And, when it comes to "fake drinking" at social events, it's recommended that moms-to-be order club soda with lime or other non-alcoholic beverages that can be passed off as a cocktail.
We asked fans of TODAY on Facebook for their best tips for concealing a pregnancy in those first weeks.
Candace Weinsein Feinstein said, "I tried to make it to the bathroom with morning sickness, not the garbage can under the desk."
"I ordered Shirley Temples at a wedding so family wouldn't suspect anything. And blamed my lack of eating on my figure fitting dress," said Shirley Gately.
While we're sure Savannah will miss the occasional glass of wine over the next few months, we're glad the news is finally out there, and excited for the December arrival of baby #2!