To recline or not to recline? That seems to be a hot question for passengers on airlines these days, considering so many recent incidents of passenger discord leading to diverted flights.
But as a mother who, while traveling with my husband and five kids, witnessed a fellow passenger deliberately whack my baby daughter in the head with his seat back, I have a different question for air travelers:
At what point is it OK for you to lose your mind and act violently toward a fellow passenger, or should you, instead, attempt to retain some shred of dignity, despite being in an airborne tin can for hours on end?
We can all agree: There just isn't enough room in economy on airplanes. I get it. We are forced to share space semi-intimately with people we never met before, for hours at a time. Apparently, this makes people "fly" off the handle more easily than they would on the ground. In the past two weeks, a United Airlines flight passenger used a device called a Knee Defender to claim his territory, and on an American Airlines flight, two federal air marshals had to restrain a passenger angry that the woman in front of him had reclined.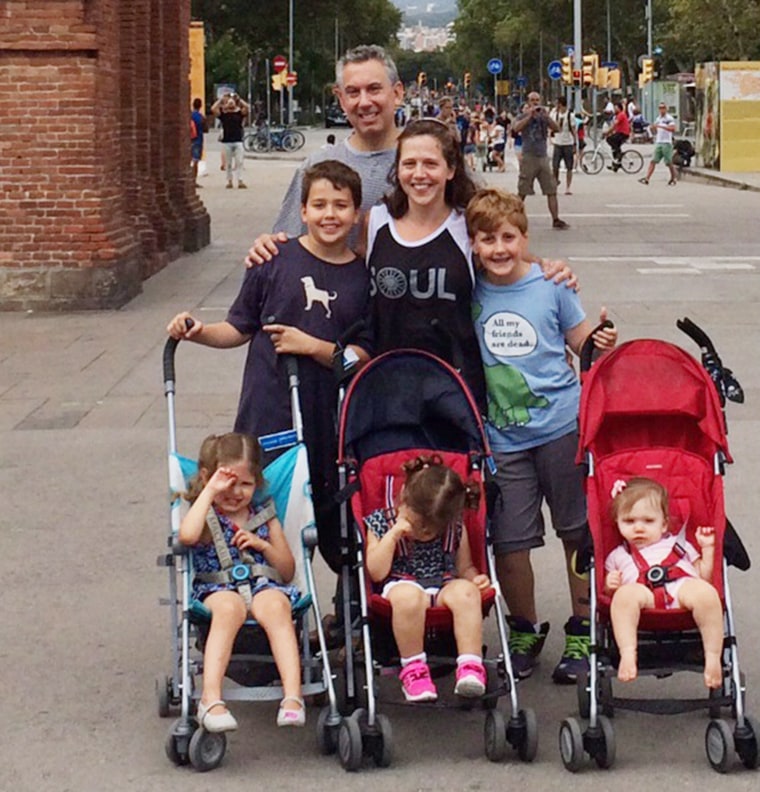 That both of these incidents involved adults and resulted in planes being diverted is ridiculous. Our family's encounter, then, ventures into the unbelievable.

Last month on a flight from New York to Barcelona, a man sitting in front of my husband, who was sitting with our 9-month-old baby on his lap, didn't like my husband's futzing around with the seat tray. To "retaliate," he looked back in order to make sure the baby was right there, and then deliberately slammed his seat back hard, with his entire body, so it hit her in the head, making her scream and cry. Sitting in the seat across the aisle, I told him that that was not OK, and that whatever issue he had should not mean hurting a baby. That's when he looked me in the eye and replied, "Shut the f*ck up." The in-flight crew, who witnessed the whole thing, did nothing (thanks, American Airlines flight 66!), but two flight attendants privately told me afterward that I'd done the right thing by refusing to antagonize him further.
Get a grip, people.

Yes, someone messing with the tray table behind you may irritate you. Yes, someone may recline the seat in front of you, giving you even less room than you had before. Yes, there may even be a baby who might even cry on your flight, disturbing your tranquility. None of that is a legitimate excuse for you to lose your mind and take out all of your stresses and frustrations on a flight attendant or another passenger. As we say in the world of nursery schoolers, "You get what you get and you don't get upset."
No one has a right to hit another passenger — especially a baby — as a "response" to being irritated. And when flight attendants are too afraid to confront bullies on planes, I can easily see how confrontations between passengers — like in the two recent cases of diverted flights — can sink to new levels of appalling behavior.
In my case, the one thing that kept this interaction from getting uglier — and maybe the plane from being diverted? — was the simple fact that I didn't respond to that guy's ugliness in kind. Yet the fact that he was tacitly allowed to behave that way, and that there were no repercussions whatsoever for his actions, still disgusts me. Because when someone can walk away from an interaction like that with no adverse repercussions, it probably makes that person think he can treat other families the way he treated us.
Did I want the flight to be diverted because of one man's thoughtless actions? No — to me, that seems like nothing short of collective punishment.
But if airlines really want to promote an environment in which passengers treat one another with kindness and dignity — and to do so without changing the seat-recline mechanisms or size of the seats — they have to be more proactive. Every passenger on board an airplane — from the youngest to the oldest — should feel that the in-flight crew has their proverbial back, and will go out of their way to make sure that the flight is not only a safe, but a pleasant one.