They may be one of Hollywood's biggest star couples, but Angelina Jolie says she and Brad Pitt lead remarkably normal lives away from the camera.
"We wake up, we make breakfast. In our domestic life, we're Mom and Dad. And often we're dorky Mom and Dad, which the kids find ridiculous," she told WSJ. Magazine.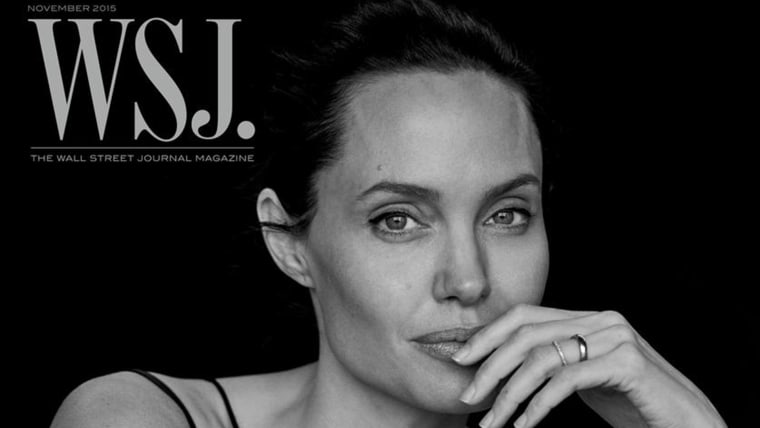 In a wide-ranging interview about her career, family and health battles, Jolie said her children prevented her and Pitt from staying in character after long days on the set while shooting the film "By the Sea" — which focuses on a struggling marriage — last year.
RELATED: Angelina Jolie on marriage and new film: 'Brad and I have our issues'
"That might have been an absolute disaster. But as soon as we got home, it was bedtime stories, children's needs and problems, the fights they'd had during the day," she says. "We had to immediately snap back to something that was uniting and positive and loving."
The magazine also interviewed Pitt, who credited Jolie for providing a sense of adventure for their six children.
"When Angie has a day off, the first thing she does is get up and take the kids out. This is the most important 'to do' of the day," he said. "No matter how tired she might be, she plans outings for each and all. She has an incredible knack for inventing crazy experiences for them, something new, something fresh. I may be the bigger goof of the pair, but she invents the stage."
RELATED: Brad Pitt, Angelina Jolie open up on marriage, health in rare interview
Jolie also spoke about what kind of impact losing her mother to ovarian cancer has had on her relationship with her own children.
"I want to make sure my kids are never worried about me," she said. "Even if I'm going through something, I make sure they are very aware that I'm totally fine. I'll stop and make a joke, I talk to them. I never, ever want them to have that secret worry and feel that they have to take care of me."