/ Source: TODAY Contributor
When JC and Kim Baltz learned that their son Ben, then 6, would need to have his leg amputated after a cancer diagnosis, the couple remembers looking forward to the day when Ben would beat the osteocarcoma and they could adjust to a "new normal."
What the couple didn't know: That new normal would involve their young son inspiring amputees, cancer patients and millions of others to live active, meaningful lives.
Ben, now 14, has made numerous headlines over the years by bonding with a three-legged pony named Molly and being carried over the finish line by a Marine after his prosthetic leg gave out during a triathlon. The teen gained attention again last week when a photo of Ben and his dad, JC, running together in the rain went viral.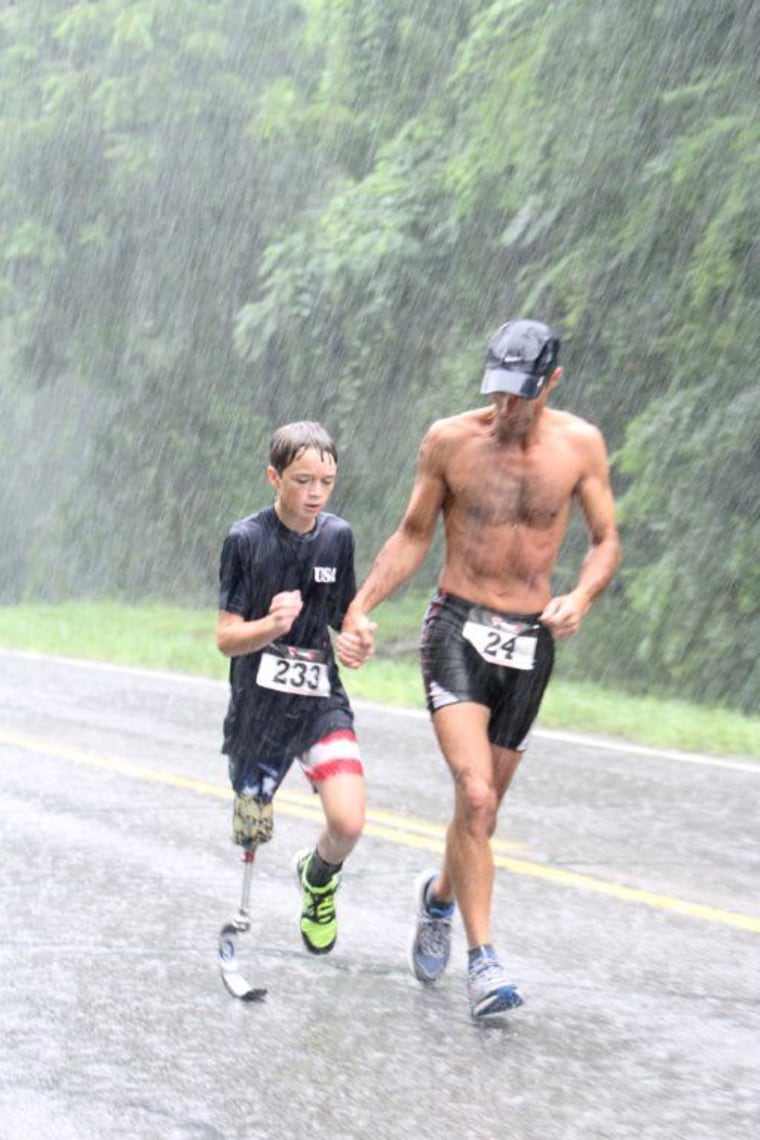 JC, who lives with his family in Valparaiso, Florida, said his daughter, Rachel, 20, submitted the photo to a Runner's World cover photo contest. But because Ben was under 18, the photo was disqualified from the contest, despite the overwhelming response it received from the readers it touched.
Ben's dad told TODAY Parents that the now-viral photo was taken at a triathlon in 2013, when Ben was just a month away from his 12th birthday. While Ben is no stranger to participating in triathlons — he has at least 10 under his belt — swimming in the cold waters and biking in the rainy weather had exhausted him, leaving him in need of some support during the run.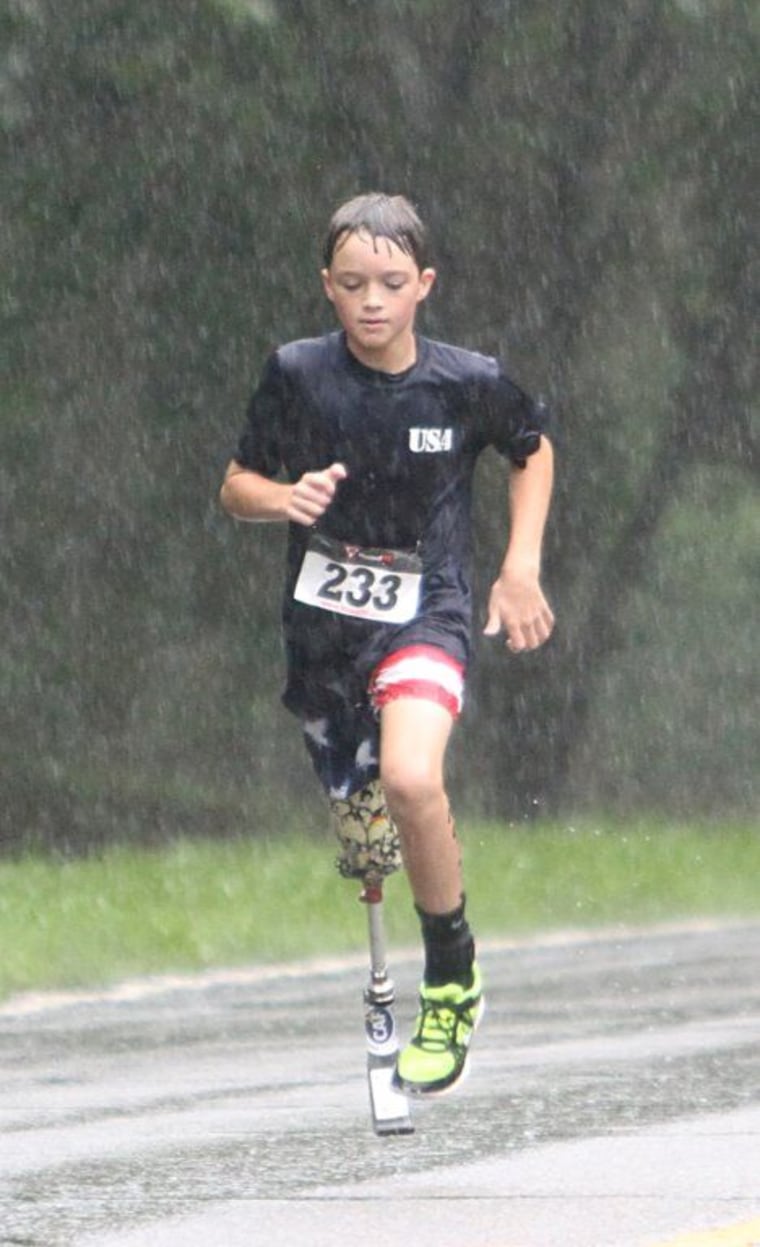 "He was tired, so I decided to run with him to get him going," JC said. "I am not surprised he is inspiring others and encouraging others to lead an active life. If looking at that photo doesn't make you want to be in shape and disregard whatever you feel is holding you back, then nothing will."
JC said his son is an inspiration off the race course as well.He takes time to visit with newly diagnosed osteocarcoma patients and recent amputees to help them come to terms with their changed lives.
"He shows them there is life with an amputation," JC said. "We will never know the number of lives our son has touched with his story, but we pray it will encourage them to help others and thank God for the blessings of what they are able to do."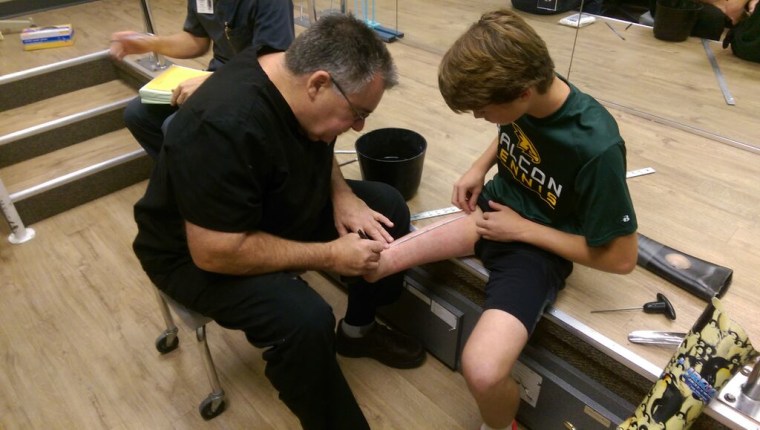 JC said his family feels the photo has gone viral at a time when it can make an even greater impact — in part because of proposed changes to Medicare that would limit coverage for high-tech prosthetics, and also because September is Childhood Cancer Awareness Month.
"If the proposed Medicare coverage changes for prosthetics were in place now, that photo of Ben wouldn't exist," JC said. "Or it would, but we would be out close to $100,000 (to provide Ben with the prosthetics that allow him to run)."
Ronnie Dickson, a prosthetist in Orlando, Florida, is also an above-the-knee amputee and an athlete. Dickson said the proposed changes to Medicare coverage for amputees could set a precedent for sub-standard care, which could influence private insurers to follow suit in their coverage of prosthetics as well.
"We would be returning to treatments that were standard during the 1970s — not just taking one step back, but multiple leaps backwards," Dickson said.
For his part, Ben is focused on moving forward. He pointed out that cancer has given him the opportunity to do things he never would have imagined he'd do.
"I never thought I would ever get cancer — never had heard of cancer until I got it — and never thought I would be able to keep participating in triathlons," Ben said. "But all of those came out to be true and here I am — cured of cancer, running, biking, swimming and even surfing. My amputation hasn't stopped me, or even slowed me down. It only brought me obstacles, all of which I have overcome."