The Amazing Spider-Dad has leaped back in action, spreading a dose of holiday good cheer to sick children around the globe.
Mike Wilson, the British dad who donned a Spider-Man costume to surprise his cancer-stricken son on his fifth birthday, has become Spider-Dad once again, this time topping off his blue and red suit with a festive Santa hat for a holiday-themed get-well message.
In a new video, Christmas wishes go out to kids like Wilson's son, Jayden, who has inoperable brain cancer and has been hospitalized for the last week with a chest infection.

"Guess what? It's Christmas! I love this time of year," Wilson says in the same American accent he used to fool his son on his birthday, a moment caught on video that has gone viral.
"If you're in hospital or you're not very well, especially over Christmas, that doesn't sound too good, does it?" Spidey says. "But hey, I need you to rest up real soon, get better, listen to all the doctors, because they're going to make you feel better. I need you on the streets because you're my eyes and ears to help me fight the bad guys."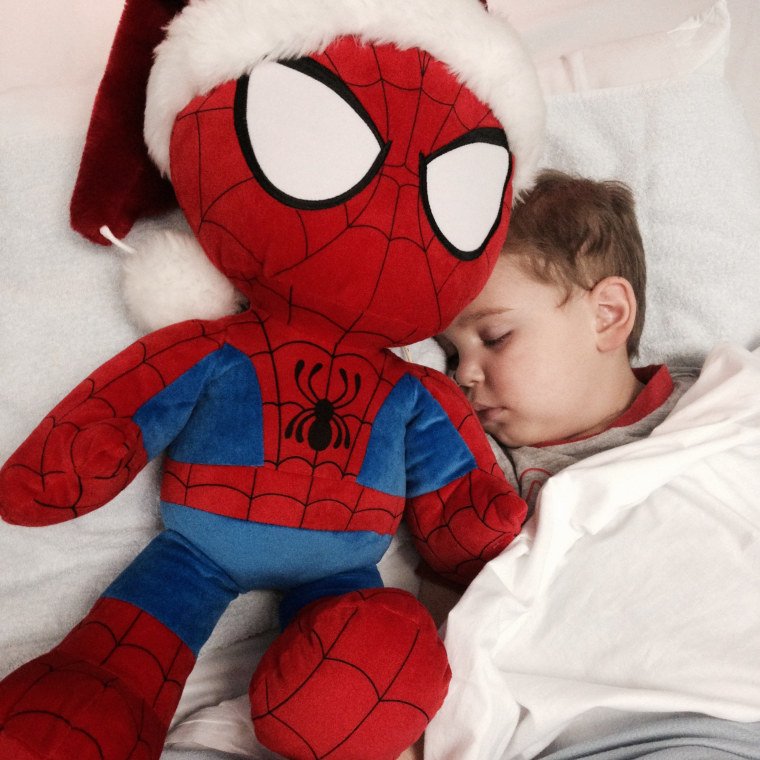 Seeing his own child so sick during the holiday season got Wilson thinking about all the other kids in the world who are hospitalized or ill so close to Christmas. Since his first video as Spider-Dad was such a hit, with nearly 9 million hits on YouTube since mid-November, he decided to slip into the Spidey suit again.  

"We're all very motivated by good, positive energy and I thought it's best to use a superhero figure to get a nice Christmas message to kids who are not very well at the moment, especially at Christmastime," Wilson told TODAY.com.
Jayden loves Spider-Man and is surrounded by Spidey toys and stuffed animals in the hospital. Being there during the holidays is especially tough.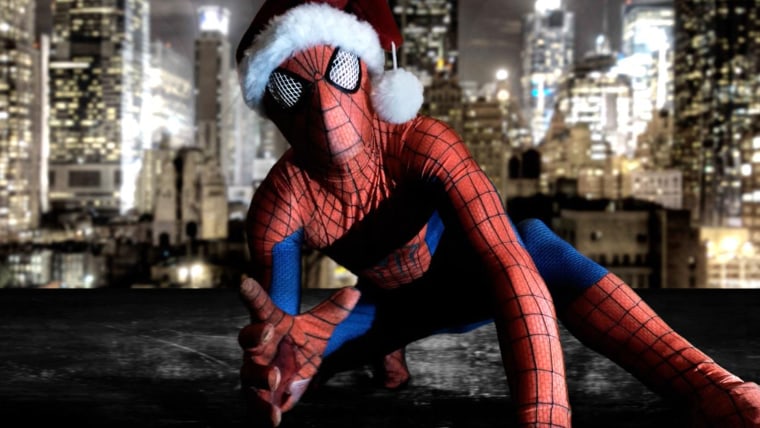 "It's pretty awful, to be honest," says Wilson, 32. "You're constantly thinking, 'Am I going to be here for Christmas?' It's not really a place I want to be at."

"No kid should be this ill, especially over such a happy time as Christmas," he added. "It's not the most amazing experience. It's quite stressful, and the emotions fly high."
Jayden has been improving every day after being treated with antibiotics for the infection, Wilson said, and the family is hoping he will go home soon to be with his 7-year-old sister, Ella, and their mom, Lou, who is expecting the couple's third child in February.
"We're hoping we're going to be able to bring him home for Christmas," Wilson said.
He has been worried about his son's health for more than a year.
Shortly after Jayden turned 4, he was diagnosed with an aggressive brain stem tumor and doctors estimated he had just a year to live. Ever since, the Wilsons have tried to make every day count.
Along with the new video on YouTube, Wilson wrote: "Kids are much stronger than we all think." He feels that's especially true for Jayden, even as illness has left him "quite woozy and wobbly" at times.
"He's still got his cheeky little personality," he said. He uses two fingers to pretend he's Spider-Man shooting webs, and can still flash a thumbs up and a smile.
"About three nights ago, he gave me a hug for the first time in awhile," Wilson said. "I got a little bit of a squeeze. That was nice to feel. Jayden's got so much fight in him. He's not going anywhere soon."
Lisa A. Flam is a news and lifestyles reporter in New York. Follow her on Twitter.