If you've got a school-age kid, you've seen the memos. Slather your kids with sunscreen before sending them to school and do not put any sun blocking products in your kids' backpacks, they intone.
That sunscreen ban has the American Medical Association irked. And yesterday the doctors' group responded with a resolution supporting the exemption of sunscreens from rules that bar students from bringing over-the-counter medications to school without a doctor's note.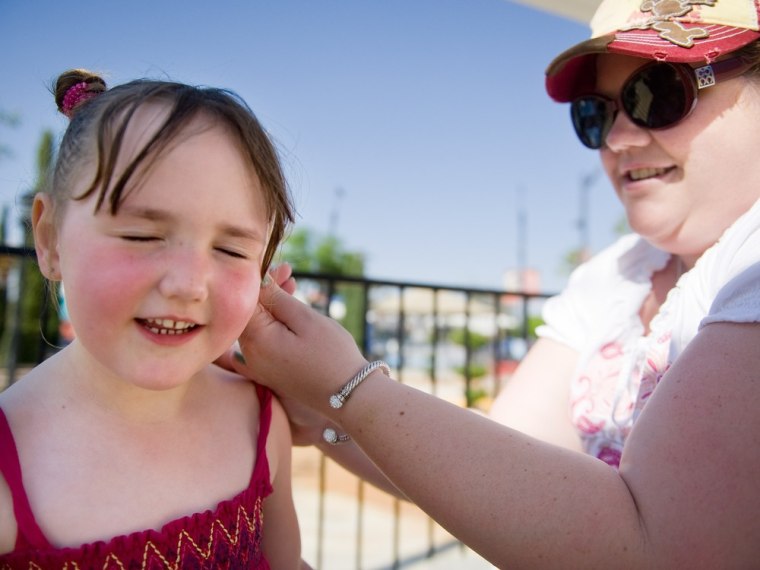 "We had reports of a number of kids from across the country who suffered from sunburns because they were not allowed to bring and use sunscreen," said Dr. Alexander Ding, a member of the AMA's board of trustees and chief fellow in imaging at Massachusetts General Hospital and Harvard Medical School. "We think that's a problem, particularly for those playing outside at recess and on field trips."

The resolution by the AMA "supports the exemption of sunscreen from over-the-counter medication possession bans in schools and encourages all schools to allow students to bring and possess sunscreen without restriction."
The AMA went even one step further suggesting it should be OK for teachers to provide their students with sunscreen, "without requiring the teacher to assist in application."
"It's a common sense approach – allowing kids to have sunscreen so they don't get burned," Ding said. "We now know that a couple of burns when you're young can increase the risk of skin cancer later in life."
Alan Geller, a skin cancer expert, thinks the AMA resolution may at least get parents, teachers and school administrators talking about a very important topic.
There are approximately 3 million new cases of skin cancer diagnosed each year, Geller said. And about 10,000 deaths from melanoma.
"We now have evidence that sunscreen prevents melanoma, the most commonly fatal form of skin cancer," said Geller a senior lecturer at the Harvard School of Public Health. "We also know that it prevents squamous cell cancer."
Parents don't have many options – other than sunscreen - to protect their kids during the hot waning days of the school year, Geller said.
"Sunscreen is the most practical form of sun protection. It's not realistic to have children wear long sleeve shirts and long pants in the hot parts of the country."
Besides, said Geller, schools can turn this into a good lesson in skin cancer protection by having classes that teach kids how to use sunscreen.
"It's the perfect combination of education and having the opportunity to get really good sun protection for kids," he added. "You would think that schools would look favorably on this."