Alyson Hannigan is best known for her roles in the "American Pie" movies (band camp, anyone?) and TV shows like "How I Met Your Mother" and "Buffy the Vampire Slayer," but to her two daughters she's simply "Mom."
The actress, who spoke to TODAY at Starlight Children's Foundation's recent launch event in Los Angeles for its new Starlight Brave Gowns, said that sometimes it's hard for her kids to understand why random people ask to take photos with her when they're out in public.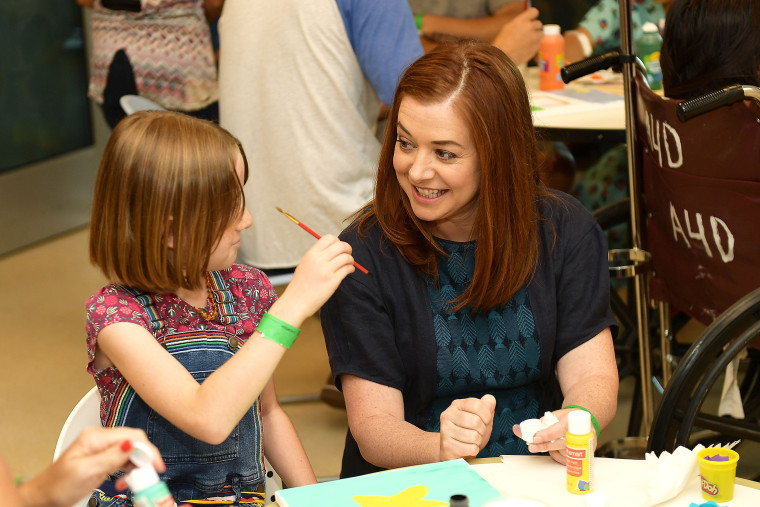 "It's an odd situation. I have told them that a lot of people know who I am because of what I do (for a living)," Hannigan told TODAY. "I made the analogy, 'Imagine Strawberry Shortcake was walking down the street. You might want to take a picture with her. It's sort of like that!'"
Hannigan, who, along with her 8-year-old daughter, Satyana, spent time crafting with some of the kids at LAC+USC Medical Center during the Starlight Children's Foundation event, said that being a mom in Hollywood presents unique challenges, but also provides her with opportunities to use her fame for good.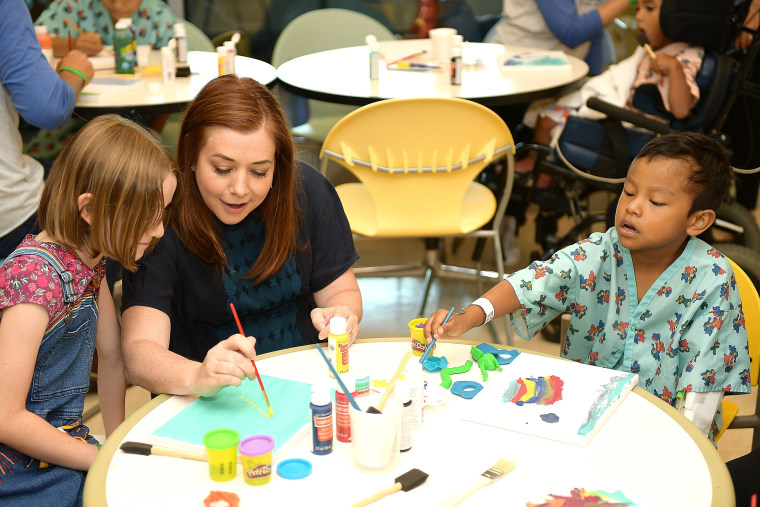 "I feel lucky whenever I'm able to use my platform to bring awareness to important things, such as the Starlight Brave Gowns project," Hannigan said of the foundation's new initiative, which provides comfortable and fun hospital gowns (think princess- and "Star Wars"-themed gowns) to seriously ill children across the nation. "I'm so glad when I can bring Satyana with me to things like this. I explained to her what Starlight does, and why it's important for us to do things like this to help bring happiness to these kids. She asked a lot of great questions."
As the mom of two young daughters (she and her husband, Alexis Denisof, are also the parents of 5-year-old Keeva), Hannigan has become used to having to answer tough questions.
"Every day they ask these incredible questions and you don't want to mess up with your answer!" the 43-year-old actress said. "Their questions are usually honest, legitimate questions and sometimes I don't have an answer for them right away. There's always the 'Go ask your dad' answer, which will at least buy me a few more minutes!
"I recently got asked a dreaded question by my oldest daughter," Hannigan said. "She asked me if girls can do the same things that boys can do. Your heart just sinks when your daughter asks you something like that. For that one, I think I had a good answer. I told her that girls can do everything boys can do, and more because we can also give birth!"
Hannigan, who appeared in the film "Do You Take This Man" last year, said that her acting career and her role as a mom often collide.
"My kids are used to having people come up to us in public and they're usually really good about handling it," she said. "But other times, they're totally over it. They don't care about my career, or that people may want a photo with me. All they know is that I'm their mom, and they want my attention, and that's that!"
While Hannigan doesn't mind chatting with fans about the movies and TV shows she's appeared in, there is one thing she'd like people to stop asking her about — at least in front of her kids.
"If I'm with my daughters, I get nervous when someone starts talking about 'American Pie,'" she said. "If I go to the mall, I hear 'band camp' a lot. It depends on where I am. I'm usually like, 'Remember, I'm with my children here!'"
Hannigan's daughters may eventually have fans of their own. She predicts that her youngest daughter, Keeva, may want to pursue a career in the entertainment industry herself someday.
"Right now both of my kids are pretty shy, but I have a feeling my youngest may be destined to entertain," Hannigan said. "She's always performing and is a total ham."
Parenting isn't always easy, but Hannigan said it's completely changed her life for the better.
"It's a nonstop, wonderfully hard job, but it's so rewarding," she said. "I'm amazed at how much it's taught me. I'm so grateful for (my career), but becoming a mom changes your whole world."