When the family business is show business, there's a chance a star and his/her child will wind up in the same movie at some point or another.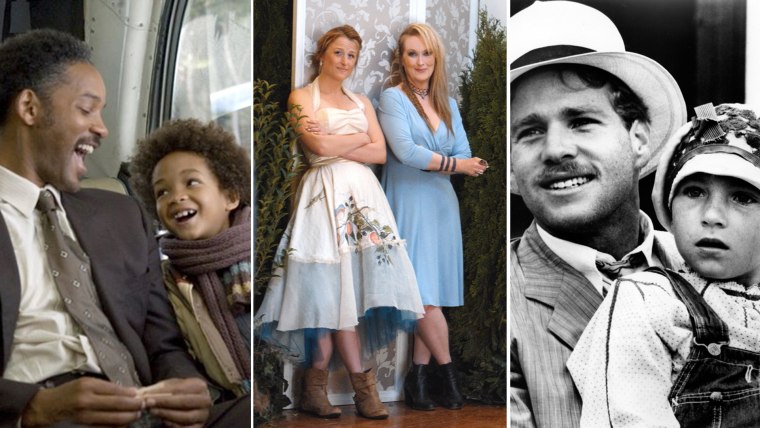 It's happened a few times for Meryl Streep and her daughter Mamie Gummer, both of whom appear in the new movie "Ricki and the Flash," arriving in theaters Friday.
The list of celebrity parents and their children appearing in the same film is far longer than 13, and many such pairings have appeared together in multiple films, but here are some of the most notable examples of cinematic family reunions.
Meryl Streep and Mamie Gummer: "Ricki and the Flash"
Let's start with the pairing that inspired this list: Before "Ricki," the mother and daughter appeared in 2007's "Evening" (released when Gummer was 23) and 1989's "Heartburn" (released a month before Gummer's 3rd birthday). And, yes, in case you don't recall, their scenes in their first movie together are as adorable as you'd suspect.
Will Smith and Jaden Smith: "The Pursuit of Happyness"
Their movie "After Earth" might not have lived up to the hype, but Will and Jaden won over more critics and audiences when they teamed up for "The Pursuit of Happyness," whose 2006 release yielded Will's second Academy Award nomination and nearly $164 million at the box office. (Oh, and not to be outdone, the younger version of Jada Pinkett Smith's Gloria in "Madagascar: Escape 2 Africa" is played by none other than her daughter, Willow.)
Billy Ray Cyrus and Miley Cyrus: "Hannah Montana: The Movie"
Back when Miley was primarily known as a Nickelodeon star, she and her country-music dad made a seamless transition from the TV to the big screen. A year after the 2008 release of the "Hannah Montana/Miley Cyrus: Best of Both Worlds" concert film, both stars stuck to a script for 2009's "Hannah Montana: The Movie," which raked in almost $80 million domestically.
Leslie Mann, Maude Apatow and Iris Apatow: "This is 40"
While being directed by husband Judd Apatow in 2012's "This is 40," Leslie Mann had some familiar co-stars on the set: Maude Apatow (who was 13 when the film was released) and Iris Apatow (who was 10 at that time). Although all three actresses also appear in two previous Apatow-directed films (2007's "Knocked Up" and 2009's "Funny People"), "This is 40" gave the daughters more chances to show off their acting chops.
Susan Sarandon and Eva Amurri Martino: "The Banger Sisters"
From serious drama ("Dead Man Walking," for which Sarandon won an Oscar) to boundary-pushing comedy ("That's My Boy"), Sarandon and Amurri have teamed up for no fewer than five major motion pictures since 1995. Make that at least a half-dozen if they indeed appear in the upcoming movie "Mothers Day," a drama The Wrap calls "a celebration of the unparalleled love between mothers and their children."
Jerry Stiller, Anne Meara, Ben Stiller and Amy Stiller: "Zoolander"
Although all four Stiller family members appeared in a variety of films (including "The Independent" and "Highway to Hell"), "Zoolander" was the best-known movie to feature them all. Playing the lead role of dimwitted model Derek Zoolander, Ben got a little help from his dad, Jerry (who played Derek's manager, Maury); his mom, the late Anne Meara (who played an angry protester) and his sister, Amy (who was part of the posse of rival model Hansel). Other films to star some combination of Jerry and/or Anne with one or both of their children include "Reality Bites," "Night at the Museum," "Hot Pursuit," "Heavyweights," and the 2007 remake of "The Heartbreak Kid."
Brad Pitt and Shiloh Jolie-Pitt: "The Curious Case of Benjamin Button"
At age 2, Pitt's young co-star didn't have to age backwards to appear with his dad in the film. But they're not the only members of that A-list family to team up on the big screen: Vivienne Jolie-Pitt was 5 when she made a cameo in mom Angelina Jolie's 2014 film, "Malificent" — and perhaps Jolie's dad, Jon Voight, reinforced the family standard when he and she appeared in "Lara Croft: Tomb Raider."
Ryan O'Neal and Tatum O'Neal: "Paper Moon"
Tatum became the youngest Oscar winner in history in 1974, when Academy Award voters declared her the best supporting actress for the performance she delivered alongside her dad, Ryan. In the film, Ryan plays Moses Pray, a Depression-era con man who travels with Tatum's character, Addie, who may or may not be Moses' daughter.
Blythe Danner and Gwyneth Paltrow: "Sylvia"
On screen and off, Danner has been a maternal figure to Paltrow. In 2003's Sylvia Plath biopic, Paltrow portrays the poet and "The Ball Jar" novelist who was equal parts talented and tormented. Paltrow's real-life mom plays Plath's mother, Aurelia.
Kirk Douglas, Diana Douglas, Michael Douglas, and Cameron Douglas: "It Runs in the Family"
Accounting for Kirk and Diana's son Michael, and Michael's son, Cameron, three generations of Douglas actors appear in the 2003 comedy about a successful yet dysfunctional family. Last month, the family mourned the death of Diana, a veteran actress to whom Kirk was married from 1943 to 1951.
Demi Moore and Rumer Willis: "Now and Then"
A year after co-starring in the 1995 coming-of-age movie "Now and Then," Moore and Willis also appeared in a very different flick, "Striptease." Rumer also stepped in front of the cameras for roles in multiple movies featuring her dad, Bruce Willis, including 2000's "The Whole Nine Yards" and 2005's "Hostage."
Martin Sheen and Charlie Sheen: "Wall Street"
Martin Sheen has appeared in quite a few movies with his sons, but the 1987 corporate drama "Wall Street" — fronted by Charlie Sheen — might be the most "winning" example. The dad also appeared in the 1996 film "The War at Home," starring and directed by another one of his sons, Emelio Estevez.
Tom Hanks and Colin Hanks: "The Great Buck Howard"
Directed by and co-starring Tom Hanks, 1996's "That Thing You Do!" also featured a pop-in by Colin, who played a male page. Colin's career has ascended since then; although his Oscar-winning dad also acted in 2008's "The Great Buck Howard," it was Colin and John Malkovich's responsibility to carry that film.
Follow TODAY.com writer Chris Serico on Twitter.