This couple's love of Halloween is out of this world, or universe, really.
After the Camerons' maternity shoot went viral when Nicole Cameron posed with a chestburster — you know, that creepy, snakelike fanged creature from the "Alien" movies — exploding from her heavily pregnant belly, Todd Cameron knew they had to do something spectacular to commemorate the alien's escape from Nicole. So they staged a party on the USCSS Nostromo, the ship where Sigourney Weaver's Ripley first fought the xenomorph in "Alien."
"Perhaps in space, no one can hear him scream but right here in our home, we DEFINITELY can."
True to Cameron family tradition, the photos did not disappoint.
"So hard to believe that yesterday, one whole year had gone by since our little guy burst through Nicole's abdomen and into our hearts," Todd shared on Facebook.
"Raising a xenomorph hasn't always been an easy go. From the US government initially forcing us to pretend that this was a Halloween joke, to the three-month family quarantine, to having a simple nose bleed burn a hole through the nursery floor and living room ceiling, we have been continuously challenged. Perhaps in space, no one can hear him scream but right here in our home, we DEFINITELY can."
The Camerons first started thinking of "aliens" together with their child after Todd found a chestburster figurine at a garage sale and immediately bought it. He and Nicole love Halloween, and with their first baby due mid-October 2018, he figured they'd use it somehow. That's when inspiration struck to stage an epic maternity photo shoot featuring the baby alien.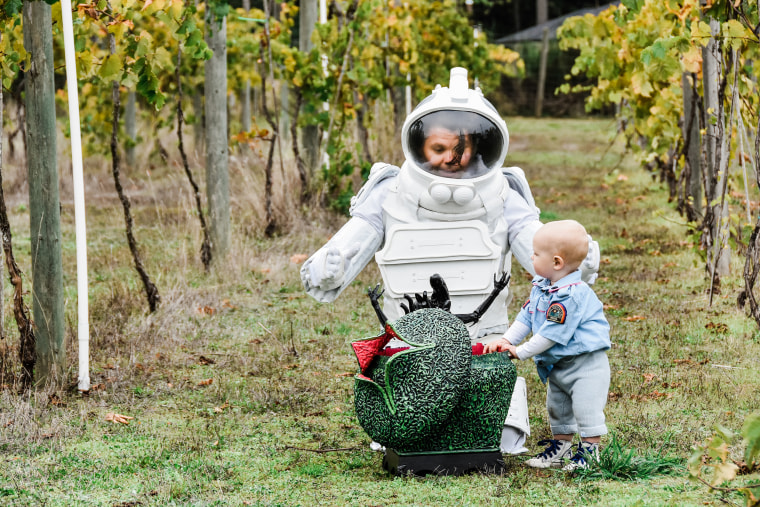 "We are hardcore Halloween fans," Todd Cameron, 45, of Nanaimo, British Columbia, told TODAY. "Nicole is not really a big fan of traditional maternity photos. I thought we can use (the chestburster) for a Halloween fun/horror/comedy photo shoot."
The two enlisted the help of their friend, Li Carter, to take the photographs (she helped with birthday photos, too). On a rainy fall day, Todd and Nicole went to a nearby pumpkin patch. She wore a long flowing pink dress and he wore brown pants and an oatmeal colored sweater. The setting looked perfect for fall pictures. After a few traditional pictures, Nicole falls onto the ground, grimacing in pain as if she's in labor. Suddenly, the chestburster tears from her body and blood squirts out.
"The basic idea was to tell the story and it starts off with this is another maternity shoot. Oh it looks like something is happening. A birth? Or something wrong?" he said. "We had to do a couple of takes. It was raining and we were laughing."
Nicole, 37, was due in five days, and was barefoot lying in the mud as Todd prepared the big reveal when the alien tore out of her chest.
"I have to give Nicole a lot of props being eight and a half months pregnant with me splattering fake blood on her while it's raining," Todd said of his wife of two years. "She gritted her teeth to do what she had to do."
Todd feared that many would skip over the pictures if they thought they were ordinary maternity pictures so he teased the surprise.
"Well, you won't believe what happened yesterday DURING OUR MATERNITY SHOOT!!! Our chests are bursting with love for our new addition," he wrote in the viral Facebook post.
While he wanted it to be a fun discovery, he also did not want his family to get the wrong idea so he warned them.
"I didn't want to get anyone's hopes up," he said. "A lot of people got a lot of laughter."
The couple have enjoyed the response to the maternity photos and hope that "burstday" images bring the same joy.
"We wanted to share these memories with all of you who were so interested in our unique story one year ago," he wrote on Facebook. "Happy First Burstday to not only a perfect organism but also a perfect fit to our little family (who also happens to share a birthday with Sigourney Weaver!)"