Attention holiday shoppers: Gift shortages may cause unruly parents to knock down you or your child — maybe even grandma.
In a recent online survey, 23 percent of Americans said they would behave unethically to score the last hot holiday gift on the shelf.
And, while a portion of both students and retirees said they would play dirty to avoid the temper tantrums or cold shoulders they might experience upon returning home empty-handed, parents with children under 18 tended to be the most unscrupulous shoppers of all, according to the survey of more than 2,000 adults conducted by Harris Poll on behalf of analytics firm FusionOps.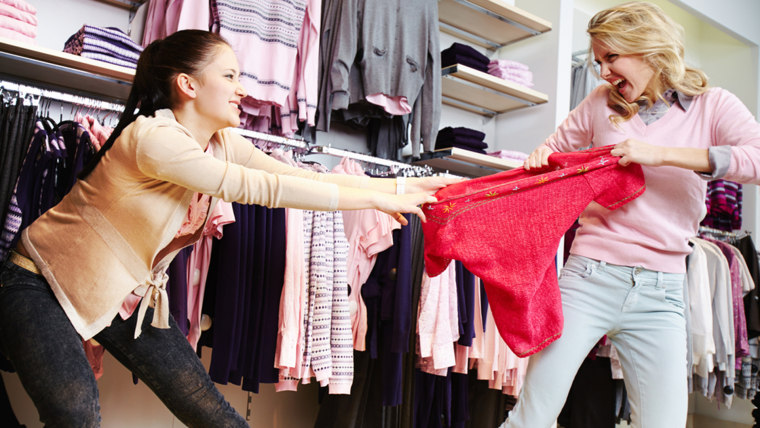 Here are the lengths to which parents (versus non-parents) would go to snag the last hot gift:
17 percent (versus 8 percent) would lie to other shoppers.
16 percent (versus 8 percent) would cut in line.
16 percent (versus 5 percent) would pretend to be a store clerk.
8 percent (versus 3 percent) would knock down an adult.
8 percent (versus 2 percent) would push a child over.
7 percent (versus 2 percent) would trip an elderly person.
As for the gifts that would lead an otherwise sane person to push a child over, 36 percent of respondents said smartphone shortages will cause the biggest problems.
About 30 percent say the worst headaches will stem from shortages of video games such as "Guitar Hero Live," "Call of Duty: Black Ops 3" and "Star Wars Battlefront."
Roughly a quarter predicted that "Star Wars" toys would cause the biggest disturbance in the force.
RELATED: No new clothes, books or toys: Family spends one year without shopping
"Jurassic World" toys and flying drones are among the other hot holiday items that could lead to some pushing and shoving.
Amazon's Holiday Toy List features more than 1,000 items, including Crayola's Easy Animation Studio, the Girl Scouts Cookie Oven and MiPosaur, an interactive robot dinosaur.
"Halo 5: Guardians" and "Fallout 4" are the most popular video games on Amazon wishlists and registries, while the adult party game Cards Against Humanity tops Amazon's list of most-wished-for toys and games.
For years, crowds of shoppers have rushed retailers on Black Friday or even Thanksgiving night for the best deals.
This year, some retailers are pushing back on the holiday trend, allowing their employees to spend time with their families.
GameStop, Nordstrom and Costco will all close their doors on Thanksgiving, and outdoor retailer REI will remain closed on both Thanksgiving and Black Friday.
RELATED: Teens are spending less and shopping thrifty like their parents
Although the new survey isn't the most scientifically rigorous study ever conducted, its message is clear: If you walk into a store this holiday season in search of the last remaining game or gadget in town, trust no one — especially that guy pretending to be a store clerk.
And watch out for falling children as you extend a stiff arm for that prized merchandise.