Alabama couple Courtney and Eric Waldrop got the shock of their lives when, after trying for one more baby after having three, they found out they were expecting with sextuplets.
With two babysitters covering the now-9-month old sextuplets and the older kids in school, TODAY Parents caught up with the Waldrop parents on the phone.
Courtney describes their lives as "fun-crazy."
"We love every second of it but it is something, having to feed around the clock," she said, adding that now the babies are starting to crawl, ushering in a whole new level of fun and chaos.
"It's a different kind of exhaustion now," Eric said. "They're doing great, even in those moments where we think we're going to lose our minds."
The family has been filming Sweet Home Sextuplets, a new series on TLC, which follows their transformation from a party of five to 11-strong.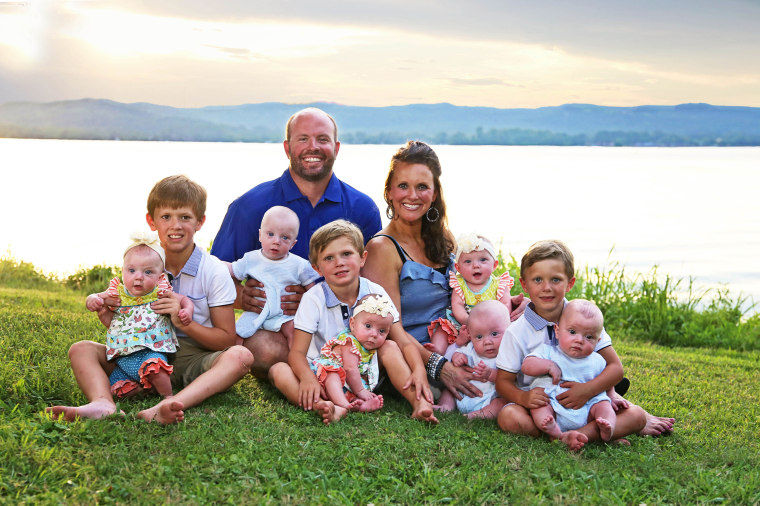 The shows starts Tuesday, September 18 at 10/9 c., and the Waldrops say creating it provided an unexpected element of order in their ever-busy lives.
"It was almost like they knew if it became crazy we'd stop and they'd let us get everything calm," Courtney said. "We honestly never had to say turn the cameras off. They sensed it."
The televised story begins when the couple finds out they are expecting sextuplets, and goes through the gender reveal(s: three boys, three girls), the birth of all six babies and their arrival home to a whirlwind of siblings, diapers and feedings.
The couple said that they feel "truly blessed" to have been able to have so many children, and opted to have the television show in their lives to share that sense of faith and gratitude.
"We didn't go into this wanting to be — I don't even like the word — celebrities," Eric said. "We want to show the world what God has done for us, and how much we've been blessed by this situation. We want to show America how good God has been to us."
The strength of the couple's marriage will be on full display during the show. Eric and Courtney, who met each other in eighth grade and have been together for 22 years, agree that having nine children has strengthened their relationship.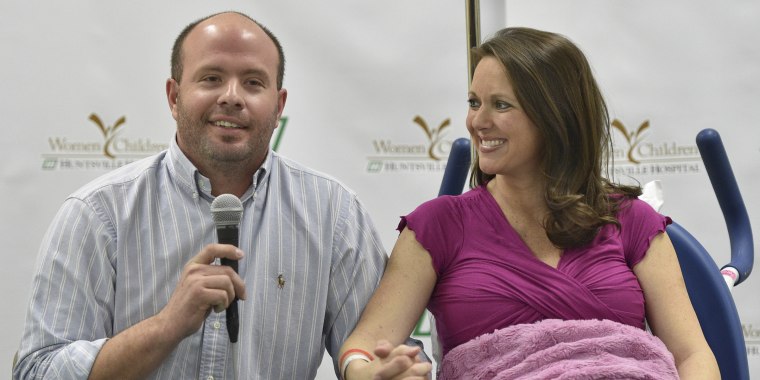 "I know that people would just say I'm just saying this, but honestly I would say that our relationship is stronger now than ever," Courtney said. "We have nine kids together, and he's my rock and he gets me through. We have to be there for one another."
For Courtney, the biggest surprise of having sextuplets, she said, was that "at four months old, the babies started sleeping through the night. We were extremely blessed — that was a huge surprise. I never would have thought that would have happened. So for the most part, we are getting a bit of sleep and we are able to survive off that."
"If you would have asked me the way I felt when I found out we were having six babies, I guess I just thought it was going to be an impossible situation," Eric said. "I'm not saying it's not hard, but you just kind of adapt and make it work. It's the new normal, how crazy it is, and I just jump right in after I come home from work and before you know it, it's midnight.
"I guess the surprise is that it was possible to survive the first nine months," Eric laughed.