When Kyesha Smith Wood learned her daughter and stepdaughter reportedly were disruptive at a recent movie screening, she issued a public Facebook apology for their "rude and obnoxious" behavior.
According to Wood's March 28 Facebook post, The Alabama mom's son told her the two girls misbehaved that night after she'd dropped all three of them off to see "Cinderella" at the Premiere Cinemas facility in nearby Bessemer. Her public social media message was a "long shot" to apologize to a woman who'd asked the girls to quiet down.
"After the movie she approached my girls and told them that her husband had been laid off and this was the last movie she would be able to take her daughter to for a while and my girls ruined that for her," Wood wrote. "If you are this woman, please message me. I can assure you that these girls are being strongly dealt with and appropriately punished. This rude, disrespectful, and awful behavior is unacceptable and they owe you an apology."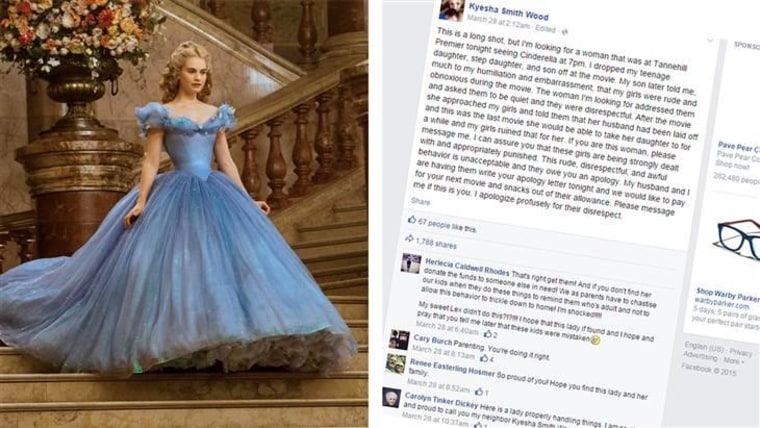 Wood added that she and her husband were making her daughter and stepdaughter write an apology letter of their own.
"[We] would like to pay for your next movie and snacks out of their allowance," Wood wrote. "Please message me if this is you. I apologize profusely for their disrespect."
That version of the post had been shared almost 2,000 times as of Monday afternoon, and many commenters beneath that post hailed the mom for her apology and follow-up gesture.
"Here is a lady properly handling things," noted commenter Carolyn Tinker Dickey. "I am so glad and proud to call you my neighbor Kyesha Smith Wood."
Another well-liked comment came from Facebook user Cary Burch, who wrote, "Parenting. You're doing it right."
Wood also earned the respect of TODAY's own Kathie Lee Gifford, who said Monday, "I love what she did."
Gifford's co-host, Hoda Kotb, echoed those sentiments, adding, "Good for the mom."
Wood also posted the apology to the McAdory-McCalla Community News' Facebook page; that's where the Jefferson County Sheriff's Office found it and re-posted it on its own page, where it would go on to collect more than 250,000 Likes and nearly 50,000 shares in the 48 hours that followed. As word spread, Rebecca Boyd of Adger, Alabama, claimed to be the woman who'd approached the girls in the theater.
"After I read [Wood's apology], I was touched that she cared how her kids behaved," Boyd said, according to the Alabama news website AL.com. "You don't see that a lot these days."
The sheriff's department reported Sunday morning that "all is being set right" by the two moms, with the department adding, "Nothing but grace and class on the part of both these ladies."
That afternoon, Wood posted another update: "This has been a crazy weekend!"
There even might be a fairy tale ending: According to multiple news outlets, companies have reached out to Boyd to try to help her husband find work again.
On Monday afternoon, Boyd posted a Bible verse to her Facebook page: "So speak encouraging words to one another. Build up hope so you'll all be together in this, no one left out, no one left behind."
Follow TODAY.com writer Chris Serico on Twitter.
This article was originally published Mar. 30, 2015 at 5:56 p.m. ET.