/ Source: TODAY contributor
Want a surefire way to get upgraded from coach to business class on a long overseas flight? Jacel Brown has a way, but she wouldn't recommend it — just go into labor at 37,000 feet.
The Sicklerville, N.J., woman was returning from a vacation in the Philippines with her husband, Daniel, last Wednesday, May 28, when she went into labor two months prematurely. That's when the Korean Air Lines flight crew moved her to a reclining berth in business class.
It's also when Dan Brown, who'd been trained as an EMT while serving in the U.S. Coast Guard, went into action.
"I wasn't nervous at all," the proud father told TODAY's Meredith Vieira Wednesday from Lourdes Medical Center in Camden, N.J., where the couple's week-old son, Jadan, is doing just fine in an incubator. "I was actually excited to have this happen. I'm sure my wife wasn't, but I was actually quite excited. Absolutely."
Although Jacel Brown was in her seventh month of pregnancy, her obstetrician had cleared her to take the Philippine vacation. "The doctor did give us permission with some specific instructions on what Jacel had to do in order to make sure something like this didn't happen," Dan Brown told Vieira.
It wasn't the seat
The vacation went without incident, but on the 14-hour flight back to New York, Jacel started experiencing what she described as excruciating back pains. At first the couple thought it was because of the seating, but when the pains moved from her back to her front, Dan knew his wife had gone into labor.
Jadan didn't waste any time entering the world. When his head began to appear, Dan and the crew helped Jacel walk to one of the plane's galleys, where they had her lie on the floor for the final push.
The plane was some seven miles over Canada at the time, and the captain of the plane sent the Browns a note giving the particulars: "I thought you'd be interested to know that the approximate position at [your baby's] birth was 66 degrees north, 100 degrees west — about 850 nautical miles north of the city of Edmonton, Canada, and 450 miles northeast of Yellowknife, Northwest Territories, Canada — at an altitude of 37,000 feet." The time was 4:57 p.m. EDT.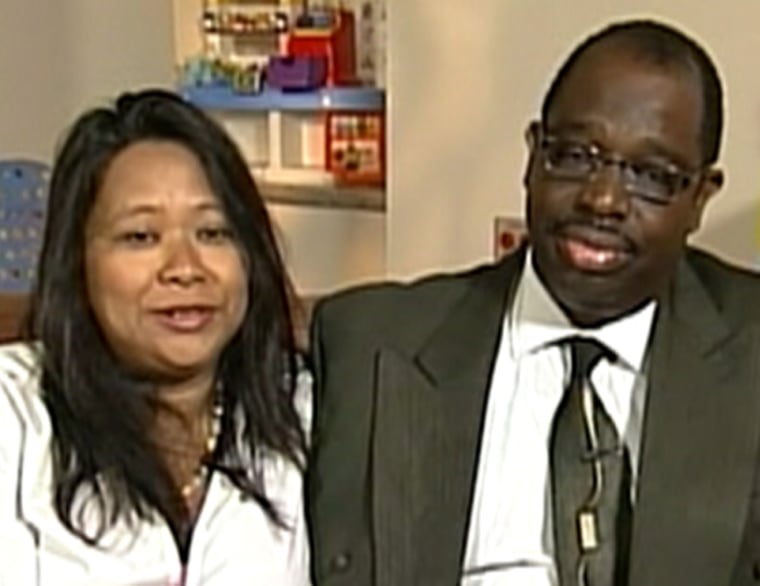 Little Jadan doesn't know it yet, but that's going to be an awful lot to have to write down on all the forms he'll see in his life that will want to know where he was born. According to The Gloucester County Times, it also raises some questions about how many citizenships the Brown's firstborn might claim.
A citizen of where?
"We don't know if he'll be awarded dual citizenship, and people have even said he might qualify for Korean citizenship because it was a Korean flight," Dan Brown told the newspaper. "Whatever the case, he will always have an interesting story to tell."
The Browns rejected the idea of the plane's diverting to the nearest airport to get Jadan to a hospital. Instead, Dan cradled the infant, who weighed just under 3 pounds, for 3 ½ hours until the plane landed in New York, where an ambulance was waiting to take the family to their home hospital in Camden. Doctors said it was impressive that the premature baby didn't need oxygen or an incubator.
Jacel and Dan Brown aren't worried about any of that right now. They're just happy that Jadan — the name is a combination of his parents' first names — is thriving.
The couple hopes to be able to take Jadan home sometime this month, but said the prognosis is that he won't be released from the hospital until July.