As the nation debates gun policy following the mass shooting in Newtown, Conn., some parents are imposing a different kind of gun control in their own homes: They are taking away their children's toy guns.
One Chicago mother, Anupy Singla, had been wrestling for months with whether to keep the Nerf revolver-style blasters that her daughters, ages 7 and 10, enjoyed playing with, several times tossing them into the trash and then retrieving them.
Her indecision ended abruptly on Dec. 14, as she watched the coverage of the shootings at Sandy Hook Elementary School, where 20-year-old gunman Adam Lanza killed 26 people and himself after fatally shooting his mother at home.
"It was just something that inside me really snapped," said Singla, 44, a cookbook author and food writer, and she threw the playthings away.
"It's me making a decision that this is not something that's right in our house," she said. "We don't believe in playing with something that represents something that could be potentially so dangerous."
Though experts say that simply playing with a toy gun doesn't mean a child will become violent, other families, too, were moved by tragedy to weed out their toy chests.
After the shootings, Eileen Zyko Wolter collected about a dozen toy guns that belong to her sons, ages 4 and 7, and stored them on a high closet shelf.
"I felt like they needed to understand that play guns could lead to real-life consequences," said Wolter, 41, of Summit, N.J., a blogger. "If you're aiming a play gun and shooting it, you're practicing shooting at people."
And in Decatur, Ga., Shun Melson, a wardrobe stylist, told her 7-year-old son about the killings when he got home that Friday, and posted a photo of his reaction to Twitter. "He said he was very sad and said he never wanted to see another gun and he threw it in the trash," Melson, 38, said of his toy gun.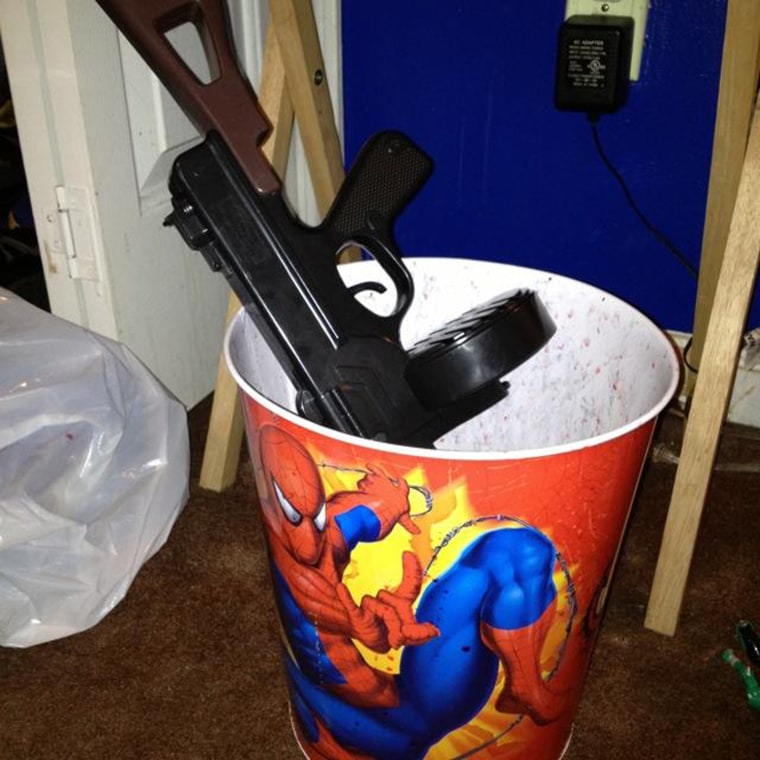 For children, whose lives are largely governed by parents and teachers, toy guns are a symbol of power and control they may play with to express their desires, said Constance Katz, co-founder of the child and adolescent psychotherapy training program at the William Alanson White Institute of Psychiatry, Psychoanalysis & Psychology in New York. Toy guns are generally favored by boys, and wanting to play with one doesn't mean a child is or will be violent, she said.
"Playing with a toy gun is not necessarily a worrisome sign," Katz said. "The focus should not be on playing with guns, it should be on the total emotional life of the child."
Katz said she would be concerned if a child plays with a toy gun to the exclusion of all other toys or becomes obsessed with gun play, or if the child shows signs of alienation, withdrawal, depression or a loss of control over aggression, adding: "Those are the real risk factors."
While throwing out toy guns may make anxious parents feel better, Katz said it's an ineffective, overly simplistic response.
"It's not the issue," she said. "The issue really is the big picture of the child's adjustment to other people and the world."
Despite calls on Twitter for parents to eschew toy guns as holiday gifts this year, Chris Byrne, content director for Time to Play, an independent online toy review site, said he hasn't seen a broad backlash against play guns, and does not think the shootings will hurt sales.
"For once, I don't see people looking to blame the toy industry," he said. "I see people putting the focus on where it should be, which is access to real firearms."
Play guns, mass produced at least since the end of World War II, reflect the culture, Byrne said: "It's a play pattern that's just not going to go away." 
The Connecticut shootings didn't change many parents' attitudes toward toy shooters. Shelley Dreizen, a former first grade teacher from Fairfield, Conn., is among parents who were - and still are - OK with them.
A mom of 6- and 2-year-old daughters and a 4-year-old son, Dreizen believes that depriving kids will just make them want to play with toy guns more, perhaps behind their parents' backs.
"I'd rather not make it taboo and forbidden but let him play with certain rules," Dreizen said of her son, the only one of her kids who's really interested in toy weapons.
She teaches him to be a good guy who leads people to safety, not a killer, so he's not getting the message that using a gun is the only to way to get what he wants.
"You don't let them pretend to shoot everyone in the room because heroes don't do that," Dreizen said. "Heroes protect. That's what I'm teaching my son."
Poll: Has the Newtown shooting changed your feelings about letting kids play with toy guns? 
Lisa A. Flam is a news and lifestyles reporter in New York.