For dad Bill Kohler, every day he spends with his 10-year-old son is precious — after all, he doesn't know how many more there will be.
Last August, his son Ayden Zeigler-Kohler collapsed at football practice. He was rushed to the hospital, where doctors originally suspected he had suffered a concussion. But when his son's health continued to decline and he began to lose his motor and verbal skills, Kohler feared the problem was far worse.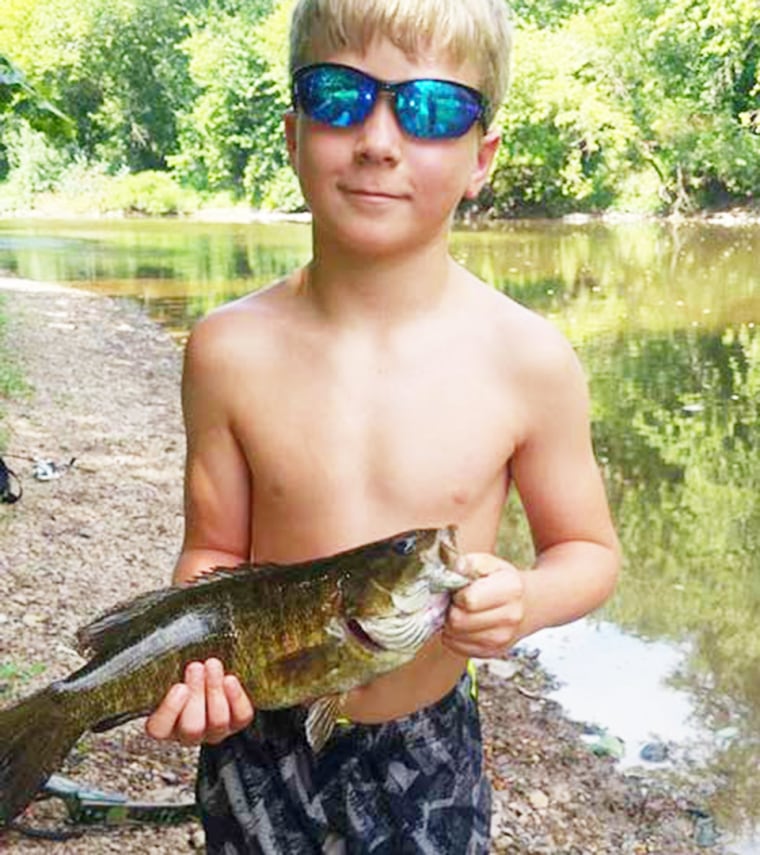 Sure enough, doctors found a tumor on Ayden's brain stem that extended to his cerebellum, and diagnosed the boy with a rare cancer called diffuse intrinsic pontine glioma, or DIPG. Suddenly, the once-active Ayden could barely muster up the energy to move.
RELATED: Teen with terminal cancer plans dream bucket list: 'It's Emma's happy ending'
"He was so lethargic," Kohler, of York, Pennsylvania, told TODAY. "I had to carry him everywhere. He couldn't walk. He was losing motor function, constantly sleeping. The look in his eye was just a daze, like he wasn't even there."
Last August, doctors gave Ayden 8-12 months to live, Kohler said. Radiation treatments helped, but the results were only temporary. Despite the prognosis, Kohler is doing everything he can to save his son — the son he credits with saving his own life when he was born. Kohler, 48, served 17 years in the Army, including in Iraq, and when he returned home in 2006, he suffered from anxiety and depression.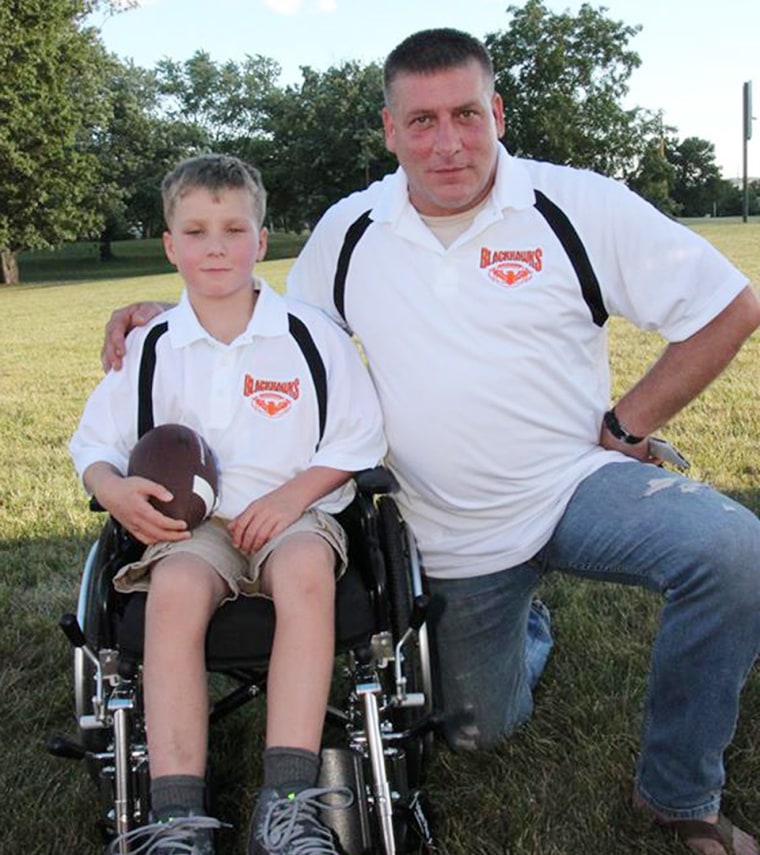 "I was isolated and started drinking pretty heavily," said Kohler, who worked as an infantry soldier and later as a combat medic. "Nothing was going right for me... and then Ayden was born."
He says his son changed his life. "I just threw myself into him," said Kohler, who also has two older children. "Once that happened, it was like a bunch of good things started happening. I finally got into the VA, I started therapy."
Kohler continues to research Ayden's cancer and apply for clinical trials, but in the meantime, he's doing everything he can to fulfill his son's bucket list. They've gone on hunting and fishing trips, attended basketball and football games, and even met Ben Roethlisberger of the Pittsburgh Steelers. The WWE and Harlem Globetrotters have been in touch about tickets to upcoming events, among other organizations.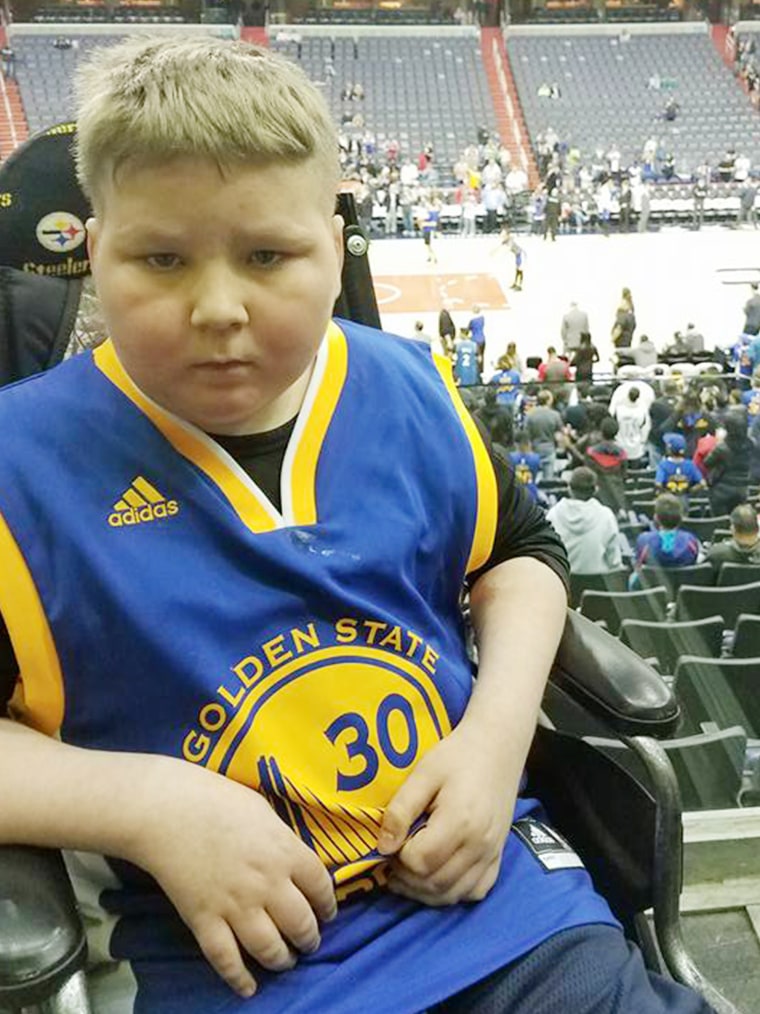 "He loves doing this stuff," Kohler said. "We've never told him it's terminal. We made a choice of that. We're just trying to give him something to look forward to."
RELATED: Parents create joyful bucket list for 2-year-old with cancer
The community has rallied around Ayden, who lives with his father and stepmother. Well-wishers from across the world have donated to a GoFundMe page for the family, and posted photos holding four fingers in the air — the four represents Ayden's football number.
"People are getting ahold of me from everywhere," Kohler said. "It's amazing what happened."
Ayden is being treated at the Johns Hopkins Kimmel Cancer Center in Baltimore, about a 45-minute drive from home.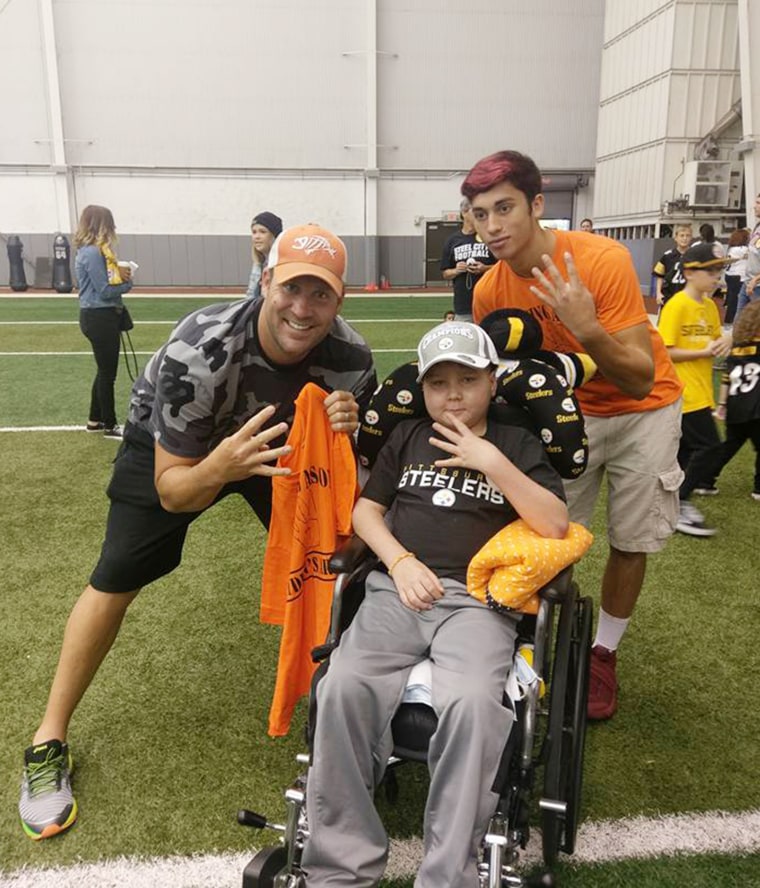 DIPG occurs in roughly 300 to 350 children per year in the U.S. and is generally a fatal diagnosis, Dr. Kenneth Cohen, head of the pediatric brain program at the hospital, and Ayden's attending physician, told TODAY.
"Probably among all pediatric cancers, it's the one tumor where we really haven't been able to make any headway in terms of therapeutic outcome for patients," Cohen said.
Kohler hopes Ayden's story brings more awareness to the cancer.
"There has to be a purpose in all this," Kohler said. "And I think bringing attention to (DIPG), trying to get more funding, is what we're trying to do. I don't want anyone else to go through this."
But despite everything, Kohler said he won't give up hope: "I can't stop trying."