/ Source: TODAY Contributor
A Texas mother and daughter got matching tattoos, but they hope you'll never lay eyes on them.
During Veronica Quintanilla's second bout with breast cancer, her daughter shaved her head in solidarity as she took her mom to nearly all of her medical appointments. And after Quintanilla's last chemotherapy treatment, her daughter, Victoria Vargas, suggested they get matching tattoos on their bald heads.
Pink bows were inked onto their scalps in late June. Quintanilla's "hope and prayer" is that she will never get cancer and lose her hair again, keeping the tattoos hidden forever once their hair returns.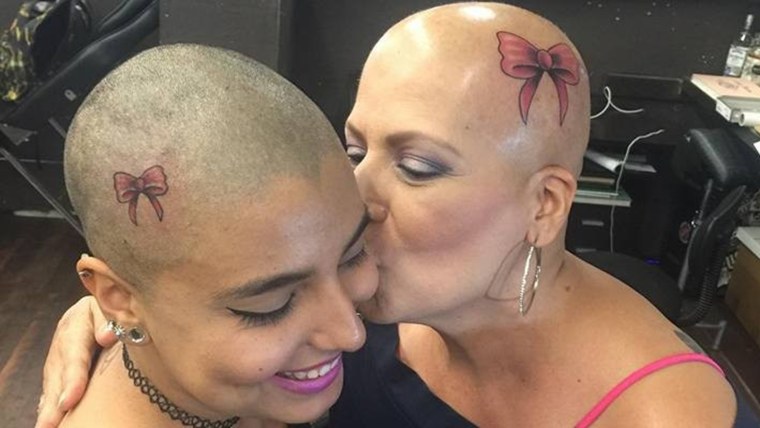 "These tattoos are something special between my daughter and me, never to be seen again," Veronica Quintanilla, 47, told TODAY. "I've been bald twice in my life because of cancer. I don't plan to ever go bald again."
RELATED: Inside a mother's inspiring fight as she battled cancer during pregnancy
"Cancer scars you — internally, externally, on your very soul, it leaves a mark," she added. "This is something pretty, a pretty mark I'm choosing to add to my body because of this cancer and the point is to never see it again."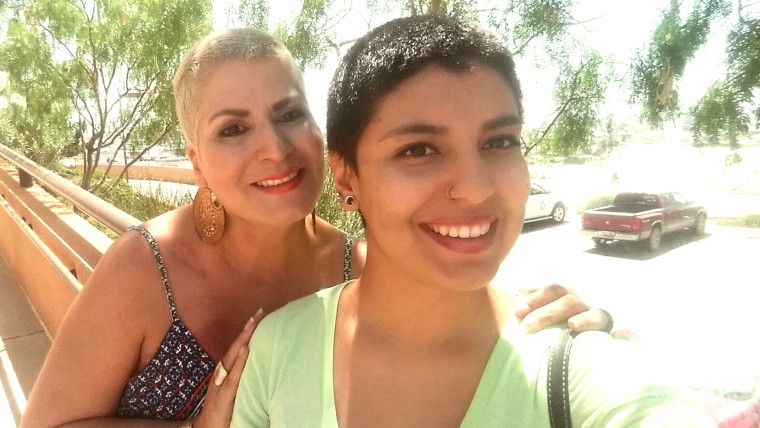 The El Paso, Texas, mother of three says she got the larger "mama bow," and while her daughter has the smaller "baby bow."
"It's a symbol of my fight against breast cancer twice and of profound mother-daughter love," Quintanilla said. "It reminds me of my daughter's strength when I needed her there with me, and it reminds me of how much she loves me and how much I love her."
Victoria Vargas, 21, says she grew closer to her mom over the last year as they would "talk and talk and talk" or watch funny YouTube videos during her mom's long chemo treatments.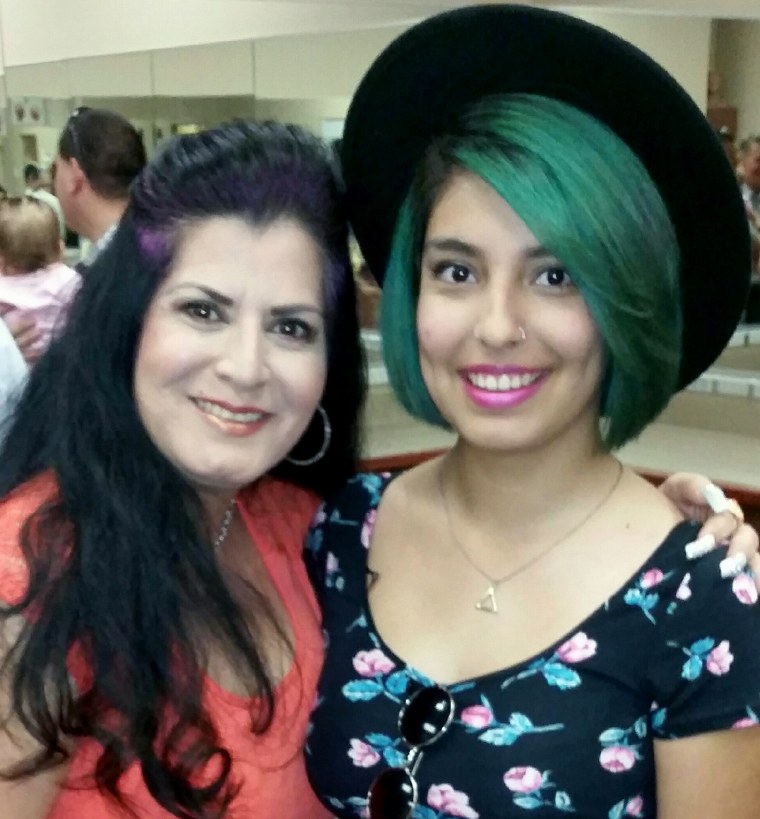 The tattoos, she says, are like "a little buried treasure," her own, one-of-a-kind connection with her mom, and a sign of resilience.
"It means that no matter how difficult the situation is, any situation can be overcome with the right mindset, and regardless of how difficult it is, there's always a silver lining," Vargas said. "This tattoo is the silver lining at the end of all the crazy times and doctors' appointments."
The first time Quintanilla had breast cancer, back in 2004, she was newly single with three young children. Her two daughters and son knew she was sick but not that she was suffering from a life-threatening illness.
RELATED: 'I see happiness': Mom celebrates breastfeeding with pre-mastectomy photos
"At that point I was trying to pull three little kiddos through a divorce," she said. "I didn't want the focus to be me."
This time, when she was diagnosed in June 2015, her kids, who are now 17, 19 and 21, are more involved because they are older and because she tested positive for the BRCA1 gene mutation, which is hereditary.
"My kids needed to know exactly what's happening, especially my daughters," Quintanilla said.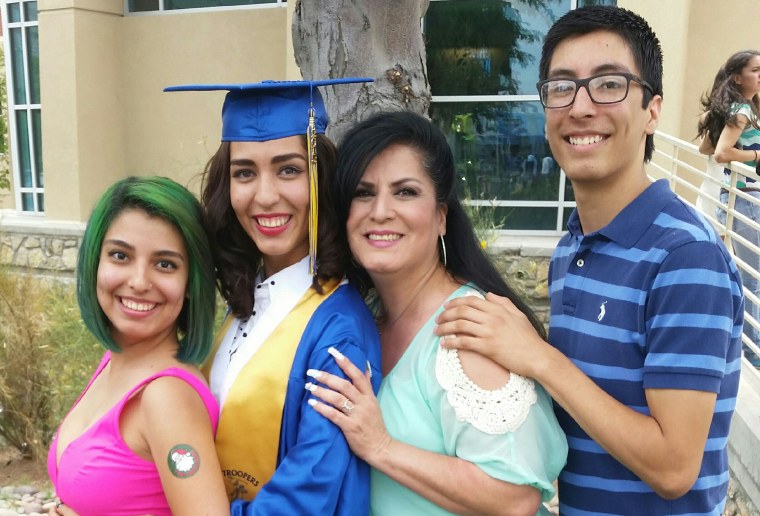 Vargas adopted a take-charge attitude after her mother's second cancer diagnosis.
"She just took over the reins," Quintanilla said. "She was going to be in charge. As a mother, it makes you proud."
Though Quintanilla has a great support network, having Vargas by her side when she desperately needed someone was very special.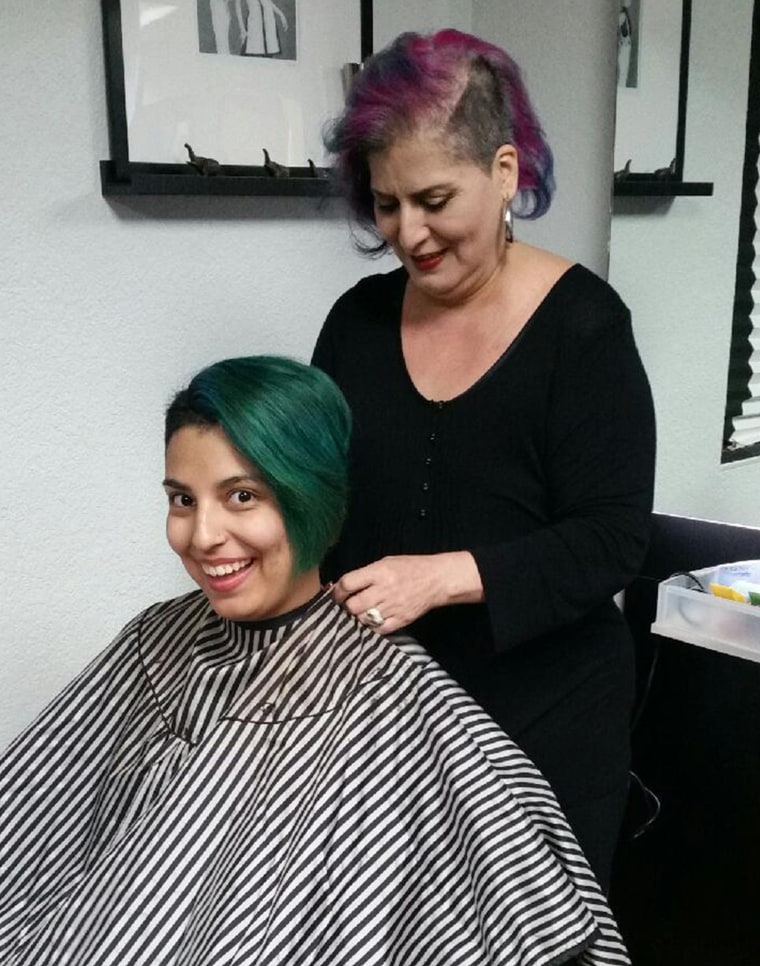 "It was a great comfort to me having her there," Quintanilla said. "She never showed any signs of weakness or being bothered or inconvenienced."
Over time, Quintanilla knows that people will forget about the pink bows as they fade from sight, but she and her daughter will hold them dear forever.
RELATED: Hand-written letters bring support to breast cancer patients
"Even though the rest of the world can't see it, she and I will be the only two that know it's there because it's something special that we shared together," she said. "She showed me a strength. I was so proud of her this past year."
TODAY.com contributor Lisa A. Flam is a news and lifestyles reporter in New York. Follow her on Twitter and Facebook.