Editor's note: This story has been updated to include information about Wellington School, the preschool where the photo was taken, with comment from the school's assistant head of operations, Laura Cooke. The story was originally published on Feb. 19 at 7:32 p.m.
What's cuter than one preschooler sharing what they want to be when they grow up? A group of fifteen preschoolers proudly declaring their career aspirations to the world.
So when Reddit user AstroCat16 posted a photo yesterday of kids at their former school, holding up chalkboards stating their dream jobs, it's no surprise that the photo quickly went viral.
The preschoolers in this photo are members of Pete Kaser's preschool class at the Wellington School in Columbus, Ohio.
Laura Cooke, who serves as assistant head of operations for the school, told TODAY Parents that the photo was the idea of one of the students' parents, and was created as a piece for the school's annual silent auction fundraiser.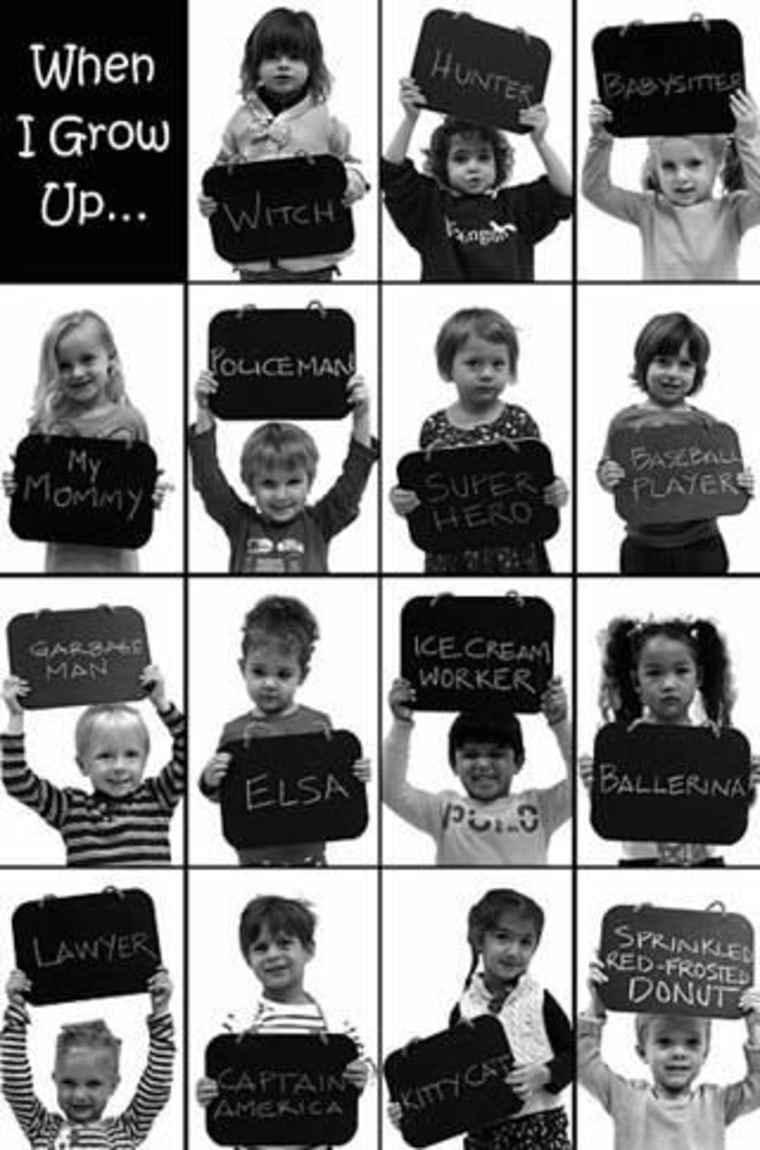 Cooke says that the Wellington School has only 668 students, ranging from preschool through 12th grade. And, as a Wellington School alumni herself, Cooke says she's proud to see the school's work has gone viral and been covered by so many media outlets.
"We aren't surprised these kids caught interest – their answers are adorable and showcase their unique personalities. (The media exposure) makes us very proud to be fearless learners, and to be cultivating each student's unique potential," said Cooke.
From fictional characters such as Elsa and Captain America, to professions like garbage man and baseball player, the kids have given adults all over the world something to laugh about with their cute smiles and big dreams.
And with nearly 3 million views on Reddit, and reposts on social media from organizations like DoSomething.org, there seems to be no stopping the students from spreading the word about their adorable goals.
The fan favorite appears to be a boy in the bottom right corner, who proudly proclaims that when he grows up, he'd like to be a "sprinkled red-frosted donut." The boy's desire to be a confectionery treat has resulted in much joking and commentary on social media, with one Facebook user even creating an image macro about the idea.
Whether or not these preschoolers reach their goals of becoming ballerinas, witches or ice cream workers, it's clear that for now, they each have a future in making people smile.
This article was originally published Feb. 19, 2015 at 7:32 p.m. ET.