They're so famous that no last name is required. This group of Grammy-winning hit makers has changed what we listen to, what we wear, and yes, how we name our children.
The biggest names in music have inspired some of the fastest-rising baby names in recent years, from the now well-established Aaliyah to the astonishing debut of Jayceon. Which celebrity names will leap from the Billboard Hot 100 to the baby name popularity charts next?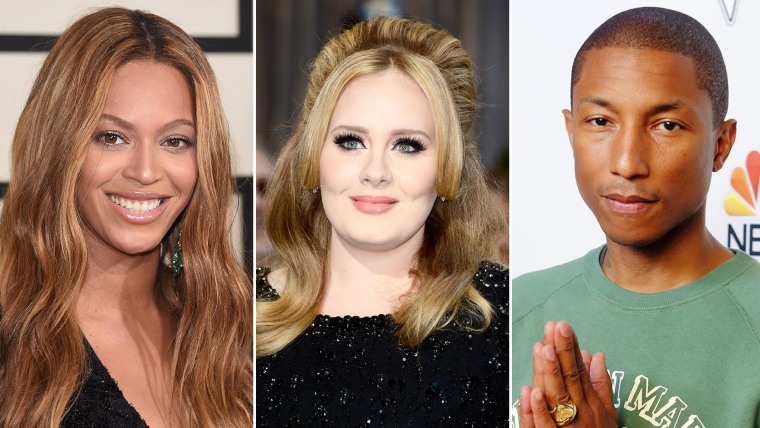 Aaliyah - Aaliyah Haughton was just 12 when she signed her first recording contract, and only 22 when she died in a plane crash. In the decade between, the Princess of R&B's given name became a sensation. Aaliyah's debut album, Age Ain't Nothing But a Number, was released in May 1994. That same year, over 1,400 girls were named Aaliyah - up from just 22 the year before. The baby name Aaliyah has been in the U.S. Top 100 every year since the singer's tragic death, and has inspired countless respellings and variations, from Alia to Kaliyah.
Adele - Adelyn, Adeline, Adelina, and Adelaide are all racing up the popularity charts in the U.S. Spare, simple Adele is one of six "Adel-" names currently in the U.S. Top 1000. With Grammy-winning songstress Adele - born Adele Laurie Blue Adkins - in the spotlight, this name feels very on trend.
Beck - Beckett is big, and Jack is back, so how about Beck? Musician Beck—born Bek Campbell—has topped the charts since the 1990s, and recently won Album of the Year at the 57th Grammy Awards. More than 1,000 boys have been named Beck in the last decade - and Beckett is racing up the U.S. popularity charts, currently at No. 279 and rising.
Beyoncé - There's only one Beyoncé, except that the Destiny's Child alumna has inspired almost 2,000 parents over the past 15 years to give her unusual name to their daughters, too. Beyoncé's name is a spin on her mother's maiden name, Beyincé. Apparently, the family was once concerned that their rare surname was in danger of extinction. Problem solved!
Ciara - Ciara is a traditional Irish saint's name. Spelled Kira, it's Russian, and spelled Keira, it's Knightley—as in the actress. But Ciara is also the given name of Ciara Princess Harris, the Grammy-nominated singer-actress who uses just her first name. As a girl's name in the U.S., Ciara had been fading until Miss Harris came along. Over 2,000 girls were given the name in 2005, the year Ciara's Goodies went triple platinum. She also put a different pronunciation on the table, because the singer pronounces Ciara like Sierra.
Drake - Aubrey Drake Graham started out as a teenage actor in his native Canada, but is better known as a Grammy-award winning rapper and singer. Drake also brings to mind singer-songwriter Nick Drake. There's something fierce about this name—Drake is another word for dragon. Drake was already on the rise when the rapper came along, but his multiple Grammy nominations have pushed his name into the U.S. Top 300.
Jay Z - He's widely considered one of the greatest rappers of all time, plus he's a successful entrepreneur, husband to Beyoncé, and dad to Blue Ivy. We haven't named our sons Jay in his honor—that name is stuck in style limbo. But Jay-Z imitator names proliferate, with sound-alikes Jace and Jase now among the Top 100 baby names, Jayce getting close, and Jayse newly arrived in the Top 1000.
Jayceon - Speaking of Jay-names, Jayceon debuted at No. 206 in 2013. Jayceon Taylor is better known as The Game, a rapper and star of VH-1 reality series Marrying the Game, documenting his on-again, off-again relationship with fiancée Tiffney. There's a second singer known as just Jayceon. Both men pronounce it with three syllables: jay-SEE-on. The more conventional Jason - as in the Argonaut - is still in the U.S. Top 100, but falling. Jayceon might be the name of the future.
Litzy - Mexican singer and actress Litzy has pushed her unusual given name into the U.S. Top 1000 baby names a handful of times since her career took off at the beginning of the 2000s. A Spanish nickname for Elizabeth, Litzy feels like an independent name. Spelling variations abound— think Litcy and Litzi. Litzy left the U.S. Top 1000 in 2013, but with the singer-actress back on another Telemundo telenovela in 2014, don't count this name out.
Pharrell - It might seem crazy what I'm about to say. With the oversized hats and the infectious anthem "Happy," singer Pharrell has become a household name. Born Pharrell Williams, his name is both a spin on Irish surname Farrell—which means courageous—as well as his father's name, Pharaoh. Thirteen boys were named Pharrell in 2013, and around 300 since the musician-producer-fashion designer launched his career in the early 2000s. It wouldn't be a surprise to hear more of this creative, "Happy" name.
Rihanna - Rihanna is an alternate spelling of an Arabic name. It's originally the middle name of Barbados-born singer Robyn Rihanna Fenty. As a girl's name in the U.S., Rihanna was almost unknown until the singer's 2005 debut. Her first major hit was 2007's "Umbrella." In 2008, over 1,000 newborn girls were given the name Rihanna. No question, the singer has put her name on the list of possibilities for a daughter.
Sia - Mia, Leah, Gia, and now Sia! The Australian singer scored a major hit with "Chandelier" in 2014. In Old Norse, Sia means "victory." It could also be short for names like Sophia, Sienna, and Cecilia, or even a creative spin on Mia and company. It's too soon to say if the Grammy-nominated singer's name will also prove a sensation, but we'll probably meet at least a few little Sias in the coming years.