Superstar singer Adele reflected on motherhood, her new album "25," and mending hearts in what i-D magazine is calling her first interview in three years.
"It's [bleeping] hard," she said of being a mom to Angelo James Konecki, who turned 3 last week. "I thought it would be easy. [I thought,] 'Everyone [freaking] does it, how hard can it be?' Ohhhhh. I had no idea. It is hard but it's phenomenal. It's the greatest thing I ever did. … It used to be that my own world revolved around me, but now it has to revolve around him."
Leaving behind the baby boy she had with boyfriend Simon Konecki, even briefly, to film the instantly viral music video for her new single, "Hello," in Toronto wasn't easy, either. "It was the most exhausting thing ever, being without my baby," she said. (The sacrifice — professionally, at least — paid off: The video, released Thursday, collected 93.3 million views on YouTube as of Tuesday afternoon.)
Angelo's 2012 arrival came at a time when Adele's singing career was transforming from solid to supersonic. "I gave birth a few nights before the 'Skyfall' premiere, that's why I didn't do anything for it," she recalled. "He was about to drop out my fanny at, like, any moment."
Fans and her peers forgave the absence: In addition to winning an Academy Award, a Golden Globe Award and 10th Grammy Award for the track, she's arguably more popular than ever.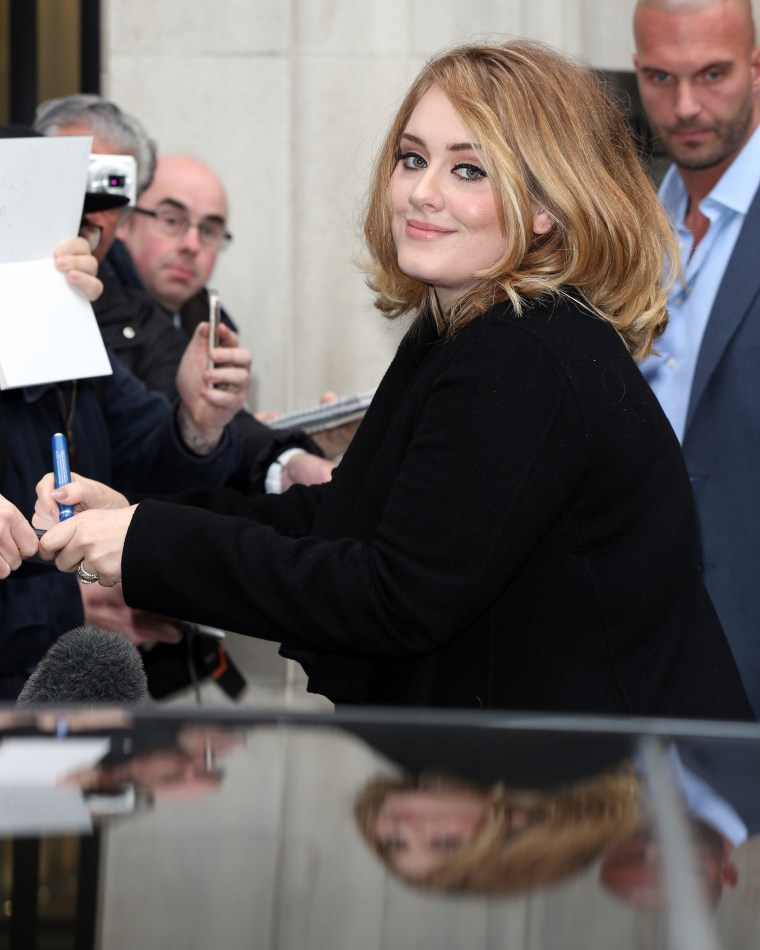 It's all paved the way for her new album, "25," slated for a Nov. 20 release. "I do [the same thing for] every album: I buy a new pad, sniff it — 'cause smell is important — and then I get a big, fat Sharpie and write my age on the front page," said the singer, now 27.
Music wasn't always the career path she had envisioned. At age 10, when she saw her grandmother's anguish over the death of Adele's grandfather, she pictured herself as a heart surgeon.
"I wanted to fix people's hearts," she said, recalling the teenage passion she'd had for biology classes until she discovered "fun — and boys. I gave up on it. My heart wasn't in it anymore."
Although Adele didn't follow through with med school, millions of fans, including her mother, would insist she has healing powers all the same. "I played her the unmixed version of 'Someone Like You,'" Adele recalled. "She was pretty teary. 'You are a surgeon,' she said. 'You're fixing people's hearts.'"
Other highlights from the i-D interview:
On why that notepad has so many exclamation points after its title: "'25' has five exclamation marks after it 'cause I was like, 'How the [heck] did that happen?!' 21 to 25."
On the new album's themes: "I think the album is about trying to clear out the past. Becoming a parent and moving past my mid-20s, I simply don't have the capacity to worry about as many things that I used to really enjoy worrying about."
On letting go of drama: "I can really hold a grudge. Life is so much easier when you don't hoard your past."
On what's next: "I'd like to tour properly. I'd like to see Britney [Spears] in Vegas. Dunno about more kids. Maybe … I'll go into acting … I'd like to make another record. I'd like to be able to stand the test of time and the speed that the world is moving. I'd like to make records forever with the time I've been given for this one. If I can do that, I'll be really [bleeping] happy.""
Follow TODAY.com writer Chris Serico on Twitter.