An unannounced active-threat drill at a Florida high school caused panic this week — and raised questions about how far authorities should go to try to protect children from school shootings.
The 2,800 students at Lake Brantley High School in Altamonte Springs, Florida, have been practicing "Code Red" drills since they were young. "You know when they come around and jiggle the classroom door handle that it's just a drill," 16-year-old Joseph Cirillo, a junior at Lake Brantley, told TODAY Parents.
But this week, an unannounced Code Red drill left students and teachers at the high school emotionally and physically shaken. Officials said it's a necessary practice to protect schools.
Just after 10 a.m. on Thursday morning, an administrator announced a Code Red on the school intercom. "This is not a drill," he added — something the students and their teachers had never heard before. "He sounded scared," said 16-year-old Lake Brantley junior Avery Brennan. "His voice was trembling."
Immediately, students said, their teachers jumped into action, locking classroom doors, shoving tables against the doors as barricades, turning off the lights and sending students to hide in closets or under their desks. At the same time, an ominous message was sent to teachers via email and text: "Active Shooter reported at Brantley/Building 1/Building 2/ and other buildings by B Shafer at 10:21:45. Initiate a Code Red Lockdown."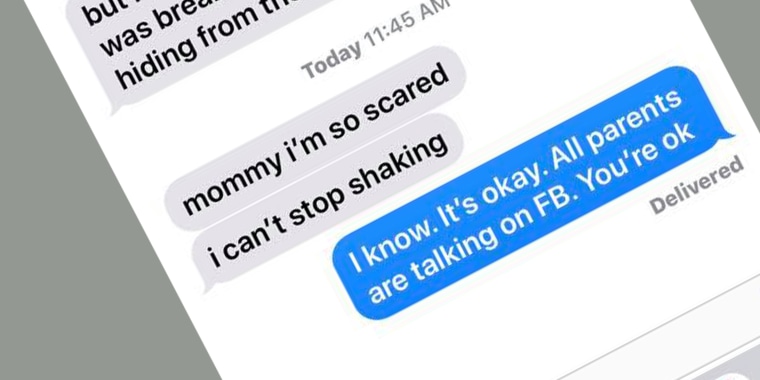 The message came from the Rave Panic Button app, an emergency notification system used in Seminole County schools to help first responders know about emergencies as quickly as possible. Teachers and staff can use the app on their phones to indicate different kinds of threats or emergencies at the schools.
The Seminole County Sheriff's Office initiated the drill, said Captain Rick Francis, the director of district safety and security for Seminole County Schools and a member of the Sheriff's Office. Francis confirmed to TODAY Parents that the staff member who activated the Rave app message did not know that the Code Red lockdown was a drill, and believed there was an actual threat on campus — the drill was designed that way on purpose.
Never miss a parenting story with the TODAY Parents newsletter! Sign up here.
The announcement that the lockdown was "not a drill" and the message from the Rave app led students and teachers to believe that they were in danger. Shocked teachers shared the message about an active shooter with their students and armed themselves with baseball bats and lacrosse sticks. Brennan said one of her classmates passed out briefly, and other parents and students reported students suffering asthma attacks or vomiting from fear. Some students began texting their parents, telling them "goodbye" and that they loved them just in case the worst happened.
A nearby private school for students with special needs and disabilities went on Code Yellow when Lake Brantley went on Code Red, unaware that Lake Brantley's situation was only a drill. Students at a nearby middle school who had siblings at the high school began crying in class as they believed there was an active shooter on their siblings' campus.
An automated alarm went off on every cell phone in the middle of the drill, adding to the panic: an alert that there was an unrelated 9-1-1 service outage in the area.
About 24 minutes after the drill began, an administrator made another announcement: The Code Red lockdown was over. The administrator ended the announcement with "Go Patriots," the school's code phrase to let students and staff know they were not speaking under force or duress. The students and faculty resumed their normal schedules, but still did not know that the morning's event had been a drill and not a real threat.
Shortly thereafter, an administrator made another announcement that the Code Red lockdown had been a successful drill. However, for students in the school's cafeteria, the announcement was garbled by the noise of the lunchroom and the audio equipment. The students said that some of them only heard the words "Code Red," and, with the school still on edge from the morning's drill, panic ensued.
Cirillo was in the cafeteria when it happened. "I saw hundreds of people start running and screaming, and people were getting stampeded trying to get out," he said. "I ran out and jumped two fences and ran into a random neighborhood." Cirillo, who left his lunch and backpack when he ran, saw media helicopters over his school and believed they were there because of an active threat.
Students reported injuries from the panic in the cafeteria, and special needs students were among those who fled the building.
Later, Lake Brantley's principal, Dr. Trent Daniel, posted an update on social media about the day's events that has since been deleted. Daniel was not on campus when the Code Red drill or the subsequent panic in the cafeteria occurred. She declined to comment for this story.
Captain Francis said that the unannounced Code Red drill was necessary and mandated by the Marjory Stoneman Douglas High School Public Safety Act, enacted after the February, 2018 mass shooting at the school in Parkland, Florida. He explained that the sheriff's office conducts both announced and unannounced drills to test the schools' protection plans.
"What we love to see is what happened here at Lake Brantley. A staff member saw something that was not right, pushed the button on the Rave app, and sent the school into lockdown," Francis said.
What went wrong at Lake Brantley, said Francis, was that the school did not follow up quickly to let teachers and students know that it was only a drill. "The follow-up was what I consider grossly delayed," he said. Francis said the sheriff's department would be discussing the delay with the school to find out what happened.
"I can still hear the voice of my teacher saying, 'Oh my God, there's a shooter in Building 1,'" said Brennan. "That's burned in my brain now, even though it's not real. I am going to remember that forever. No one should go through this, especially if it's not really happening.
"I think that it is OK to say that there's a Code Red without saying that it's a drill, but the teachers should be aware that it is a drill and they should definitely not send out an email saying there is an active shooter, because now it's like 'the boy who cried wolf,'" Brennan said, "so now we won't know what to think."
Francis said authorities are not trying to scare kids. "That's not the intention," he said. "But we have to test the system. I have to do these unannounced drills if I am going to protect the kids.
"We will do more unannounced. It's only going to increase," he said. Francis noted that students at the county's high schools "tell us time and time again to do more unannounced drills. They say it's the only way the students will take them seriously."
It's really hard for law enforcement and school administrators to try to prepare kids to survive school shootings without traumatizing them, said Dr. Deborah Gilboa, a family physician, parenting author and child development expert.
"There is absolutely risk for trauma, for each student and each staff member. That may be the price of preparation and planning in this dangerous time," Gilboa said. "We have to do everything possible to mitigate the effects of this fear on our daily lives while still practicing for the danger in order to save the most people."
If, after this experience, students and teachers have to stop and wonder if the next "code red" is real, Gilboa said that hesitation could put their lives at risk.
"Trust in leadership can make the difference between lives lost and lives saved," she said.
Francis said unannounced Code Red drills are still the best way to protect the schools under his care. "There's someone out there planning the next event right now," he said. "My job is to keep it out of our schools. If that means unannounced code red drills, that's what I have to do."